Share Thread:
12-19-2011, 09:17 PM
gadsden86
Member


Posts: 1,938
Joined: Jan 2001
RE: Who wants a laugh?
Thanks guys gonna leave it alone now. He is blocked and mulling over feedback. The card is gonna stay with me as i have never seen it before.
---
Collecting Dolphins, PSU Alumni(in college uni)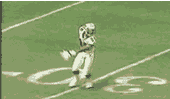 Like my Facebook page.
https://www.facebook.com/PHsportscards?ref=tn_tnmn
12-19-2011, 09:32 PM
RE: Who wants a laugh?
I would forward the message to ebay - he is admitting to his violations of ebay policy - he is not allowed to charge for gas/transit to PO, and also not allowed to circumvent fees (by charging them into the shipping cost.)

agree that giving him 1 star on shipping cost will hurt as much or more than a neg feedback.
---
CURRENT NEEDS:
*2011 Topps Black Diamond Wrapper Redemptions (wants marked in ORG)
*All Carl Edwards Cards I don't have (wants marked in ORG)
*Marcus Thornton, Kevin Johnson (NBA)
*"Air Coryell" San Diego Chargers

User(s) browsing this thread: 1 Guest(s)