Share Thread:
12-11-2011, 02:51 PM
Bowman DPP Blaster
hello once again!! wanted to share with you all a blaster box that i picked this morning at my local walmart. i did pretty well. been happy lately with the blasters. seems that i always hit an auto and this time i did again.
it was a Larry Greene refractor auto to 500.
the other chrome cards on here are also refractors.
and the archie, just a regular bowman. and i looked at the auto, yeah, it paid for the blaster.
all for trade. send offers if u like. enjoy!!
12-11-2011, 10:15 PM
jnjbj
Member


Posts: 649
Joined: Apr 2004
RE: Bowman DPP Blaster
That's a nice Blaster for sure.
---
If you have less than 25 trades. I ask that you ship first!
Collecting RC's / Prospects / USA / Aflac & Mike Stanton......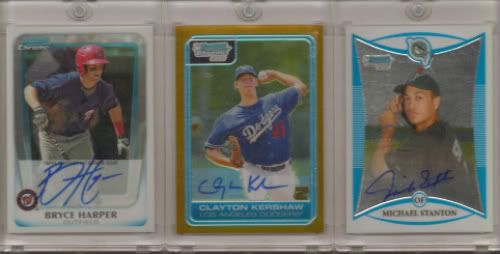 12-12-2011, 01:57 PM
RE: Bowman DPP Blaster
Been having good luck with then recently.
They had one blaster left of bowman chrome. Plan on getting it today. Maybe I can hit a auto Harper!! Lol
12-13-2011, 07:56 PM
RE: Bowman DPP Blaster
Sweet black
---


STAN MIKITA CUP FOUNDATIONS
MATT SMABY CUP PRINTING PLATES

BUCKET LINK
User(s) browsing this thread: 1 Guest(s)