Share Thread:
12-07-2011, 09:51 PM
(This post was last modified: 12-07-2011 09:57 PM by cspen.)
cspen
Member


Posts: 2,031
Joined: Sep 1997
2011 Bowman Draft
I recently busted 9 boxes of 2011 Bowman Draft. Pulled the following:
Blake Vogelbach chrome auto
Brandon Nimmo chrome auto
Blake Swihart Chrome auto
MIchael Fulmer chrome auto
C J Cron blue refractor auto
Dom Nunez gold refractor auto
Dylan Bundy AFLAC auto
Jose Fernandez chrome auto redemption
Bubba Starling blue refractor auto redemption
Trevor Bauer chrome auto
Taylor Jungmann chrome auto

I have already traded the Jungmann and Bauer autos for an Archie Bradley AFLAC auto

The only ones that are truly not for trade are the two AFLAC autos, and the Cron Blue refractor auto. The rest might be available for the right deals. I am keeping all the base and chrome cards from both the prospects and rookies, but I have several cards listed for trade.
---
The Starling blue refractor auto is also untouchable
12-07-2011, 10:18 PM
RE: 2011 Bowman Draft
Jealous I am!! Sweet hits. ESP the bubba.
Is the swihart and Nunez available?
Let me know.
12-07-2011, 10:20 PM
RE: 2011 Bowman Draft
Nice pulls. If you change your mind on the Cron let me know!
---
Angels cards - Jo Adell, Griffin Canning, Mike Trout, Tyler Skaggs, Garrett Richards, Kole Calhoun, Andrelton Simmons, CJ Cron, Taylor Ward, Jahmai Jones, Matt Thaiss, Nolan Williams, Brandon Marsh

Looking for Bowman Chrome Draft and Chrome Prospects set fillers. PM me what you have avail!
12-07-2011, 11:31 PM
magneto2
Sr. Member


Posts: 2,902
Joined: May 2002
RE: 2011 Bowman Draft
Sweeet Break! Those all great hits!
12-08-2011, 07:22 PM
jnjbj
Member


Posts: 649
Joined: Apr 2004
RE: 2011 Bowman Draft
Nice break, I like this years AFLAC a lot.
---
If you have less than 25 trades. I ask that you ship first!
Collecting RC's / Prospects / USA / Aflac & Mike Stanton......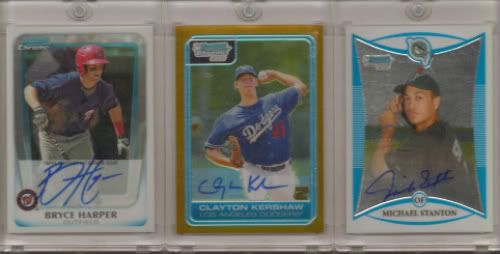 User(s) browsing this thread: 1 Guest(s)