Share Thread:
12-06-2011, 08:42 PM
topps value box times 2
hits
2 bryce harper bowman crome retail exclusive red bce1
bryce harper bowman chrome bcp111
a.j cole bowman chrome auto bcp160
roy halladay bowman chrome refractor #85
andrew mccutchen topps update all star stitches card AS-56
justin verlander topps cognac diamond anniversary #355
lance berkman topps update cognac diamond anniversary #us330
dustin ackley rc topps update #us30
mike moustakas rc tops update #us192
12-06-2011, 09:32 PM
jnjbj
Member


Posts: 649
Joined: Apr 2004
RE: topps value box times 2
2 packs - 1 Auto. Not bad.
---
If you have less than 25 trades. I ask that you ship first!
Collecting RC's / Prospects / USA / Aflac & Mike Stanton......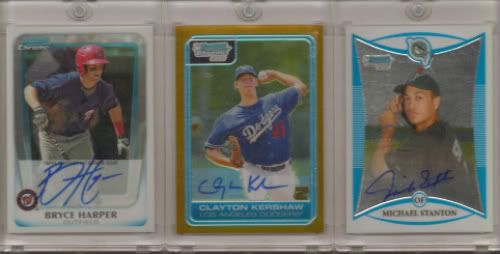 12-06-2011, 11:20 PM
RE: topps value box times 2
yeah i know i was pretty happy bout that so while i was out getting a few other things i need i picked up another box a pulled a victor martinez gold refractor numbered to 25
12-06-2011, 11:32 PM
RE: topps value box times 2
I have had Killer luck with them also. Awesome hits man.
---
2011 Diamond Die Cut collection: 140/155 91% complete thanks hellsbells


SLOW SHIPPER ! TRADERS I CAN ONLY SHIP ON FRIDAYS
12-08-2011, 09:42 PM
mgruber2
Sr. Member


Posts: 5,991
Joined: Dec 2005
RE: topps value box times 2
check me for the Verlander cognac plz. thanks
---

Collecting Tigers, HOFers, Nolan Ryan and Will Clark.

**If you are not able use one penny sleeve per card when shipping your trades do not bother sending me any trade offers.**
User(s) browsing this thread: 1 Guest(s)