Share Thread:
11-27-2011, 06:48 PM
rad_1205
Sr. Member


Posts: 2,891
Joined: Feb 2011
$$$ LOOKING TO BUY $$$
Got some cash to burn... ONLY LOOKING FOR RYAN BRAUN

THanks RIchard
---
WANT LIST

1. 2012 Bryce Harper Topps Chrome RC refractor (all colors)
2. 2009 Bowman Sterling Mike Trout Auto
3. 2010-2012 Bryce Harper Cards

http://s1375.photobucket.com/user/FreeKI...t=3&page=1
11-27-2011, 06:54 PM
RE: $$$ LOOKING TO BUY $$$
Got a 2005 Bowman Sterling AU BGS 9.5. Lemme know if you're interested. Cheers.
---
Trading for cut autos of baseball HOFers, autos of current and future Cleveland Indians (esp. B. Bradley, N. Jones, Kluber, Lindor, Mejia & Zimmer) & autos of Cleveland Browns. Top PC Wants: Brett Favre auto.
11-27-2011, 10:17 PM
esa0315
Member


Posts: 1,935
Joined: Mar 2000
RE: $$$ LOOKING TO BUY $$$
Got a Bowman Chrome refractor rookie of Braun.
---
http://tinypic.com/a/bdnl1v/1
Don't trade with list:dorkypunkrockerguy,newbieredsfan
11-28-2011, 08:11 AM
RE: $$$ LOOKING TO BUY $$$
I have a 6 Auto one listed in my org I would sell, we can discuss price if your interested.
---
Derek Jeter Collector from 1992-1996. 305 out of 306 99% complete.

1450/1919 1990's Jeter cards 76%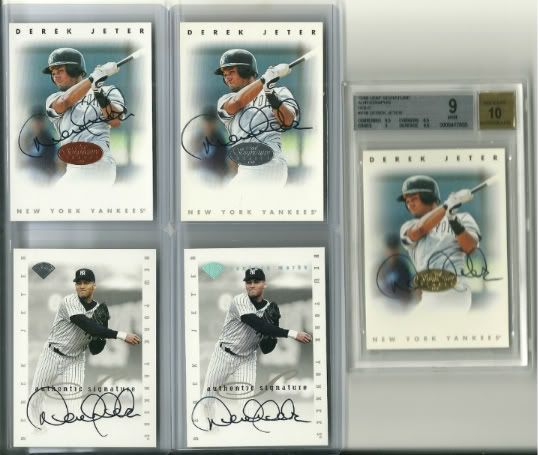 11-28-2011, 10:29 AM
rad_1205
Sr. Member


Posts: 2,891
Joined: Feb 2011
RE: $$$ LOOKING TO BUY $$$
please send me PMs so we can talk price
---
WANT LIST

1. 2012 Bryce Harper Topps Chrome RC refractor (all colors)
2. 2009 Bowman Sterling Mike Trout Auto
3. 2010-2012 Bryce Harper Cards

http://s1375.photobucket.com/user/FreeKI...t=3&page=1
11-28-2011, 02:20 PM
expediter
Jr. Member


Posts: 354
Joined: Jun 1997
RE: $$$ LOOKING TO BUY $$$
pm sent
---
Looking for ...
1)autos of Gwynn, Headley, Venable, as well as Chargers... Gates, and Rivers.
2) autos/gu'd of Baldelli, Zobrist, rare Red Soxs
3) HOF autos, game-used and #<50

Trade Sites
http://www.freewebs.com/gwynn_fan/
http://s84.photobucket.com/albums/k33/gwynn_fan/
11-29-2011, 07:33 AM
rad_1205
Sr. Member


Posts: 2,891
Joined: Feb 2011
RE: $$$ LOOKING TO BUY $$$
PMs sent back thanks Richard
---
WANT LIST

1. 2012 Bryce Harper Topps Chrome RC refractor (all colors)
2. 2009 Bowman Sterling Mike Trout Auto
3. 2010-2012 Bryce Harper Cards

http://s1375.photobucket.com/user/FreeKI...t=3&page=1
User(s) browsing this thread: 1 Guest(s)