Share Thread:
Ebay and shipping charges
10-12-2011, 07:47 AM
Ebay and shipping charges
So lately I have been getting low scores for shipping when I charge $3.00. Here is what I take in account for Bubble wrap at walmart is about 50 cent, holder is 25 cent, and paypal shipping with DC $1.75. This is a total of $2.50 and I have gotten five 1's or 2's the past 3 months. Now everytime I sell an item I have a hold on it. I guess I will be starting free shipping. So I am going to be judging really hard on items I have to pay for shipping now as well as I have a scale and if I am charged a penny over there getting a lower shipping and handling score. I guess I am just venting as now I have to wait for to get the money for an item I sold. I just can't understand how they can hold the full amount when everything else is in the 4.90 and above range with zero 1's and 2's. So I am going to fix the problem with free shipping and I will just tack on an extra $3.00 for my starting price.
---
Derek Jeter Collector from 1992-1996. 305 out of 306 99% complete.

1450/1919 1990's Jeter cards 76%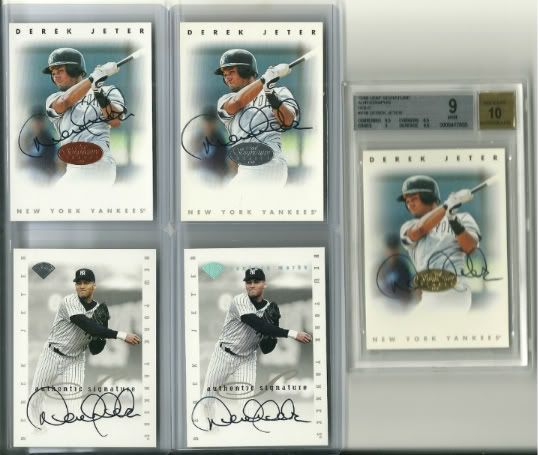 10-12-2011, 08:14 AM
piyn
Jr. Member


Posts: 429
Joined: Jun 2009
RE: Ebay and shipping charges
Depending on the item I'm selling I usually charge anywhere from free to $2.50 for shipping. I haven't got any low scores yet but as of two weeks ago they started placing holds on mine because I didn't have 25 sales yet. It's frustrating because I have almost $200 on hold right now. I have a 100% rating and almost $1000 in sales but since it's not 25 I'm still put on hold. oh well I should be over that within the week and hopefully I won't have to deal with the holds anymore. Between the fees and this it's starting to make it harder for new people to sell on Ebay.
10-12-2011, 08:36 AM
bonds20001
Sr. Member


Posts: 3,180
Joined: Jul 1999
RE: Ebay and shipping charges
I charge free or $2.
Bubble envelopes are very cheap in bulk..
Top loader and penny sleeve are the cost of doing business..
I probably lose a few cents with $2, but I think it is reasonable.
Any card over $20 HI gets free shipping...I start my price a little below LO book from Beckett.
Many people who offer free shipping add the shipping cost to the starting price on eBay and go from there.
Problem is, you may get fewer items sold.

Sorry you got dinged so bad for $3 shipping, I mean..it is not that bad.

I have paid $3.75 for shipping and got the card in a top loader without penny sleeve in a used bubble envelope and dinged them stars for that..
---

10-12-2011, 08:43 AM
noahnator
New Member


Posts: 63
Joined: Mar 2010
RE: Ebay and shipping charges
I buy Bubble Envelopes on Ebay, usually 200 pack case at a time. Do the same for Sleeve/Top Loaders. Don't go to WalMart, wasting your time.

If you spend your $$$$ on supplies, cost of doing biz, it will save you time and most importantly, make more money by allowing you to concentrate on listing new cards and keeping customers happy.
10-12-2011, 08:51 AM
jonathani
Member


Posts: 2,453
Joined: May 2003
RE: Ebay and shipping charges
Maybe I am missing something, but if see that someone is going to charge me a price for shipping that I view as unfair I simply do not bid/buy the product. If I choose to pay for something and know the price befoerhand, I do not believe I have a right later to complain about how much it cost. Have you ever walked into a restaurant, read the menu, decided something was too expensive, order it anyway, eat it, and then complain to the manager about the prices? Ebay is unique in its "last word" mentality, and people often abuse it--not only there, but it happens on this site as well. How often do people leave feedback in either place, all the while thinking about the feedback they will then receive in return?

JonathanI
---
I appreciate Chicago players that begin competing with the city's sports organizations in whichever league they play and stay with their teams through their careers.
10-12-2011, 09:05 AM
benner73
Member


Posts: 1,952
Joined: Jan 1999
RE: Ebay and shipping charges
I know exactly what you mean. It's just the ebay buyer mentality. They don't think of what it actually costs to ship things. I don't sell cards, I sell dog supplies on ebay and charge what USPS charges and still get dinged on shipping charges. Buyers just like to give bad ratings. I've pretty much have started doing what you are going to do and just add in shipping and list with free shipping so you get 5 stars everytime.
---
My Photobucket
Post Your Baseball Cards to Facebook

Bad traders: almostbaker, beantownsfinest, thespirit33, GRIFFEY MAN 1
10-12-2011, 09:12 AM
RE: Ebay and shipping charges
Most people add the shipping to what there willing to spend so if your willing to spend $50.00 on that card then you bid $47.00 thats how I do it. I have not had a problem with $3.00 for shipping till the past 3 months and I believe one buyer gave me 3 of those 1 or 2 star ratings. I combined shipping and charged him $3.50 for all 3 on shipping. So if you take that off I would of been fine. But it dose not matter as I expained to ebay that I could charge 1 cent for shipping and if that person is not happy with the 1 cent charge they can give me a 1 on shipping. To me hold the money I made for shipping charges is bs. The important ones are they arrived on time and in the condition described. If my photo is not enough as it normally makes it larger than the item itself then they are not paying attention to the picture.
---
Derek Jeter Collector from 1992-1996. 305 out of 306 99% complete.

1450/1919 1990's Jeter cards 76%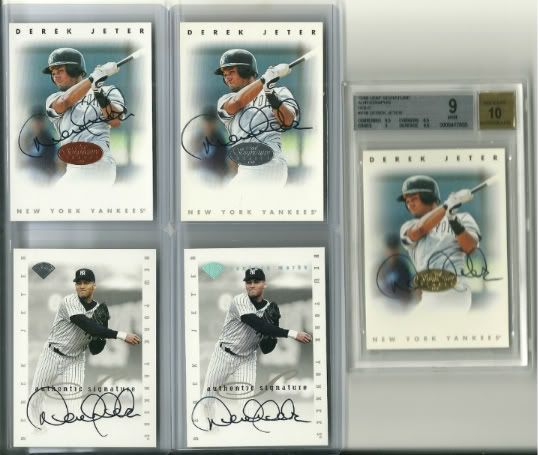 10-12-2011, 09:17 AM
cdillon17
New Member


Posts: 88
Joined: Jul 2010
RE: Ebay and shipping charges
I charge $2.00 shipping... that includes the $1.75 for First Class USPS w/ delivery confirmation, bubble mailer, penny sleeve, top loader, tape, printing supplies, etc. I'd guess that all comes out to around $2.00, probably a bit more. Seems fair to me. So I usually get 5 star reviews for everything including shipping, but recently I got this one whack job who reamed me on the cost of shipping in his feedback text and with the stars for shipping. I think he left 3 stars. I asked him what was up and he says he only gives 5 stars for free shipping. Anything above free and you get 3 stars or less from him. I was like do what? Don't freaking buy it then. Takes all types to make the world go round I guess.
10-12-2011, 09:27 AM
RE: Ebay and shipping charges
I guess you guys feel that your time isn't worth anything. That's why it is called Shipping and Handling. I spent more than a half an hour packaging two orders for shipment this morning and now I have to drive down to the post office to mail them. If your shipping charges are clearly stated on the auction I don't see where they have any recourse. As a matter of fact PayPal adds them in automatically.
---
10-12-2011, 09:27 AM
RE: Ebay and shipping charges
I always add the shipping price to whatever i'm selling. Remember it's not about trying to make a buck on a card it's making a buck on several cards. I had put about 30-40 cards on ebay and all sold but 3 and i sold them cheap (with shipping included) and came out with a mint. People who sell cards on ebay don't realize you don't need to sell a card at full or half book. Go a little lower and you will sell the majority of your cards. Whats better trying to sell a 100.00 card for 50.00 or selling 25 cards at 20.00. Thats what i do. You have better luck attracting bees with honey than you do with vinegar. Sell low but sell alot and include the shipping and you will see what i mean.
---

User(s) browsing this thread: 1 Guest(s)