Share Thread:
10-03-2011, 08:13 PM
RE: Trade that didn't happen
(10-03-2011 01:59 PM)

got watcha want Wrote: Here on Beckett.

He made the offer and then backed out after ACCEPTING my counter offer to his original offer. Then a couple of days later he sent a message saying that he got another offer on the card he was suppose to send me in our trade. He stated that it was an offer he couldn't refuse.

He had traded the card to me already, how did you get another offer unless you were shopping the card that you had already traded to me?

Watch out for this guy, IMO he is a shady trader that others have contacted me about similiar issues with him since I made this post.

The offer was almost too good and he pressured me to send quickly and when I didn't, that is when he backed out. I never saw the card and I wouldn't be suprised if he never actually had it.

Did you guys see the threads he posted asking how to shill bid before the mods deleted them???

That alone made me want to recieve my end before I shipped to him. I hope someone reads this and feels the same.

Shaqeats that- it is called integrity and honesty and I hope that you find both at some point in your life.
this puts a bad feeling in my stomach, i had one good completed trade with him, now on the second trade, the cards i sent to him arrived on 9/29 (trade was accepted on 9/24) and the trade still doesnt show he has shipped? i messaged him today so i will wait for a response. our first trade was flawless though.
---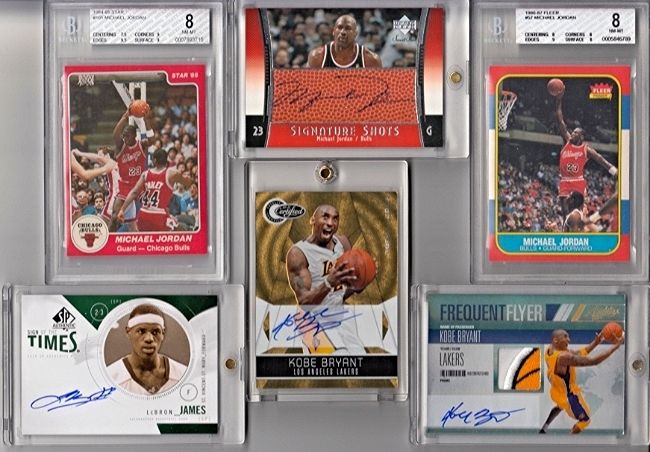 10-03-2011, 09:12 PM
gjpoll1
Member


Posts: 893
Joined: Jul 2002
RE: Trade that didn't happen
I did see the post about shill bids, and it worried me too, especially when he acted like he didn't know what shilling was. It been posted about many times that he had to have know IMO. Wishing good thoughts for you Ping for your trade, but I haven't seen Shaqeatsthat on here for a little while.
---
Looking for all types of rookie cards. Only trade with a d/c #. If you have less than 25 trades you must ship first. Thanks.




Banner Thanks to CoolBrees.
10-04-2011, 09:49 AM
RE: Trade that didn't happen
I hope he just backed out of our trade and sees the opportunities to further his Ewing and Starks PC cards on this site.

Ping- I am complaining about him, but he really hasn't done anything to be labeled a scammer just yet.


He did post a thread a while back about how he was going to become a menace to the site and that he was mad at the mods, the thread was basically a big rant and saying that he was sick of this site.

This thread was deleted quickly, of course. When asked about it via PM, he said he was not mad at the traders just the Mods and that the thread was just a rant.

He logged on yesterday, I saw him online as I was posting. Good Luck
---
MY PHOTOBUCKET
LOOKING FOR....
NO MORE 1993-94 Finest Refractors / THE SET IS COMPLETED!!!
User(s) browsing this thread: 1 Guest(s)