Share Thread:
10/11 Top Pulls - let's see 'em!
08-28-2011, 03:41 PM
scarrman
Jr. Member


Posts: 279
Joined: Aug 2009
10/11 Top Pulls - let's see 'em!
Ok, so the box season is winding down - notwithstanding the big boys (Dominion, Cup) which I won't be tapping in to.
Looking back on the box breaks - some real stinkers but some pretty nice pulls along the way. Below are my Top 10, let's see yours in whatever quantity or type.
Honorable mention goes to the Eberle/Subban YG RC's, Skinner Contenders ROY Auto /50, Artifacts Nash Jersey/Patch /25 - Tundra Tandems Jersey Crosby/Ovechkin /75, Tavares Crown Royale Heirs Patch /25, and an SPGU Kadri Significant Numbers Jersey Auto /43.
Here we go:
#10. First UD Patch pull in 4 years
#9. Great Triple jersey of the Oil crew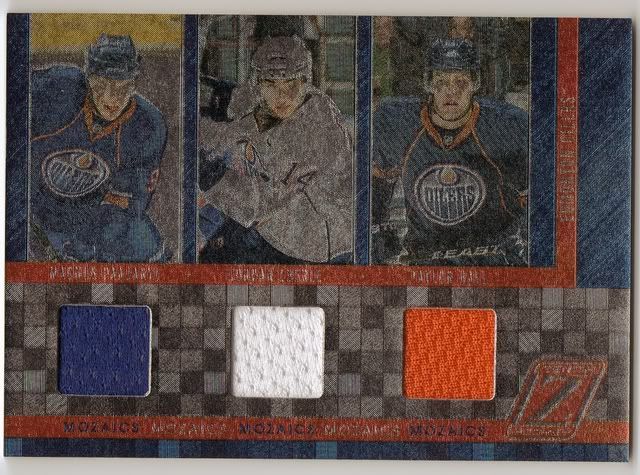 #8. Nice Auto RC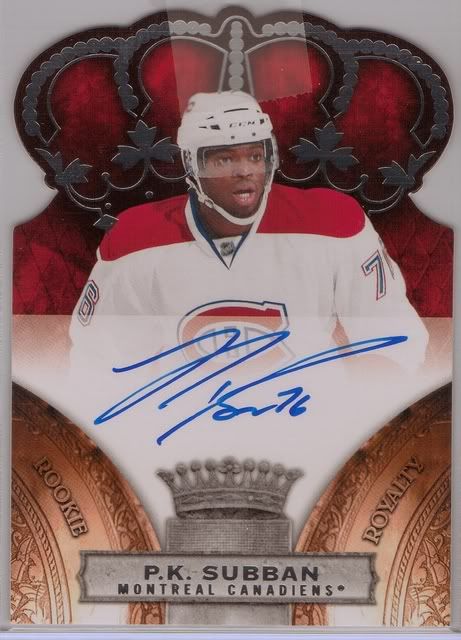 #7. Great Parallel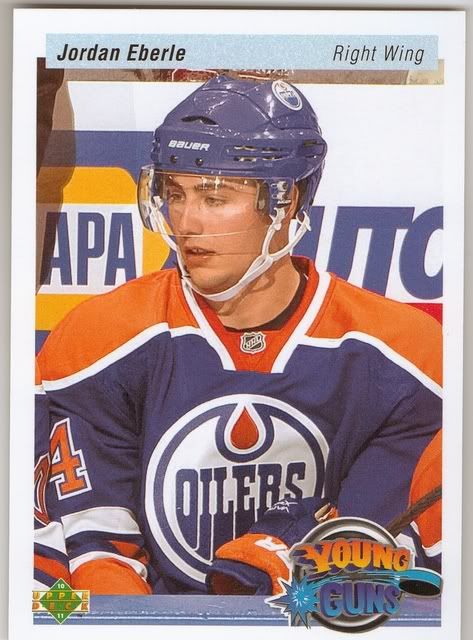 #6. Stud RC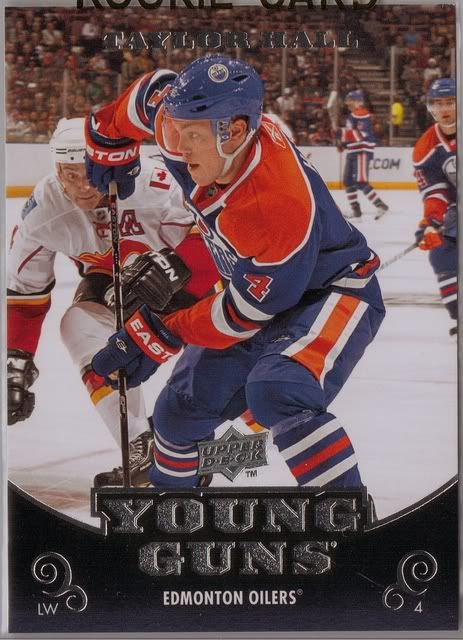 #5. Seguin Zenith Auto RC /199 redemption - no scan, still waiting for the card.
#4. Mario Lemieux Crown Royale Legends Auto /25 redemption, no scan - still waiting for the card.
#3. Great low #/5 Toews Auto
#2. Dual auto of 2 greats - and a 1 of 1
#1. Who else could top this list!
08-28-2011, 04:49 PM
RE: 10/11 Top Pulls - let's see 'em!
My top 5 pulls of the 2010-11 card season...
#5
Killer Staal card, #/10, not a bad Crown Royale pull.
#4
A nice SPGU Authentic Fabrics Fives. Not a Rangers fan, so it's available, haha.
#3
This is the card that paved the way for my non-Bruins PC. Eventually I picked up a couple Ovechkin cards that warranted a PC dedicated to him, but this one was the first card I wanted to keep that wasn't a Bruins piece. Pulled it from a retail 3-pack of Certified at Target. KILLER third jersey patch, numbered to 10, I just didn't have the heart to part with it!
#2
That one came from the last couple packs in the box at a local news shop. Total shocker for me, especially since it was a PC card. Sweetness!
#1
Incredibly hard to move it, but I did, and I ended up with more than enough amazing PC stuff for it. Would have been nice to hold on to it, but I couldn't pass up the offer I got.
---



Collecting Cam Neely & Alex Ovechkin


Photobucket: http://s15.photobucket.com/albums/a372/p...or%20Sale/
08-28-2011, 05:47 PM
bonnev659
Sr. Member


Posts: 9,097
Joined: May 1997
RE: 10/11 Top Pulls - let's see 'em!
great topic, I haven't open many boxes myself...


happy collecting
---
using tracking numbers (all US and some Can)
08-28-2011, 09:05 PM
nuccionino
**Must Send First**


Posts: 1,420
Joined: Mar 2011
RE: 10/11 Top Pulls - let's see 'em!
All are long gone, but my top 5 pulls.

Honorable mentions:
Jordan Eberle Score SSP RC
P.K. Subban SP Game used team marks auto /50
Jamie Benn Certified Green auto /5


5. Taylor Hall SPX Finite RC /99

4. Marc-Andre Fleury Certified Patch Auto /5 (same box as Benn)

3. Taylor Hall Score Auto

2. Jordan Eberle Limited Auto RC

1. Sidney Crosby SPX flashback fabrics auto (same box as the hall finite)

I can safely say I made my money back on box breaks this year.
---
Hockey PC's: Tomas Tatar, Alexander Burmistrov, Boris Valabik, Zach Bogosian
Football PC's: Titus Young, Jimmy Smith, Ed Dickson, Michael Oher, Flacco/Rice and Manningham/Henne dual cards.
Always gone Thur-Sun

08-28-2011, 09:45 PM
RE: 10/11 Top Pulls - let's see 'em!
Awesome stuff! I would say mine would be:

5. Gordie Howe/Mark Howe 2 Sign of the Times OR Tyler Seguin FW Auto

4. P.K. Subban Ultimate Debut Threads Signed Jersey /50

3. Gordie Howe SPA Immortal Inks 1/10

2. Sidney Crosby SPA Limited Auto Patch Redemption /100

1. Gordie Howe SPx Shadow Box Signatures
---
Collecting:

Claude Giroux, Sidney Crosby, Eric Tangradi, Flyers

Also collecting cards and memorabilia of Taylor Swift

http://s1091.photobucket.com/albums/i385/NickTheKid87/

Twitter: @NickTheKid87
08-29-2011, 12:21 AM
(This post was last modified: 08-29-2011 12:22 AM by hockeyvadim.)
RE: 10/11 Top Pulls - let's see 'em!
Tie for #5
Tie for #4
#3
#2
#1
Honorable Mentions
---
Please check out http://www.hockeyvadim.com for my whole collection

Banner done by "Tha Penguin"


08-29-2011, 01:33 AM
(This post was last modified: 08-29-2011 01:40 AM by jafi1972.)
jafi1972
Jr. Member


Posts: 153
Joined: Apr 2010
RE: 10/11 Top Pulls - let's see 'em!
Hard to decide on this. Top ten cards would take too long for me to decide so going with top 5
5. May not like this player but the patch is sick.
Still waiting for this in mail. Got in a group break and was sent to me during Canada Post Lockout. Me thinks it is lost in the mail.
4. Steven Stamkos UDSPGU Redemption Autographed Lettermark to /50
3. Sid the Kid (trade pending in near future) 3/10
2. Crosby/Lecavalier/B.Richards
1. JVR 1/3 UDSPGU Game Gear
Honorable Mentions
Triple Patch Hall/Eberle/Paajarvi 5/25
JR Auto
And a couple cards pulled this year but from previous box seasons
09/10 OPC Premier Miikka Kipprusoff 7/10 Quad Patch Remanents
Ryan Jones SPA FW Auto Patch 08/09 (I think it is 08/09, could be 09/10)
And last but not least, obtained in a trade earlier this year with Dragik and one of my fav cards in my collection.
Devan Dubnyk The Cup Auto Rookie.
08-29-2011, 11:37 AM
RE: 10/11 Top Pulls - let's see 'em!
Clearly I'm nowhere close to the realm of the luck I'm seeing displayed here.... nonetheless...I've already posted all of these in previous threads. My top 5 hits of 2010-11:

5) PK Subban Contenders Auto RC
4) Crosby UD Patch /15
3) Eberle SP Auto RC
2) Seguin Ultimate Auto RC /99
1) Hall FW Auto Patch

Special mention to my Cheevers /25 Contenders Auto.
08-29-2011, 01:25 PM
(This post was last modified: 08-29-2011 01:33 PM by ronfir.)
ronfir
Member


Posts: 566
Joined: Aug 2003
RE: 10/11 Top Pulls - let's see 'em!
Some Game Used:
---
A few autos;
---
Some Panini:
08-29-2011, 01:35 PM
p8030103
Member


Posts: 821
Joined: Apr 2008
RE: 10/11 Top Pulls - let's see 'em!
Some insane cards here! My top pull is probably a Skinner Contenders Auto RC. I don't have a scan of it, as I sold it.
jafi1972 - I really want that Ryan Jones patch auto if you are willing to move it
---
Collecting Anton Lander and Mark Arcobello
User(s) browsing this thread: 1 Guest(s)