Share Thread:
08-17-2011, 04:22 PM
Soccer Cards
Hey all I'm a hockey collector, but there were some older soccer cards scattered throughout a lot I bought last evening. I think are mostly early 90's

I don't have organize yet as I'm a new member so I'm not sure if selling or trading (only want hockey) is even possible through this site without having that, but if anyone is interested let me know and I'll get more details about the cards.
---



PC's
Patrick Roy PC 966/7,265 = 13.30% Complete
Brandon Yip PC 101/183 = 55.19% Complete
Nick Palmieri 93/150 = 62.00% Complete

Unique Avs Cards = 1303
Unique Nordiques Cards = 1054
08-19-2011, 03:59 PM
RE: Soccer Cards
There are a total of 35 cards. Most of them being from 1994-95. I don't think they are pictured, but the lot includes FS12 of 20 from 1993-94 and B11 and H55 from the 94-95 set.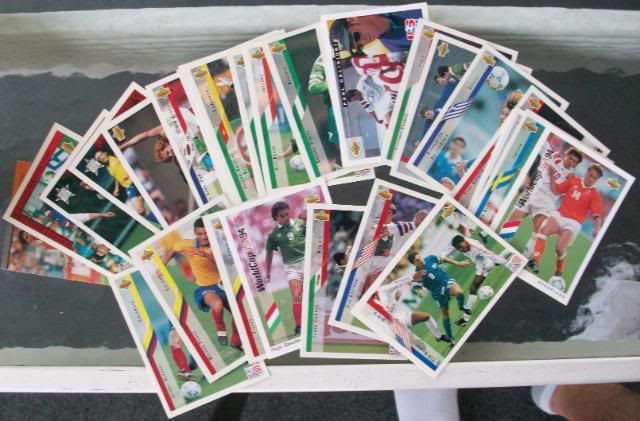 Willing to trade for hockey cards, but would like to sell. Not asking for much.
---



PC's
Patrick Roy PC 966/7,265 = 13.30% Complete
Brandon Yip PC 101/183 = 55.19% Complete
Nick Palmieri 93/150 = 62.00% Complete

Unique Avs Cards = 1303
Unique Nordiques Cards = 1054
User(s) browsing this thread: 1 Guest(s)