Share Thread:
08-13-2011, 04:04 PM
(This post was last modified: 08-13-2011 04:05 PM by shelbysaleen.)
shelbysaleen
Beckett Racing Forum Moderator


Posts: 991
Joined: Oct 1998
this weeks mail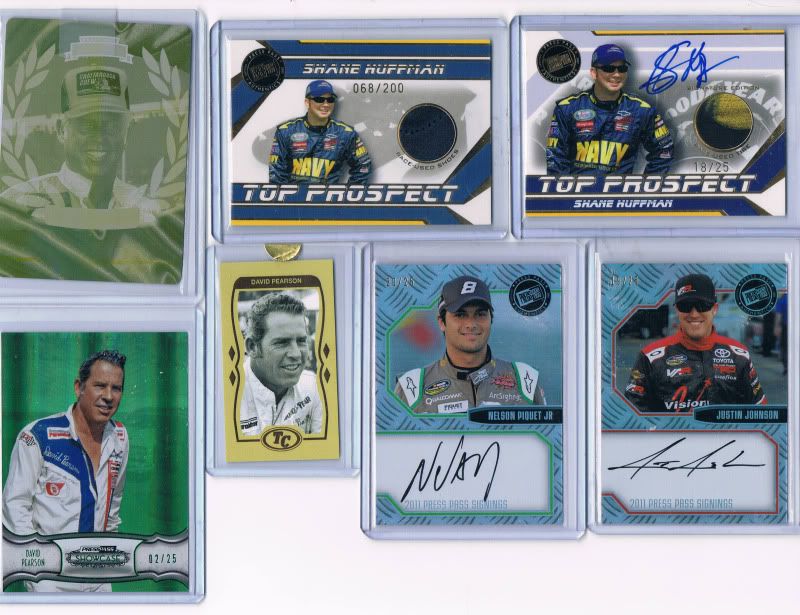 Starting from Right to left. That is the Shane Hufmman Top Prospects autograph tire card /25 this takes my certified want list down to JUST TWO. This came from a guy that collected primarly huffman but switching vices.
The next card is a 68/200 which yall know 68 is the NIMITZ hull number. havent picked up one of these in a while.
The plate is from the towelman himself. Just sent it didnt know he was doing it going to get it signed
bottom left to right
another showcase /25 love the green anyone have the 2/ of pearsons showcase cards
next is a cusom made card. I got sick of seeing it on ebay and the seller never telling what it really was so i bought it . its a nice cusom if thats what it is still not sure.
then my last two stealth autographs I needed so with the huffman i sit on needing just two certifieds.
---
CANCER SUCKS

08-13-2011, 07:45 PM
RE: this weeks mail
Nice mail. Really like the Huffman AU. It's looks real good. I love those green parallels from Showcase. Mostly b/c it's my fav color, but also it's not often used for parallel cards.
I need to make my own mail thread. I had a real nice mail week myself.
---
Always looking for: Ozzie Smith/Stan Musial/Lou Brock/STL Cardinals, NFL-CAR/GB/NE and NASCAR-Jimmie Johnson/Mark Martin

08-20-2011, 05:11 PM
RE: this weeks mail
Sweet Stuff
---


STAN MIKITA CUP FOUNDATIONS
MATT SMABY CUP PRINTING PLATES

BUCKET LINK
User(s) browsing this thread: 1 Guest(s)