Share Thread:
2011 Bowman Platinum retail break
07-26-2011, 08:48 PM
shaunbaus
Jr. Member


Posts: 435
Joined: May 2005
2011 Bowman Platinum retail break
Went to Wal-Mart to see what they had in stock... Turned out they got they're 1st shipment in! Bought 2 retail boxes and 2 jumbo rack packs. Overall pretty disappointed in the products appearance though but maybe it will grow on me. The prospect cards do look nice however but too many color variations and to similar to refractors. This is some of the better stuff that I pulled...
1 unknown green refractor autographed prospect redemption(Went to redeem it but apparently the code is not in the system yet or hasn't been activated yet)
Roy Oswalt Red Parallel
Green Parallels:
Michael Pineda
Cory Luebke
Andre Ethier
Gold Parallels:
Josh Johnson
Adam Jones
Andre Ethier
Robinson Cano
Brian McCann
X-fractors:
Ronnie Welty
Zach Lee
Carlos Perez
Kevin Mailloux
Chris Archer
Aderlin Rodriguez
Purple exclusive refractors:
Sammy Solis
Jose Iglesias
Jimmy Paredes
Jarred Cosart
Gary Brown
Tony Wolters
Notable base rc's and prospects:
Aroldis Chapman x2
Michael Pineda x3
Alex Wimmers
Matt Moore
Matt Dominguez
Chris Sale x3
Drew Pomeranz
Just sort of sharing at the moment, not sure what I'll trade yet. Not sure if I can even put any in my org yet. Feel free to let me know what you think about my break whether I did good or not. Thanks!
07-27-2011, 11:25 PM
RE: 2011 Bowman Platinum retail break
oohhhh

red Oswalt? im interested
---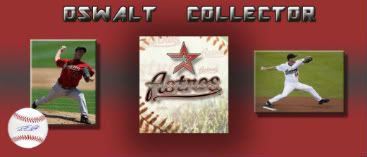 User(s) browsing this thread: 1 Guest(s)