Share Thread:
UD card in Playoff Contenders!
07-19-2011, 08:37 PM
nuccionino
**Must Send First**


Posts: 1,420
Joined: Mar 2011
RE: UD card in Playoff Contenders!
(07-19-2011 05:45 PM)

jason1980 Wrote: They all seemed pretty standard/as advertised however was missing a rookie Sig...only got 3...don't suppose my signed "Taylor Hall" ended up in the pocket of a Panini Employee did it?
You could of got 3 rookie sigs and a regular sig. What about numbered hits? Inserts?
---
Hockey PC's: Tomas Tatar, Alexander Burmistrov, Boris Valabik, Zach Bogosian
Football PC's: Titus Young, Jimmy Smith, Ed Dickson, Michael Oher, Flacco/Rice and Manningham/Henne dual cards.
Always gone Thur-Sun

07-19-2011, 10:54 PM
RE: UD card in Playoff Contenders!
Very odd indeed... but my thought would be that if the seller re-wrapped the box, don't you think he/she wouldn't be stupid enough the put in an insert from the wrong company? That would cause a red-flag to anyone... now some scrub auto from the same set being re-inserted... I can see a big chunky bald guy with glasses doing that in his parents basement...

~Vesper
07-19-2011, 10:55 PM
(This post was last modified: 07-20-2011 10:07 AM by hckydv7.)
hckydv7
Member


Posts: 1,601
Joined: May 2007
RE: UD card in Playoff Contenders!
There is also the posibility that it is a screw up at the packaging level.
They may both use the same printer-packager and that is how it happened.

In 08-09 OPC I kept getting the OPC metal cards that looked like chrome cards with Bowman Chrome Baseball backs.
07-20-2011, 12:15 AM
p8030103
Member


Posts: 821
Joined: Apr 2008
RE: UD card in Playoff Contenders!
A UD insert in Contenders? That box must have been tampered with, I would contact the seller about it.
---
Collecting Anton Lander and Mark Arcobello
07-20-2011, 01:15 AM
opierocks
***Must Send First***


Posts: 1,156
Joined: Jan 2001
RE: UD card in Playoff Contenders!
Very odd...Jason1980 seems to be avoiding nuccionino's question regarding the hits....and no scans to back up this claim in any way....something smells fishy, and it seems to be coming from the direction of the original poster...
---


Thanks to Tha Penguin for the banner!
Always looking for Senators and Canucks cards.

Opie's Senators Collection: 4036/14396 28.3%, according to Beckett's database
07-20-2011, 06:30 AM
jason1980
Jr. Member


Posts: 302
Joined: May 2011
RE: UD card in Playoff Contenders!
hey hey

Nothing fishy on my end. Haven't addressed the hits specfically because I had two boxes of the stuff and the stuff not signed got mixed in together. You guys have seen how Playoff contenders works - bunch of periennal contenders, leather larceny and so on. I do know the box with the Yzerman had nothing serial numbered. The box was underwhelming and the lack of anything at all numbered is also a red flag.

It happened on about the 3rd or 4th pack and so each pack thereafter I was carefully inspecting and looking for any signs of tampering.

I called Upper Deck and they were amazed. Of course any quality assurance request/general info request with Panini asks that I send in the box top and all other information. I'm not looking for anything other than an explanation. I'm very doubtful I'm going to get anywhere with it.

Honestly guys why would I make this up and post about it? what do I have to gain from that?
07-22-2011, 12:33 AM
dragik
Member


Posts: 649
Joined: Nov 2005
RE: UD card in Playoff Contenders!
I would surely hope that it was tampered with from whoever you bought it from.
---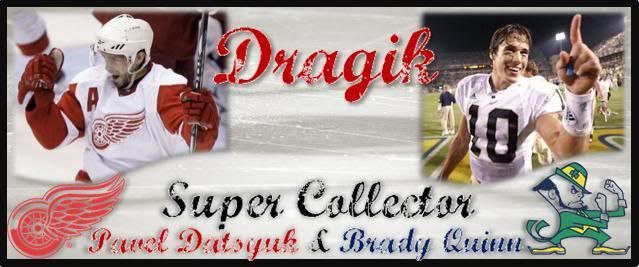 http://s49.photobucket.com/home/dragik420/index

Datsyuk 1 of 1's: 20
07-22-2011, 06:53 AM
RE: UD card in Playoff Contenders!
100% agree it w3as tampered with
---


STAN MIKITA CUP FOUNDATIONS
MATT SMABY CUP PRINTING PLATES

BUCKET LINK
User(s) browsing this thread: 1 Guest(s)