Share Thread:
07-12-2011, 11:04 PM
2008 Razor Letterman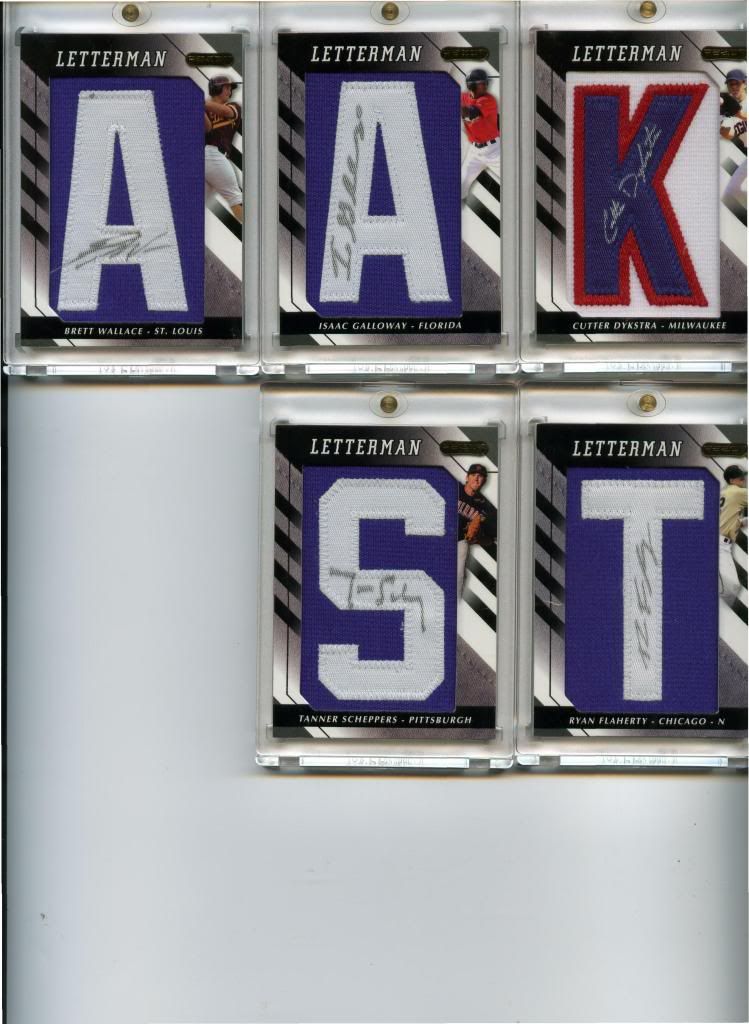 Card #1: Brett Wallace was drafted in 2008 by St. Louis 13th overall but was traded to the A's, Blue Jays, and Astros. Interestingly enough, he's been in trades for Matt Holliday and Roy Halladay. Brett Wallace has a .364 OBP, 4 HR, and 25 RBI in 88 games as a rookie and could be the future slugger for the Astros. However, he only starts against right-handed pitching and Manager Brad Mills continues to play Carlos Lee and his enormous contract. This is the kind of player you love to pull in this set: full of potential and someone to watch for the future.
Card #2: Isaac Galloway was drafted in 2008 by the Marlins in the 8th round and is 21 years old. He has been in A-ball for three years and still has a looooong way to go. His strikeout rate and batting numbers are pretty low so he must improve his hitting to make the majors.
Card #3: Cutter Dykstra #16/20 Each card has variations numbered to 20, 5, and 1. Cutter Dykstra was drafted in the 2nd round of the 2008 draft by the Brewers but was traded to the Nationals. He is the son of former Phillie Lenny Dykstra. Struggling at High-A ball this year after seemingly breaking out last year, he's running out of time at 21 years old.
Card #4: Tanner Scheppers was drafted by the Rangers in the 1st round of the 2009 draft and pitches at Round Rock in AAA. He is rehabbing a lower back nerve injury and will likely get bullpen experience in the Majors by the end of the year. He has lots of talent and nasty pitches but he needs to overcome injury problems. Scheppers has a lot of potential.
Card #5 Ryan Flaherty was drafted by the Cubs in the 1st round of the 2008 draft and was just promoted to AAA after hitting .305 at AA Tennessee and collecting 66 RBI's this season. Flaherty has played every outfield and infield position and will likely see the majors next season or possibly after September this year.
---
Check out my blog at http://cccollecting.blogspot.com!
I collect Rams, Giants, A's, and Mavs (to a lesser extent).

Trade Bait is available through the blog link.
07-13-2011, 01:09 PM
the1toby
Jr. Member


Posts: 105
Joined: May 2006
RE: 2008 Razor Letterman
I'm interested in the Flaherty. Please check my organizer and here's hoping we can work something out. Thanks, Toby.
---
Looking for UC-Riverside alumni (Paul Applebee, Rob Brantly, Marc Rzepczynski)
07-14-2011, 12:29 AM
deja5
Member


Posts: 568
Joined: Aug 2009
RE: 2008 Razor Letterman
check me for the flaherty as well please
---


Jeff Samardzija Supercollector!

Autos: 34
1/1s: 66
total unique cards: 458

Also collecting Nomar Garciaparra, Dan Haren, Manny Ramirez, Roger Maris and Kerry Wood
User(s) browsing this thread: 1 Guest(s)