Share Thread:
2 boxes Between the Pipes
06-19-2011, 07:49 PM
2 boxes Between the Pipes
I picked up a couple boxes of Between the Pipes last week and got a blaster of Victory as a bonus. Here's the results.
I didn't take the time to scan the Victory hits, but if someone wants to see them I can.
Victory RCs
McBain - Carolina
Clitsome - Columbus
Plante - Edmonton
Stoner - Minnesota
Wellman - Minnesota
Johnson - Pittsburgh
Game Breakers
Semin, Heatley, D Sedin
Stars of the Game
Ryan and D Sedin
And here's the BTP.
Thanks for the look. Eveerything's for trade. Including the 62 HSHSaves points I have.
---

Blues PC: 5600+ cards - Blues RCs: 781/933 - 83.7%
06-19-2011, 08:00 PM
mq13
Member


Posts: 2,285
Joined: Sep 1999
RE: 2 boxes Between the Pipes
Nice 2 boxes. I am interested in the points, Masked Men & San Jose DITC insert. LMK if I have anything you need.
---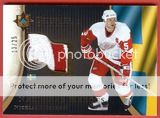 Collecting; Flyers-Red Wings-Brodeur-Cujo-Hasek-Shanahan, 04-05 Franchises Memorabilia
06-19-2011, 10:49 PM
RE: 2 boxes Between the Pipes
nice stuff...i think i like last years btp better than this years
06-20-2011, 03:36 PM
RE: 2 boxes Between the Pipes
Nice stanley cup final card
---


STAN MIKITA CUP FOUNDATIONS
MATT SMABY CUP PRINTING PLATES

BUCKET LINK
06-25-2011, 07:13 PM
bonnev659
Sr. Member


Posts: 9,099
Joined: May 1997
RE: 2 boxes Between the Pipes
great cards

congrats love the Giggy/marty and MAF cards
---
using tracking numbers (all US and some Can)
User(s) browsing this thread: 1 Guest(s)