Share Thread:
What's your worst collecting mistake EVER!!!
05-31-2012, 10:37 AM
(This post was last modified: 05-31-2012 10:42 AM by 705-janveaux.)
What's your worst collecting mistake EVER!!!
now the reason im is because as of late i did a douzy!!! i hosted a crown royale 4 box break and missed the que after 10 min and ended
up only recording 1 of the 4 boxes broke. it was live so not to bad
but only 8 of the 12 buyers were present. now the 4 that werent watching....well you can amagine the dissapointment and me trying to explain how much of a dumbass i feel like...
so ya, post your worst mistake/trade in the hobby and MAKE ME FEEL BETTER!!!!
Oh ya i lost like 200on that break! then decided i would open the remaining 8 boxes from the case so i wouldnt lose more.hahahaha
YA, i was again mistaken!!
---
1952-53 parkhurst 40/105
http://www.beckett.com/forums/thread-1523328.html
1962-63 parkhurst 54/54
http://www.beckett.com/forums/thread-1508326.html

05-31-2012, 04:23 PM
psharp10
New Member


Posts: 57
Joined: Nov 2010
RE: What's your worst collecting mistake EVER!!!
My first mistake came a while ago when the 2003-04 Exquisite set was released for basketball, there was a guy on this site trading cases of them for cards. I sent him $1,400 sale value worth of cards, almost my whole collection at the time, and I never heard back from the guy. Myself, along with about 10 others got taken for a ride and the guy cashed in on everyone trying to hit a Wade, Carmelo, or Lebron RPA. Being a teenager at the time, I almost left the hobby, it was a crushing blow. However, I learned from it and moved on. It taught me to be more careful and to be an advocate for positive trading experiences with everyone I trade with, because I wouldn't wish that feeling upon anyone.

My second mistake was a pretty common one, I didn't use delivery confirmation on a high-end card. I traded a card to a guy on here, he called me out for not sending my card and everyone backed him. Even though he completely tarnished my trade record and dragged my name through the mud, I gave him the benefit of the doubt and sent his card back. Three months later, I went through completed listings on Ebay and I saw that he had sold my card. The funny part is, when he called me out, everyone jumped on the bandwagon and backed him, but as soon as I posted solid proof with the completed listing under his Ebay ID selling my card, everyone couldn't of cared less. Now, I've learned to keep the honest people honest and I put DC on every card I send, no matter how inexpensive it is.
---
Looking For Blackhawks Autos & Patches
'09-10 The Cup Signature Patches Set Progress : 67/84 80% Complete
05-31-2012, 05:20 PM
dragik
Member


Posts: 649
Joined: Nov 2005
RE: What's your worst collecting mistake EVER!!!
If you are going to trade some of that crown, add it to your org i need some
---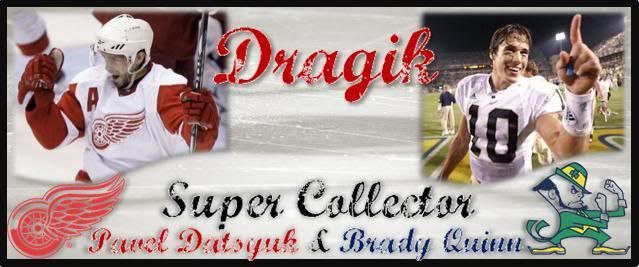 http://s49.photobucket.com/home/dragik420/index

Datsyuk 1 of 1's: 20
05-31-2012, 05:35 PM
RE: What's your worst collecting mistake EVER!!!
A lot of you know about mine. It happened right around the time I first started posting here, about ten months ago when I got back into collecting.

I was looking for a way to beef up my collection and saw an ad on Craigslist for a guy selling a hockey lot. He bought an entire card store but only wanted to keep the football. I went and checked out the cards and ended up paying $200 for the lot. It was mostly 90-95 common stuff. To add insult to injury I only looked through one box (about seven or eight 500-800 count boxes) and got home to find out I had about 3 partial sets of early 90's Score, Pro Set, Upper Deck, as well as some complete sets, and even multiple complete sets.

There was also a whole box full of crap I don't need that I'm stuck with like movie cards, racing cards, wrestling cards, boxing cards, etc.

Felt like a fool after I went through everything. It still isn't all in my org and it's almost been a year.

I like to think I evened it out by purchasing the 580 Patrick Roy lot for $250 and getting over $1000 in BV on those cards as well as some other small merchandise with him pictured on it.
---



PC's
Patrick Roy PC 966/7,265 = 13.30% Complete
Brandon Yip PC 101/183 = 55.19% Complete
Nick Palmieri 93/150 = 62.00% Complete

Unique Avs Cards = 1303
Unique Nordiques Cards = 1054
05-31-2012, 06:56 PM
snobles
Sr. Member


Posts: 3,961
Joined: Sep 2004
RE: What's your worst collecting mistake EVER!!!
So far I have been lucky and not been burned for more than a few dollars in cards.

Sorry to hear about the bad luck but hopefully you were doing the break with people who trusted you.
---
05-31-2012, 07:07 PM
mnc99
Member


Posts: 1,162
Joined: Aug 1999
RE: What's your worst collecting mistake EVER!!!
When I was about 15 I pulled a Barry Sanders Zenith Z-Team Mirror Gold out of a pack at a gas station. It booked for over $500 at the time. I went to a card show a few weeks later, trying to make a trade with it. Couldn't make a trade, but some guy offered me $350 and a few rookies for it. After a few minutes mulling over the deal, I turned it down. A couple years later I went to college and stopped collecting. When I returned to collecting a few years ago, I found out it's only worth about $20 now. I still have it as a reminder. Really wish I would have taken that deal. haha
05-31-2012, 07:40 PM
gmccarth
Member


Posts: 614
Joined: Oct 2005
RE: What's your worst collecting mistake EVER!!!
I pulled one of those legendary Mickey Mantle / Ken Griffey Jr. buyback autos that Upper Deck released a few years ago. I needed money a little while later, so I made a deal with the LCS, part cash, part trade. Don't get me wrong, the deal was very fair, but I wish I had kept the card.
---
I collect Dany Heatley, Nicklas Backstrom, all Red Wings and most Yankees.
05-31-2012, 08:03 PM
RE: What's your worst collecting mistake EVER!!!
My biggest mistake was storing ALL of my cards, about a dozen 5,000 count boxes worth, everything but my Bruins collection in the basement while we refinished my bedroom and den. A water main broke in the street while the city worked on the sewer system. Here's the view from my front porch...
Here's the top of my basement steps. There are 7 steps not pictured, they're under water...
along with most of what we owned and stored down there. A complete drum set, a couple of guitars, 99% of my card collection, washer, dryer, water heater, furnace, not to mention books photos, records, everything we owned that wasn't used on a day to day basis. Since it wasn't a natural disaster, the home owners insurance covered nothing, and when we filed a claim with the city, they claimed it was a flood caused by rain water. It had rained for about half an hour when this happened. So, basically, we were out of luck. Insure, for flood, even when you're not in a flood area kids, because your town isn't going to take the hit if they don't have to. I had no argument with either my city or my insurance company, they both pointed the finger at one another, and I couldn't afford a lawyer. Frrrrrown.
---



Collecting Cam Neely & Alex Ovechkin


Photobucket: http://s15.photobucket.com/albums/a372/p...or%20Sale/
05-31-2012, 08:47 PM
phildo37
Sr. Member


Posts: 2,970
Joined: Apr 2002
RE: What's your worst collecting mistake EVER!!!
Mine was trading away a set of 95-96 Collectors Choice Platinum Players Club for some autographed pucks. Many years later when I got into autographs, did I realize they were likely fakes. It took me forever to rebuild that CC Platinum set.

There is a silver lining, though - I went back to that card shop (was in Vegas, now closed) and found some Topps Gold Label and stole (not literally, just pulled a fast one on them) some red labels. It was 98-99, when the serial numbering was clear. I knew what to look for, he didn't. Didn't make up for the money I spent rebuilding the Platinum set, but it felt good to get some retribution
---

Bucket - http://s251.photobucket.com/albums/gg286/phildonu37/ (I don't update my bucket when stuff is gone)
User(s) browsing this thread: