03-08-2014, 06:07 PM
Just busted 9 boxes of...
... Motown Madness. Went to the show at the Valley Forge Casino last night. A dealer was selling his boxes at a good price. Glad I bought them. Got some cards to add to my PC.

Here are some of the adds

Autographs - Giacomin & Murphy
Enshrined - Hull
Stick Work - Hull
Quad - Delvecchio, Lidstom, Yzerman & Howe

Now this is spurring me on to try to get as much as I can again.

I have several dupes now so anyone looking for any they are marked in my ORG for trade.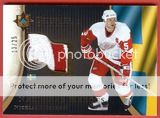 Collecting; Flyers-Red Wings-Brodeur-Cujo-Hasek-Shanahan, 04-05 Franchises Memorabilia