09-09-2014, 03:27 PM (This post was last modified: 09-09-2014, 03:56 PM by nittany13.)
RE: 25+ listed OPG sets/parallels that don't partially/fully exist…or do they?
(09-09-2014, 08:57 AM)

jjoy Wrote: I agree with you. Take Emmitt Smith for instance. I have seen several of the special two card 1993 Mint parallel set numbered to 1486 for sale over the years. I have never seen a 1993 500 serial numbered mint parallel card for him. And he is a popular player. Another popular one would be Barry Sanders. I checked Htoutlaw's website and he doesn't have one. I have never seen one of Barry Sanders for sale either.

As far as the case it came in I have seen several Action packed cards in those cases. I think it is just a standard case Action Packed used.
I can not imagine those encased cards were ever inserted in to packs though, which makes it a minor mystery (box toppers?).
On a side note, the 1997 1/1 Metal Die Prizes appear to come with encased base cards as well.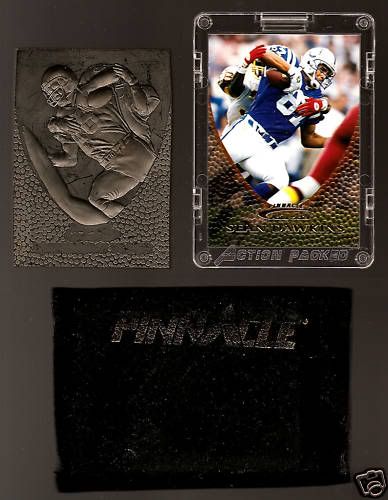 ---
(09-09-2014, 09:30 AM)

mbostick Wrote: I have seen all the AP Gold Steve Young cards, but two of them only once. Having collected Steve Young since around 1990, and pretty heavy for over 10 years.

Here is a small portion of my Young stuff....


The fact that I have only seen a couple of them once, and the Young I have is the only I have seen, makes me believe they do or did all exist at one time. However, the star theory may have some merit. The biggest flaw I would see here, is the ap sets didn't have that many commons. They were small sets with multiples cards for many stars.

I wonder if many/most were melted by AP. Granted there is only a tiny tiny bit of gold on the card, even with them being covered, but take 5000-6000+ of them, and that might add up...
That is a cool collection of collectibles there.
Going back to your point, including the Update set there are 222 base cards total in this set (not 200 as incorrectly stated by me earlier). The only methods that I could see these "gold cards" being distributed were through inserts, redemptions or in complete factory sets. Since I see a picture of the winning certificate document posted I am inclined to believe that only a few cards from the set had parallels produced, and those could only be acquired through redemption at the time.
This makes me want to break a few cases of these 1993 Action Packed cards to see if I come across any of these winning certificate cards. Who wants to join me?