Share Thread:
1st Annual weslamb and friends Contest for December!! Final Entries Only
12-29-2012, 11:15 PM
(This post was last modified: 12-29-2012 11:19 PM by alanch.)
alanch
Sr. Member


Posts: 1,746
Joined: Oct 2004
RE: 1st Annual weslamb and friends Contest for December!! Final Entries Only
Thanks for the contest & good luck to everyone else! Some pretty good looking sketches on here already!
My player is Jim Leonhard for a number of reasons. First and foremost, my local ties to him. Jim's uncle was my High School and American Legion baseball coach and his dad was my high school basketball coach. When Jim started out his career with the Buffalo Bills, he was always done with football by January and would actually come and participate in basketball practice with with us, which was really cool.
Throughout his college and pro career, Jim has always been a bit of an overachiever. Growing up in a county with a total population of less than 16,000 not many people from this area make it big in pro sports.
Leonhard didn't receive any D1 scholarship offers out of high school and was a walk-on Wisconsin. He was not awarded a scholarship until his senior year even though he had already been named First Team All-Big Ten twice. He also earned the award as a Senior. He left Wisconsin tied for most interceptions in team history with 21 and was also a great asset as a punt returner. He left Wisconsin as a 3 Time All American with the Big Ten Conference career punt return yardage record with 1,347 yards as well as most interceptions in a season with 11, which says a lot when you look at some of the athletes and Heisman Trophy winners to come out of the Big Ten.
Despite his college success, he went undrafted and again had to prove himself as a "walk-on" with the Buffalo Bills. After beating the odds as a 5'8" 185 lb. undrafted rookie and making the Bills opening day roster as a rookie, he went on to play three seasons with the team as a punt returner and safety. In his final year with the Bills, he finished 6th on the team in tackles. Since his time with the Bills, he has been an important member of some very good defenses with the Ravens and the Jets. During his three years with the Jets, he was the opening day starter. This season he has played well as a reserve safety and punt returner for the Denver Broncos.
Through all of this hard work and success, he has still found time to support his local community and hosts a youth football camp every summer at his old high school, just down the road from my hometown. He is a great story of how hard work and dedication pay off and is a great community guy. Someone that you can't help but cheer for.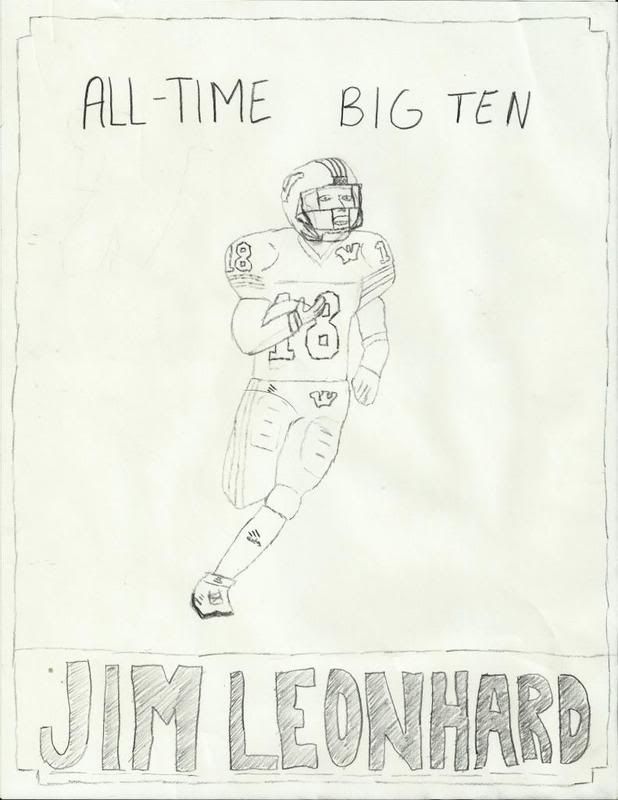 ---


-Banner Courtesy of rogue655-

Top 3 Jim Leonhard Needs:
2005 Longevity Holofoil /25
2005 Longevity True Green /100
2009 SPx Super Scripts Autographs Eight /8

ALSO COLLECTING JOEL EFFERTZ - BASEBALL
User(s) browsing this thread: