Share Thread:
2 Boxes of 2012 Bowman DPP - I love Orange!
12-08-2012, 06:54 PM
jcanavas
New Member


Posts: 89
Joined: Oct 2007
2 Boxes of 2012 Bowman DPP - I love Orange!
Whats up guys! I stopped by the LCS here in Sac this afternoon and picked up a couple of boxes of 2012 Bowman DPP. Bought a few boxes from them this year but nothing spectacular. But this time, I think I did ok. Here are hits!
blue border #/500
Edwar Cabrera
Mitch Gueller
Kole Calhoun
Austin Schotts
Lex Rutledge
orange border #/250
Scott Oberg
Silver Ice
Gavin Cecchini
Tyler Thornburg
Chrome Refractors
Bralin Jackson
Mitch Gueller
Mike Dodig
Victor Roache
Stephen Pryor
Richie Shaffer
Kevin Plawecki
Jamie Jarmon
Joey Gallo
Alfredo Rodriguez
Blue Refractors #/250
Ron Miller
Bryan De La Rosa
Now for the good stuff!
David Dawl Auto
Courtney Hawkins Perfect Game auto #159/233
Pulled those two in the first box! Was stoked! I figured 2nd box wouldn't be that great. Got down to the last handful of packs and pulled this guy:
Lewis Brinson Orange Refractor auto #19/25!!!!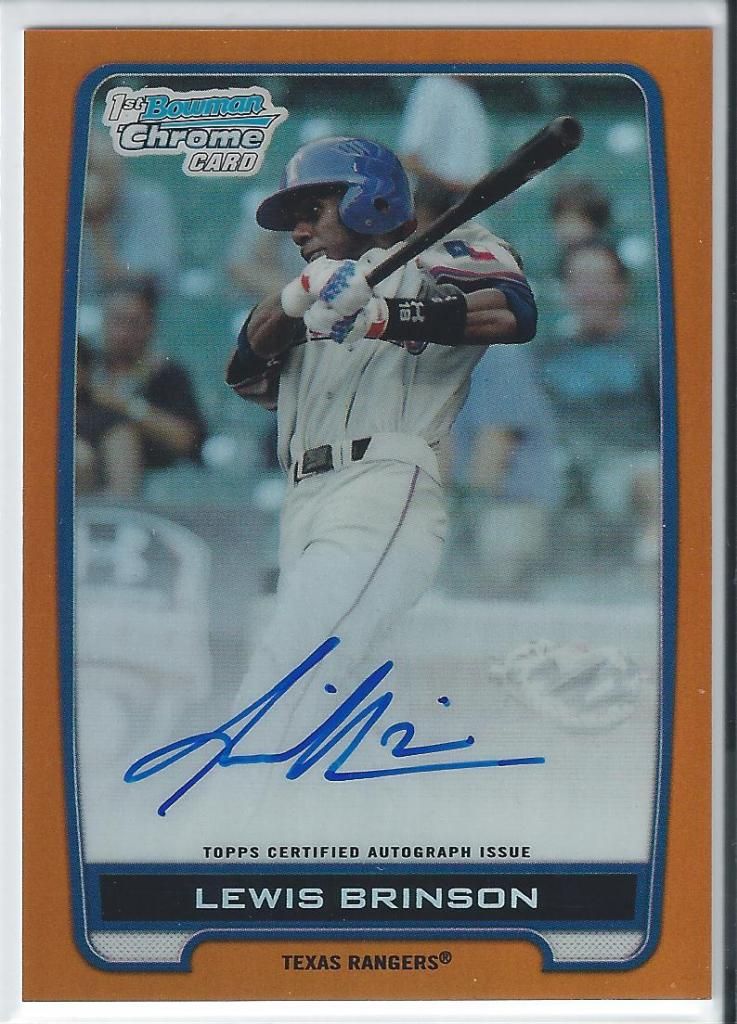 :-) :-) :-)
Sorry for the huge pics, lol. Thanks for looking!
User(s) browsing this thread: 1 Guest(s)