Share Thread:
1 Box 2012 Panini Cooperstown
11-18-2012, 04:42 PM
1 Box 2012 Panini Cooperstown
Went into my LCS just to "look" ... Well, it didn't take long to convince myself that I needed to pick up a box to open during the Vandy game.
What I liked - opening some packs (too often HOF themed products are one-pack wonders and you're gambling pretty big on a single pack).
I also liked the on-card autographs. So much better than stickers in my opinion.
What I didn't like - the fact that this product is licensed only by the National Baseball Hall of Fame and not the MLB, you don't get any licensed logos on the cards. The result is photography that has heads chopped off or facing away from the camera, so you don't see any logos. It kind of cheapens the whole experience for me.
I also think the inserts and everything were interesting, but very pedestrian. It felt a lot like going to a museum which was cool (lots of good info on the cards, stories, etc.) but since you're not actually at the hall of fame, it felt kind of like a brochure for the museum and not about the players themselves...
But since most people here probably care most about the hits, here's what I got: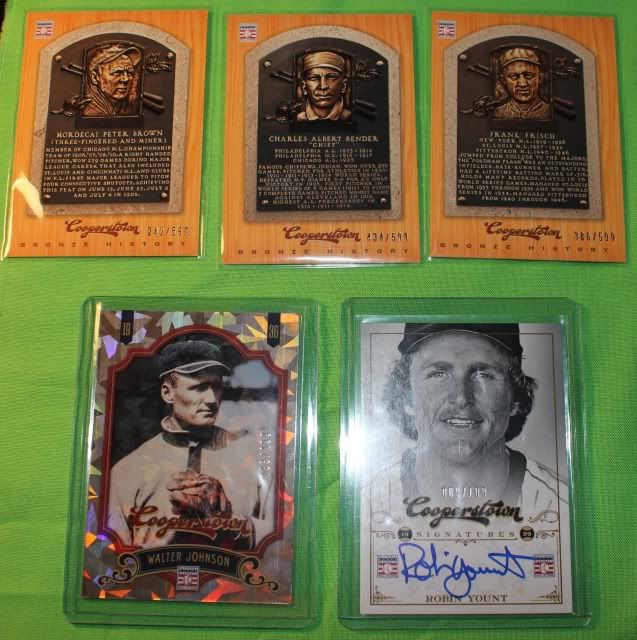 Mordecai Brown Bronze History 242/599
Chief Bender Bronze History 434/599
Frank Frisch Bronze History 386/599
Walter Johnson 263/299 (This card looks great - a lot like the Elites from back in the 1990s)
The big hit:
Robin Yount Cooperstown Signatures AUTO 89/100
Based on my initial searches, it looks like I got a much better hit than a lot of people did for their $100 boxes... I'm glad I pulled the Yount with a relatively low # than say a Jim Palmer or something... (No offense Palmer fans)
---
Collecting Earl Bennett, Casey Hayward and other Vanderbilt Alums ...
User(s) browsing this thread: 1 Guest(s)