Share Thread:
AWESOME 4 Boxes Chrome & Mega Mailday
08-26-2012, 10:28 AM
(This post was last modified: 08-26-2012 10:29 AM by dbacks08.)
dbacks08
**MUST SEND FIRST**


Posts: 830
Joined: Jun 2009
AWESOME 4 Boxes Chrome & Mega Mailday
Yeah... I went on a rampage at my LCS today and cracked four boxes of 2012 Topps Chrome because I have been saving up for a chance to get out there. The first one was the 1-per-3-hobby-cases HOT box with all refractors inside. It was pretty awesome... the only card from that box that was not a refractor was one of the two autos (the other auto was a sepia parallel). Without further ado... pictures!
In addition to the below, the hot box put me at 104/220 refractors (47.3%), I got 177/220 base (80.5%), and 17 X-fractors.
Die cuts: Ortiz, Bautista, Strasburg
Lavarnaway and Parker autos, Derek Lowe black #045/100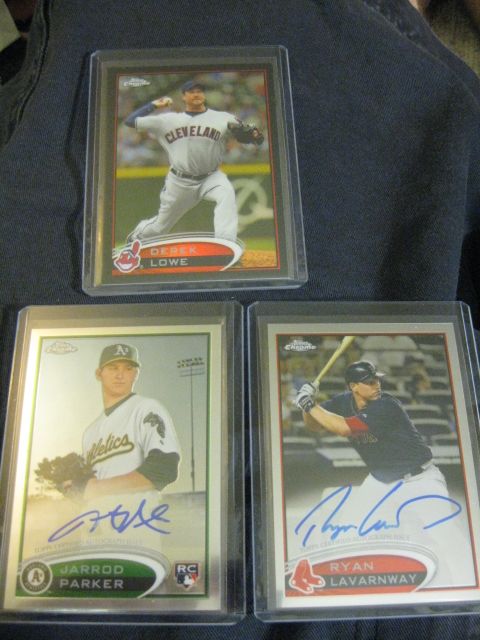 Clockwise from top left: Milone, Romine, Pomeranz, Mesoraco regular autos
Eric Surkamp auto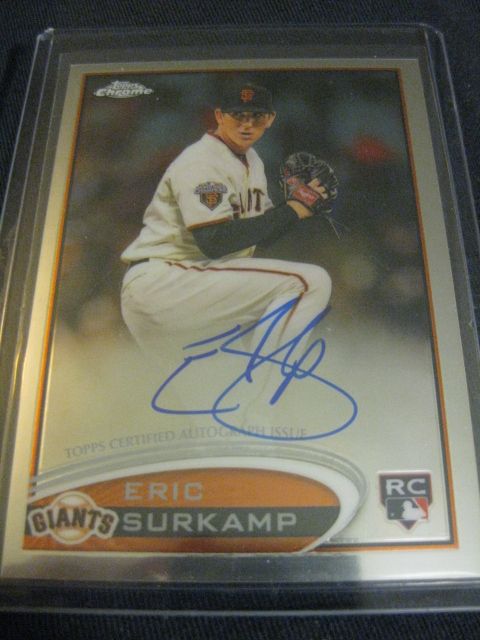 Liam Hendricks & Clayton Kershaw blue ref /199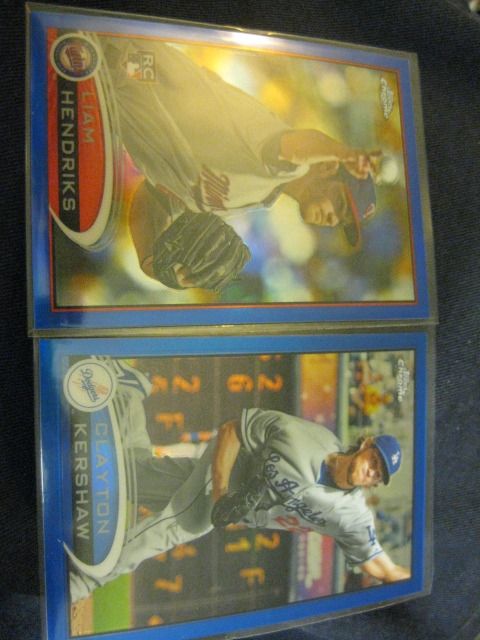 Giancarlo Stanton black ref 060/100
Tom Milone gold ref 04/50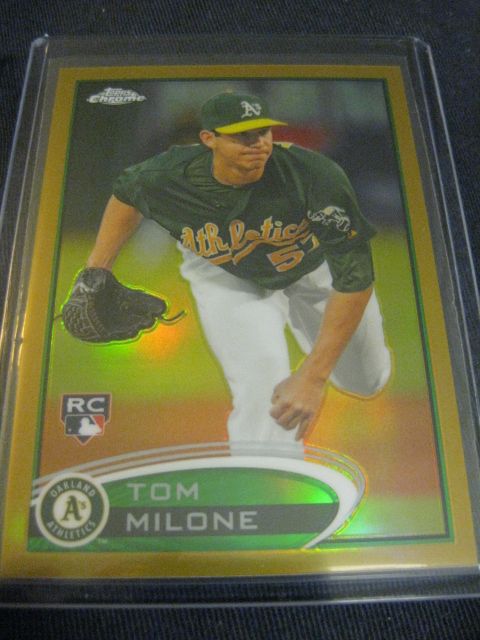 Yonder Alonso sepia auto 23/75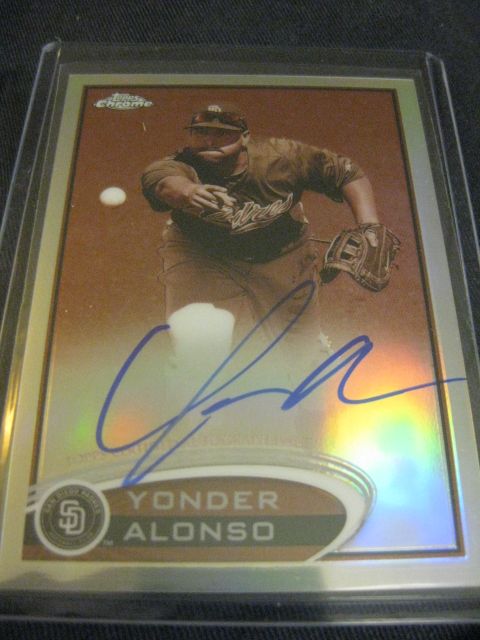 Robinson Cano sepia 75/75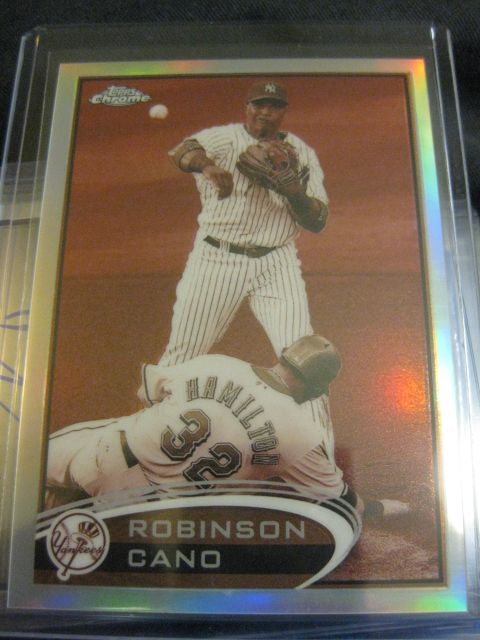 Tim Lincecum red ref 21/25
---
Oh, and these two which wouldn't fit in the last post lol
Yu Darvish black ref 099/100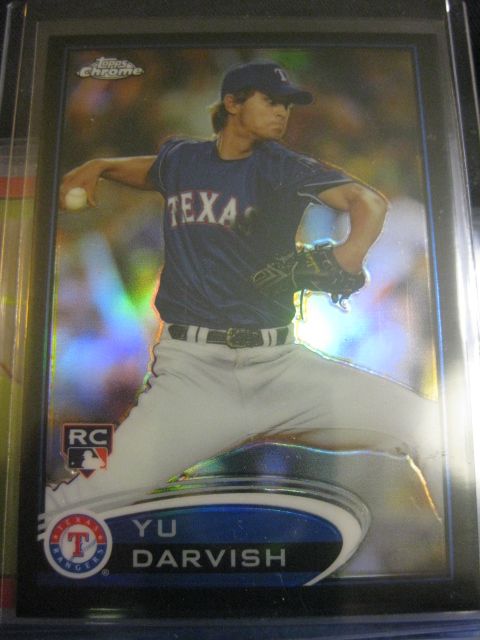 Mike Trout blue ref 192/199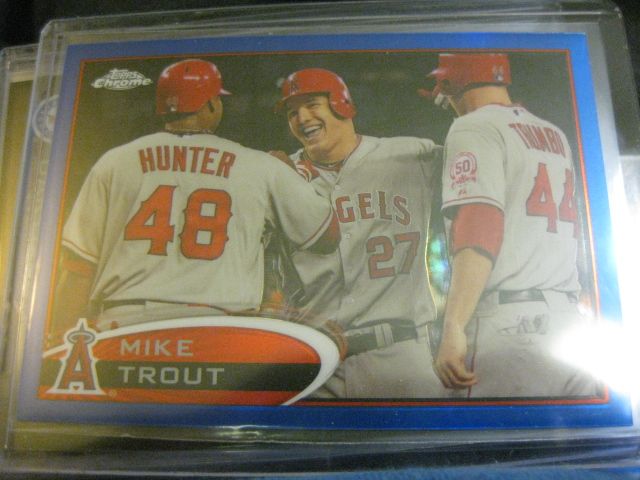 ---
Really excited about this mailday... I got a LOT of cards!
First, the one I've been waiting for for a month now since I sent in the redemption (which wasn't allowed for the July COTM contest, but I hope it gets into August!) - my Mike Schmidt/Chipper Jones dual auto #07/25: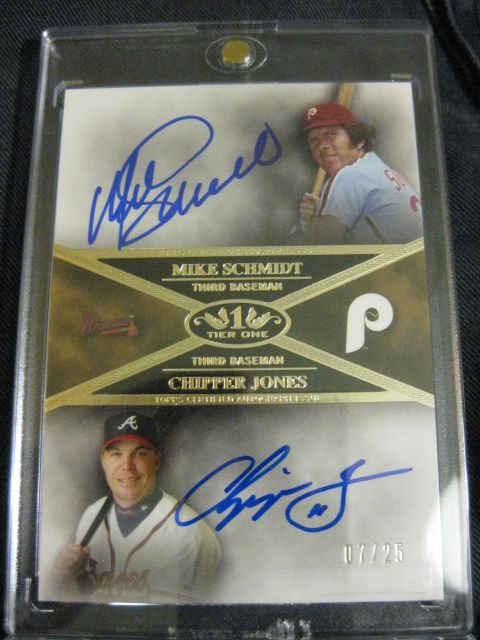 Pulled this beauty #05/15 out of "pack wars" at my LCS today: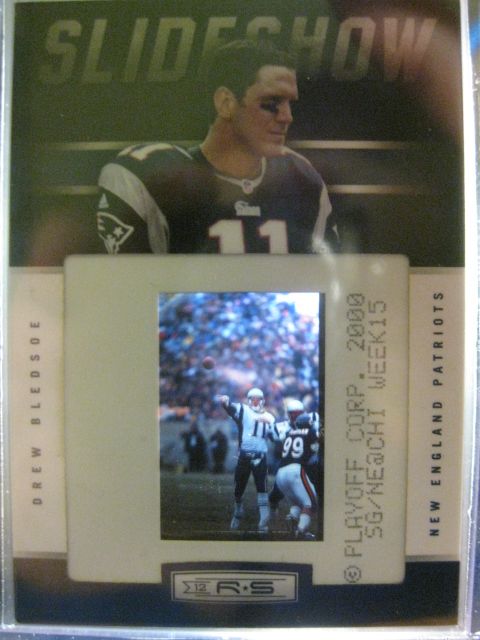 Some random Giants from a LiveCaseBreak.com break: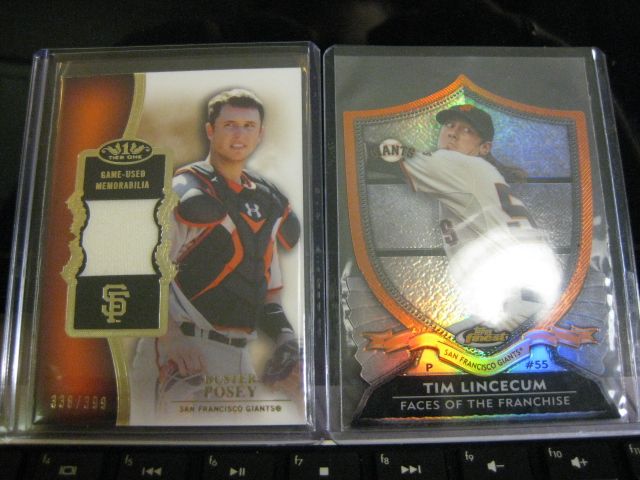 And a whole bunch of Allen & Ginter: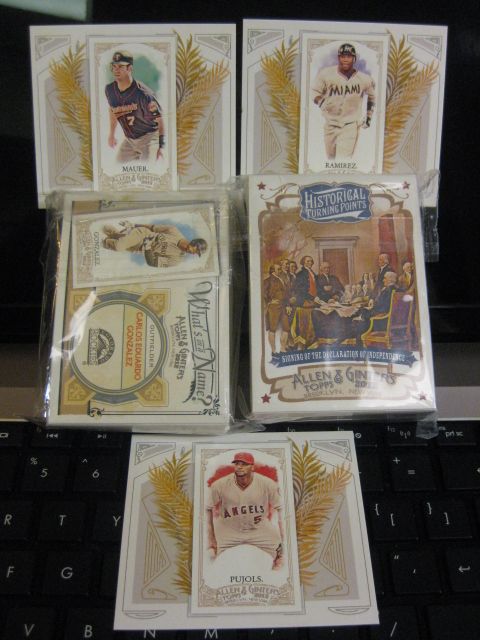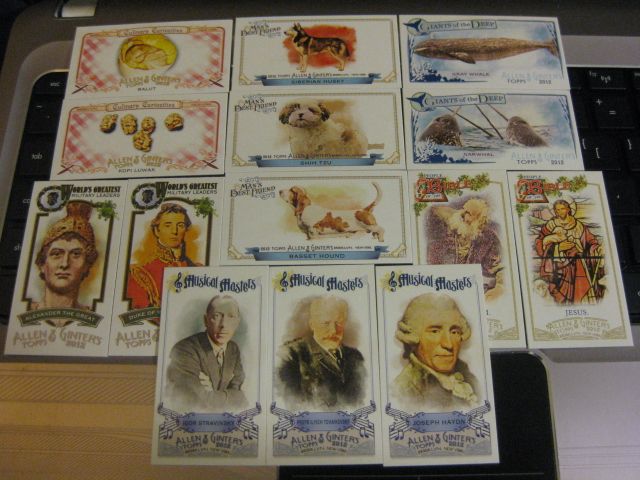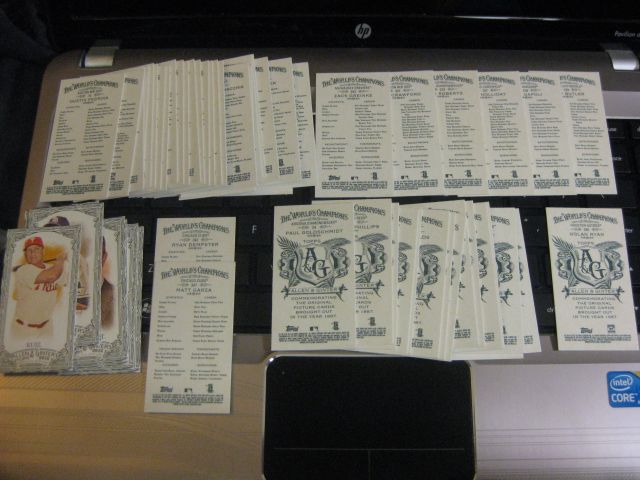 Guys in Hats "The Bowler"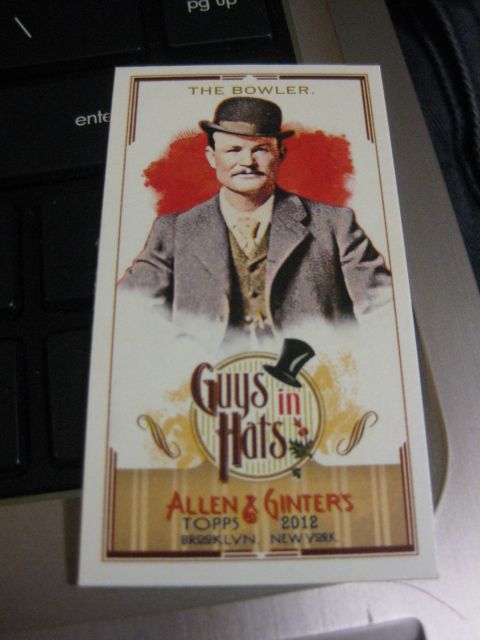 ---
Clockwise, from top left: Michael Phelps relic, Bob Hurley Sr. relic, Bob Knight 4-color relic, Al Unser Sr. relic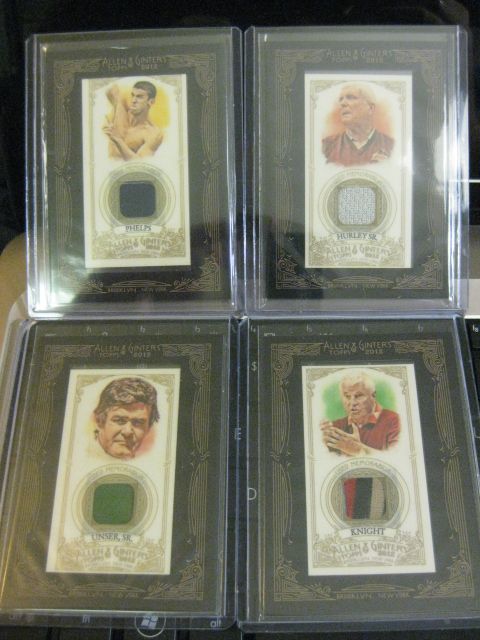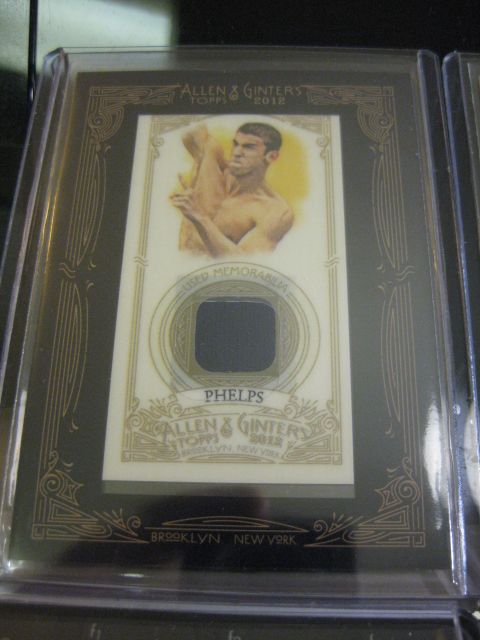 Clockwise from top left: Lowrie, Longoria, Cueto relics
Left: Marty Hogan auto
Right: Dale Webster auto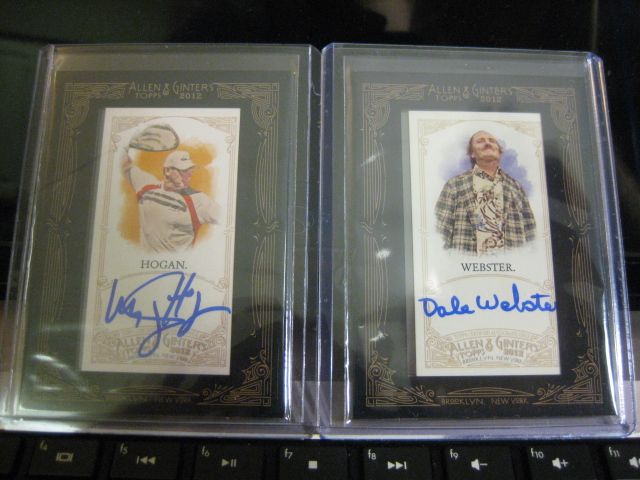 ---
*Please note that in all of my future trades, I will require extra time to ship. I have no adequate transportation to a post office. If you don't want to wait, please do not trade with me.*
User(s) browsing this thread: 1 Guest(s)