Share Thread:
Debate on who's a better player Kobe or Lebron
06-09-2012, 01:25 AM
(This post was last modified: 06-09-2012 01:29 AM by chrisa19978.)
Debate on who's a better player Kobe or Lebron
I know many people think Kobe is a better player and I mostly think it's because of his 5 NBA Championships they say this. I can see the argument there but if you think about it 3 of Kobe's 5 NBA Championships he had Shaq on his team. Let's look at 1999-00 Shaq won the NBA MVP regular season award and Kobe was 12th on that list. Shaq was the 2000, 2001 and 2002 NBA Finals MVP. So in 2000-01 Shaq was 3rd and Kobe was 9th for the MVP and Shaq won the Finals MVP. So we go to 2001-02 Shaq was 3rd in the MVP vote and Kobe was 5th and yet again Shaq won the NBA Finals MVP. Then we go to 2007-08 Kobe won the MVP award and in 2008-09 and 2009-10 he won the finals MVP. Lebron has yet to win a championship yet but he played for Cleveland for his first 6 season and had no one else but him who was worth mentioning unless you want to count an old Shaq who barley played at all that year. So I ask what makes people feel why he is better. I am going to throw out NBA MVP ranking for each year on each player just to show you to compare. Looking at my count in Lebron's career he was always on the MVP list with his worse finish being 9th on his rookie year and after that he was no worse than 6th which his 2nd year was and in the top 5 every other year. Kobe it took him 4 year to even get a vote and has only won 1 to Lebron's 3 MVP's. I question anyone who thinks Kobe Bryant is better. Just look at it Lebron is a better all-around player he is better on defense and offence and the only reason why people say Kobe is better is because he has 5 NBA Championships 3 of which Shaq was the main reasoning for winning. Kobe has had a better team his entire career till last year when Lebron James joined the Miami Heat and he was hated for doing that. Now please make your argument on why you think Kobe is better or worse than Lebron. Here is the voting for their entire career for each player and Kobe's 5 NBA Championship rings would be the only reason I can see why people think he is better (3 of which he might not even have if it was not for Shaq). Now give me reasons why you think I am wrong.
Kobe Bryant MVP voting
1999-00=12th
2000-01=9th
2001-02=5th
2002-03=3rd
2003-04=5th
2005-06=4th
2006-07=3rd
2007-08=1st
2008-09=2nd
2009-10=3rd
2010-11=4th
2011-12=4th
Lebron James MVP voting
2003-04=9th
2004-05=6th
2005-06=2nd
2006-07=5th
2007-08=4th
2008-09=1st
2009-10=1st
2010-11=3rd
2011-12=1st
---
Oh and if you want to see where I recieved all my info it was from these 2 sites.
http://www.basketball-reference.com/awards/
http://www.nba.com/history/finalsmvps.html
---
Derek Jeter Collector from 1992-1996. 305 out of 306 99% complete.

1450/1919 1990's Jeter cards 76%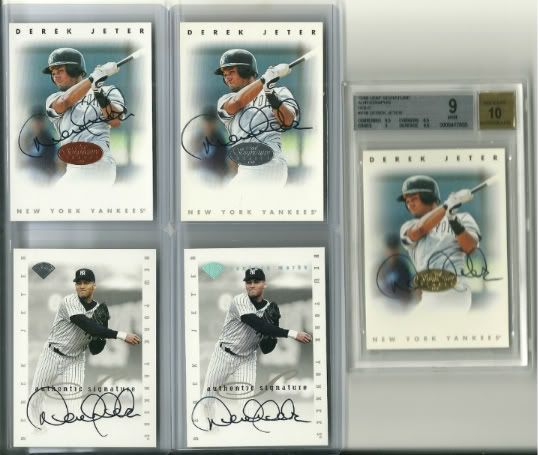 User(s) browsing this thread: 1 Guest(s)