Share Thread:
3 Boxes 1999 Upper Deck HoloGrfx (scan heavy)
06-08-2012, 03:21 PM
(This post was last modified: 06-08-2012 03:25 PM by dow714.)
dow714
Member


Posts: 579
Joined: Dec 2011
3 Boxes 1999 Upper Deck HoloGrfx (scan heavy)
So i recently bought 2 boxes of 99 Hologrfx cards but had previously bought 1 box a year ago or so...so im just going to post all the hits from all 3 boxes.
I did much better with these boxes then i did with the 2000 Ultimate Victory box i posted about a couple days ago.
36 packs per box 3 cards per pack
Heres what i got
Rookies
Dameane Douglas, Aaron Brooks, Cecil Collins
Karsten Bailey, Al Wilson, Joe Germaine
D'Wayne Bates, Brock Huard, Marty Booker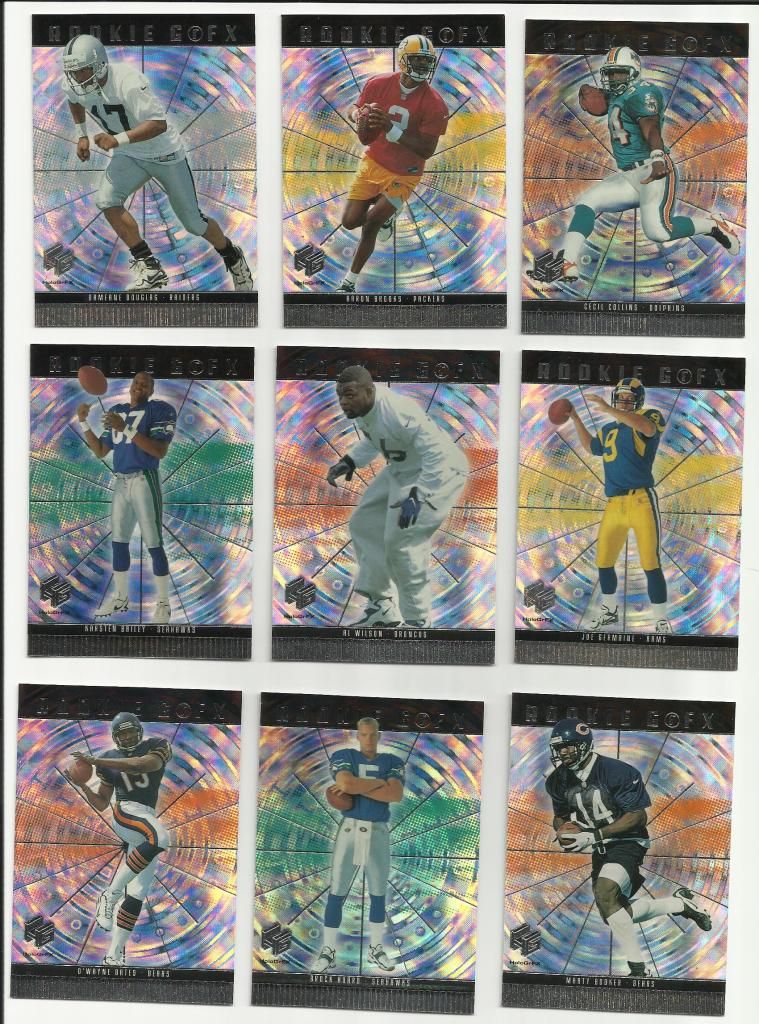 Rookies
Cade McNown, David Boston, Tim Couch
Kevin Faulk, Kevin Johnson, Troy Edwards
Jermaine Fazande, Mike Cloud, Shaun King
Rookies
Edgerrin James, Daunte Culpepper
Champ Bailey, Torry Holt
HoloGrfx Ausome Inserts
Doug Flutie, Tim Brown, Darnay Scott
Tim Biakabutuka, Ryan Leaf, Terry Glenn
Kent Graham
HoloGrfx Ausome Inserts
Emmitt Smith, Randy Moss, Jerry Rice
Steve Young, Brett Favre
HoloGrfx Ausome Rookies
Cade McNown, James Johnson, Marty Booker
Demeane Douglas, Brock Huard
HoloGrfx Ausome Rookie + NFL 24/7 GOLD
Daunte Culpepper, Keyshawn Johnson
NFL 24/7 Complete Insert Set 1-15
Terrell Davis, Emmitt Smith, Jake Plummer
Troy Aikman, Drew Bledsoe, Peyton Manning
Akili Smith, Keyshawn Johnson, Ricky Williams
NFL 24/7 Complete Insert Set 1-15
David Boston, Edgerrin James, Eddie George
Herman Moore, Jerome Bettis, Cade McNown
Star View Inserts
Eddie George, Mark Brunell, Fred Taylor
Brett Favre
3 of my better pulls
Future Fame Inserts
Tim Brown, John Elway, Dan Marino
And my best pull
Future Fame GOLD Inserts
Randy Moss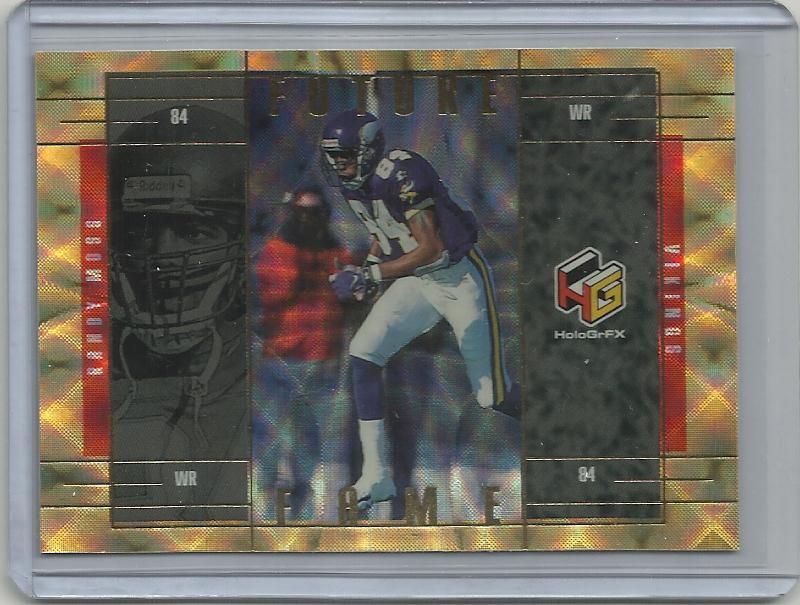 I also got the complete base set 1-60 probably x2
Odds of getting an auto were 1:105 I opened 108 packs no auto
---
http://s1230.photobucket.com/albums/ee488/wingah/

Rob Gronkowski RC collection 34/36 Any help is appreciated!



Thanks to jkiddlridnour for making the banner!
User(s) browsing this thread: 1 Guest(s)