09-15-2020, 04:49 PM (This post was last modified: 10-01-2020, 09:57 AM by jplarson.)
2020 Donruss box breaks
2020 Donruss Box Break
10 cards per pack, 18 packs per box
Base set - 105/250, 42%
Base set /w RCs - 123/350, 35%
Base variations - 1/50
Rated Rookies (1:3) - Jake Fromm, Tee Higgins, Justin Jefferson, Laviska Shenault Jr, Lynn Bowden Jr, La'Mical Perine
Rookies (1:1.5) - Devin Asiasi, Terrell Lewis, Darrell Taylor, Raekwon Davis, Cesar Ruiz, Tristan Wirfs, Albert Okwuegbunam, Jedrick Wills, Derrick Brown, Kristian Fulton, Jordyn Brooks, KJ Osborn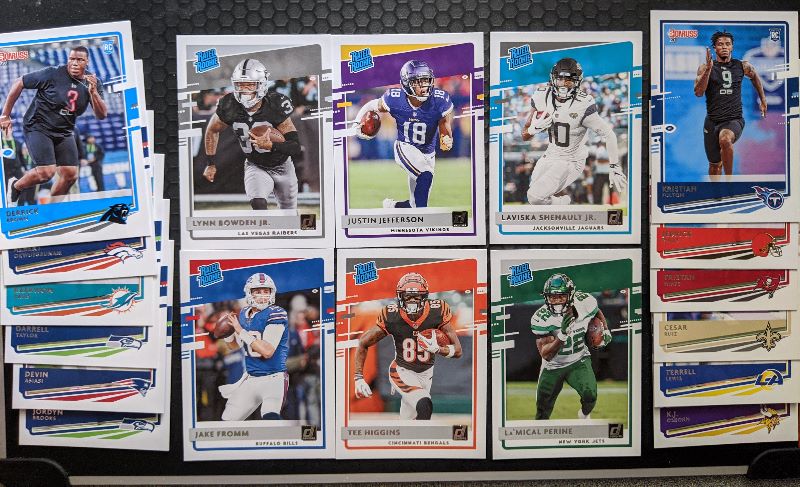 Base Variations (1:18) - Terry McLaurin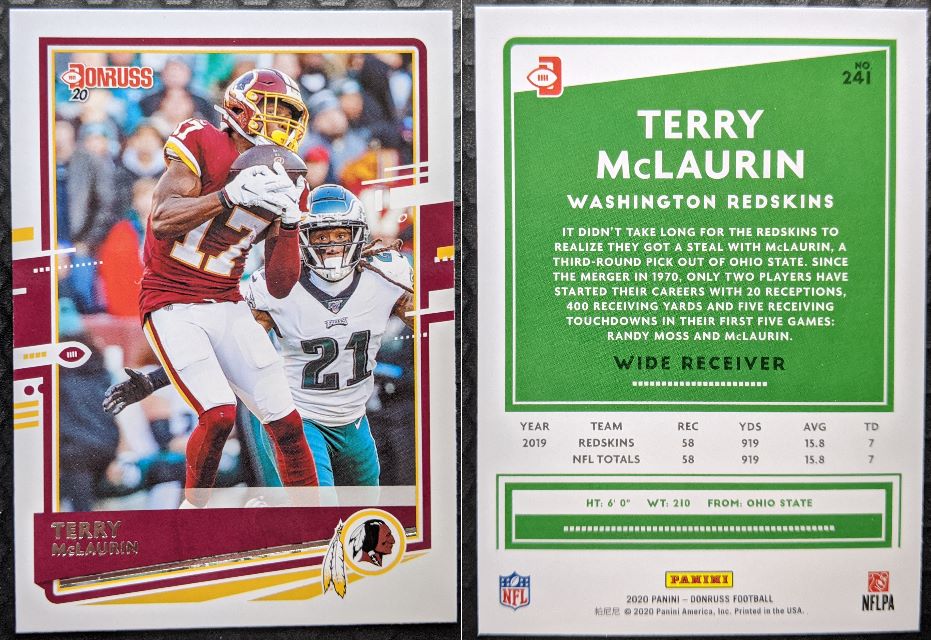 Parallels
Red Press Proof - Leighton Vander Esch, Bob Greise, Derrick Henry, John Hightower IV RC, Jalen Hurts RR RC
Red Press Proof Variation - Dak Prescott
Rated Rookie Bronze Canvas - Collin Johnson, Jordan Love, Henry Ruggs III
Season Stat Line (purple foil) - Jacob Eason RR 005/500, Sterling Shepard 17/57
Silver Press Proof - Blake Martinez 40/100
Silver Press Proof Die Cut - Randy Moss 68/75
Gold Press Proof - Mohamed Sanu 39/50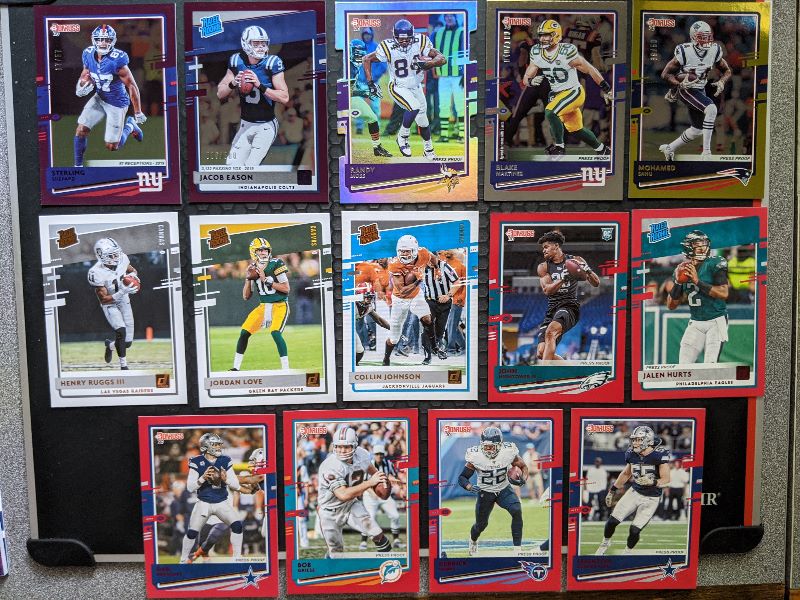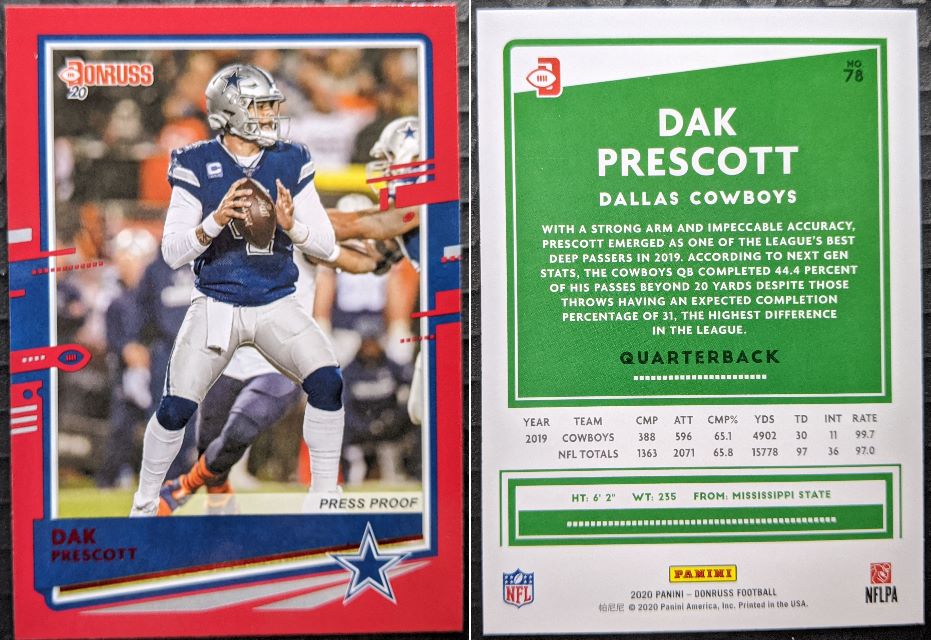 Inserts
Action All Pros (1:9) - Jason Kelce, Quenton Nelson
The Champ Is Here(1:18*) - Frank Clark
The Champ Is Here Holo - Travis Kelce 75/100
Dominators (1:6) - Alvin Kamara, Dak Prescott, Nick Bosa
Donruss 2000 (1:2) - Austin Ekeler, Chandler Jones, Cooper Kupp, Dalvin Cook, Darius Leonard, Josh Jones, Nick Chubb, Tyler Boyd, Tompa Brady
Elite Series (1:6) - Saquon Barkley, Kerryon Johnson, Cooper Kupp
Elite Series Rookies (1:9) - Michael Pittman, Johnathan Taylor
All-Time Gridiron Kings (1:18) - LaDainian Tomlinson
Gridiron Kings (1:18) - Patrick Mahomes
Rookie Gridiron Kings (1:18) - Tee Higgins
Highlights (1:6) - Kyler Murray, Adam Vinatieri, Cooper Kupp
Legends of the Fall (1:9) - Troy Aikman, Terrell Davis
Legends Series (1:9) - Pat Tillman, Ed Reed
Power Formulas (1:9) - Ahman Green, Keenan Allen
Retro Series (1:9) - Walter Payton, Peyton Manning
Road to the Super Bowl (1:18) - Tevin Coleman
The Rookies (1:4.5) - Jake Fromm, Antonio Gandy-Golden, Jalen Reagor, Jacob Eason
The odds are based purely on my one break.  It's possible "The Champ is Here" actually comes 2 to a box and I lucked out by having one appear as a Holo version.  I might have also hit on an extra "The Rookies", it's possible there's a rounding error for inserts and a box may yield an extra one from any set.
Hits
All-Pro Kings - Adam Thielen 270/299 "The enclosed player-worn/used material is guaranteed by Panini America, Inc"
Rookie Gridiron Kings Blue - Jacob Eason 18/49
If Eason winds up being a star, this'll have been a great box for him.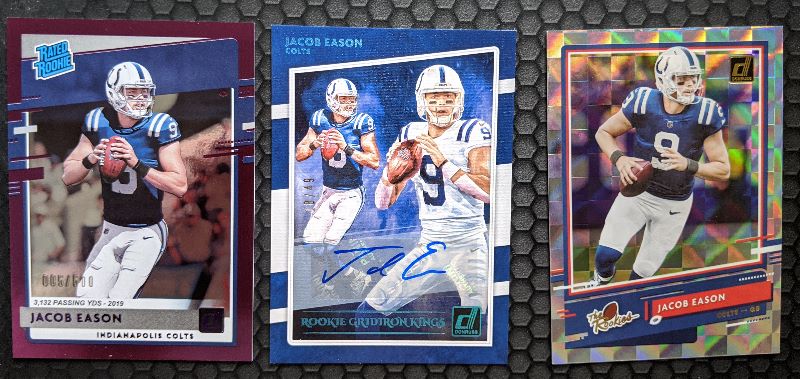 It's like Panini isn't even trying anymore with photography.  I get there probably aren't a lot of great high res shots, but the same photo within the same set?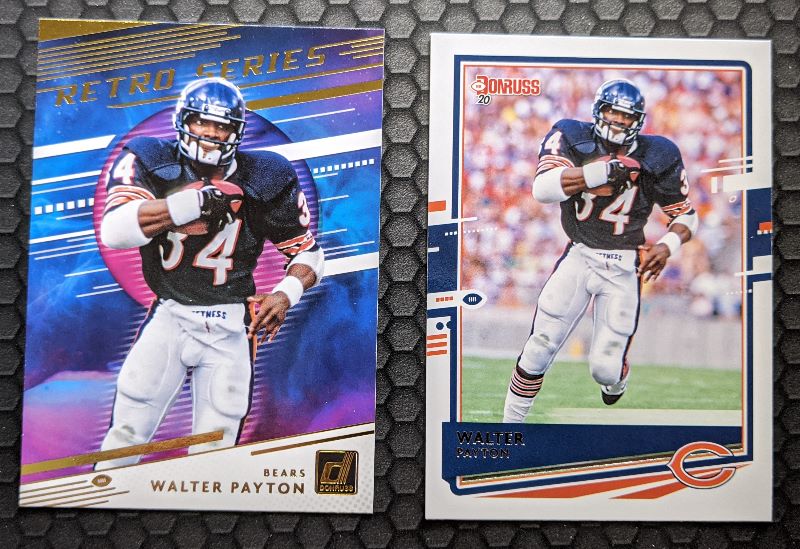 I mean, it's totally like they didn't use it for Score 2015 or anything.... OH WAIT THEY TOTALLY DID!
Here again my annoyance at their insistence of not numbering insert cards, but rather going with the lame acronym soup.  They don't even both distinguishing between the same acronym anymore: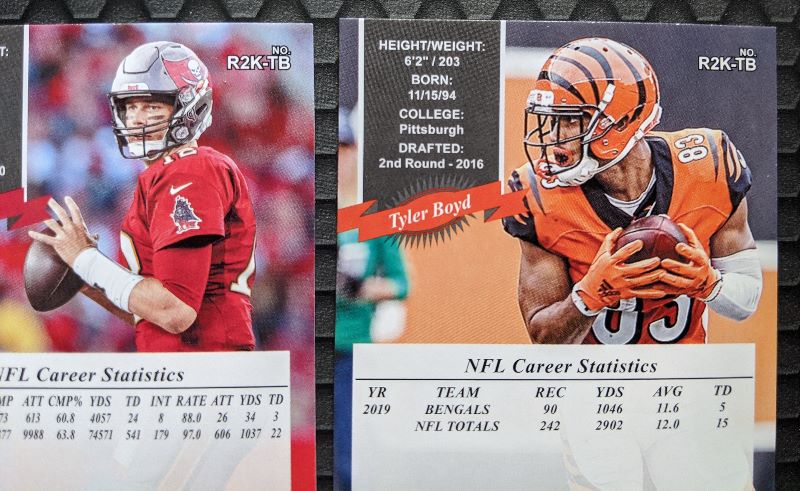 Other thoughts:
1.  The number and type of parallels feels about right.
2.  The Highlights insert design strongly echoes the base set design and the back is essentially a color swapped version of it.  Nice job hearkening back to when it was a subset from Donruss in the 80s/90s.
3.  Legends of the Fall should be relegated to the Panini Legacy program instead of Donruss.
4.  The canvass cards from Gridiron Kings and bronze Rated Rookie parallels are really nice.
5.  Any reference to kings and royalty confuses the product with Crown Royale and Panini's name brand set.  They should be moved to those programs with the exception of Gridiron Kings (a take off of the venerable Diamond Kings for baseball).
6.  Donruss 2000 cards are SUPER awesome.  As someone who remembers breaking open packs of those, they are super cool.  Those would have made for a more fun variation to the main set than a photo swap.
7.  Power Formulas looks like something out of 2000 Upper Deck Ionix, not sure how they fit with Donruss.
8.  The Champ is Here is a cool concept and helps reward collector's of the Super Bowl winning team with more of what they love.
9.  Fun seeing Joe Montana in a Chiefs jersey
10.  This is a set worthy of a Donruss Update product which includes moves like Adrian Peterson and Leonard Fournette to the Lions and Bucs respectively.  Also could add any other veteran moves/trades in 2020 plus a handful of forgotten rookies.  Sell it as a complete set from their web store or as a legit redemption.  Remember those Collector's Choice final update redemption sets from the mid-90s or the Topps/Score update factory sets from the 80s?
Here's the pack by pack breakdown: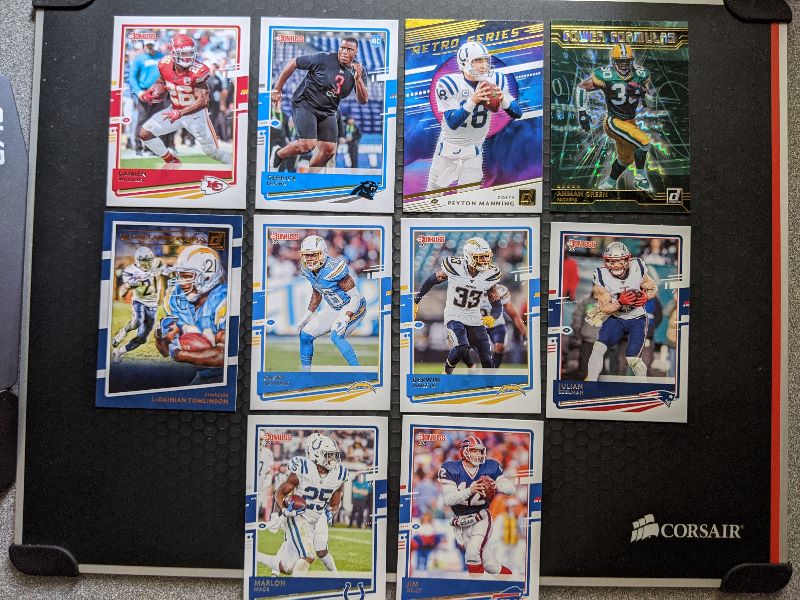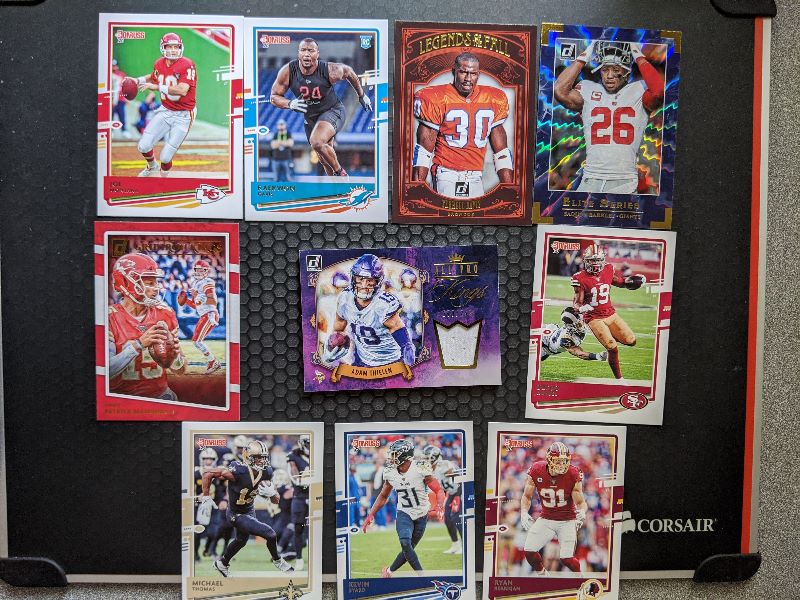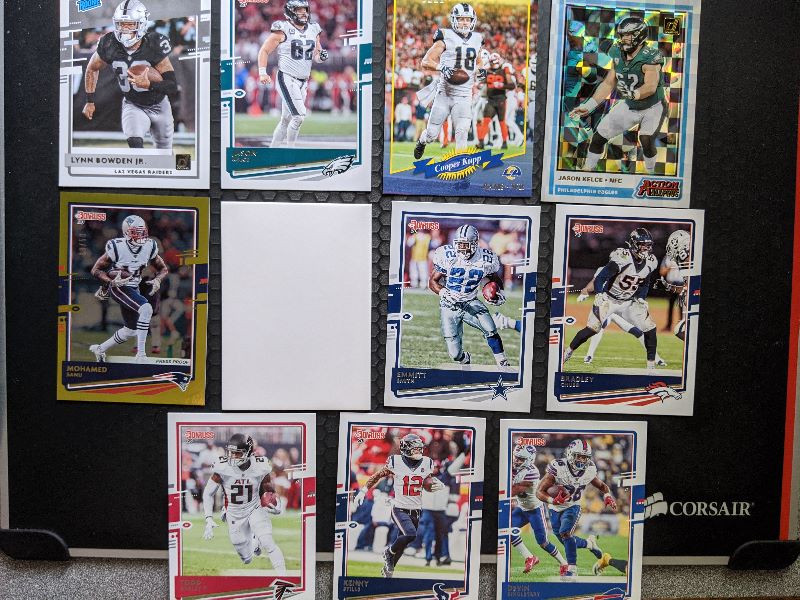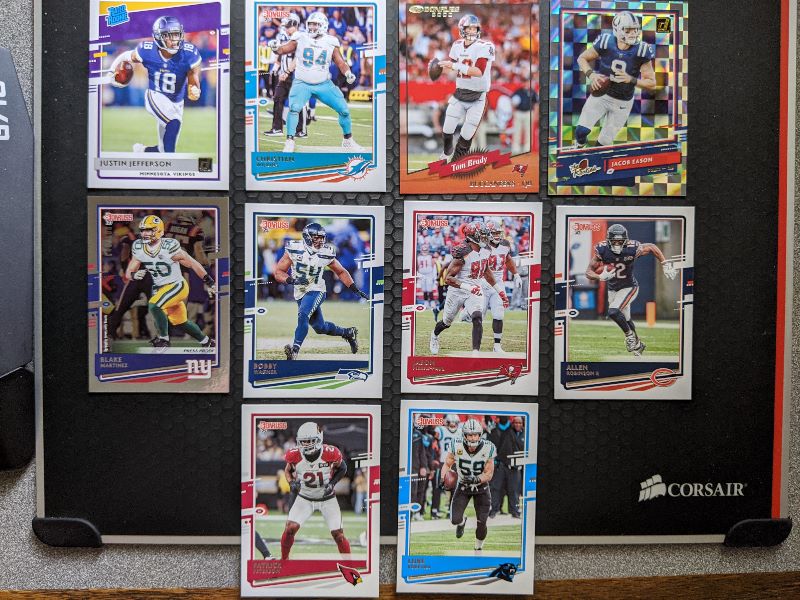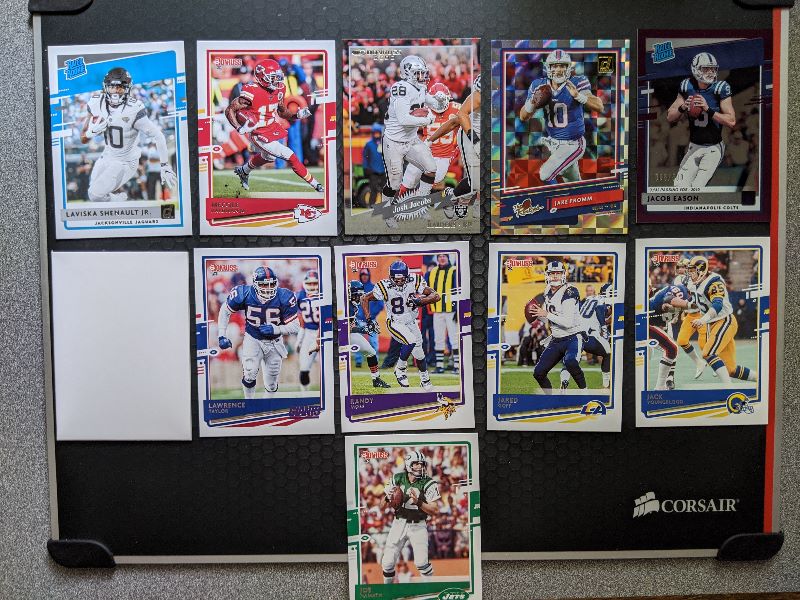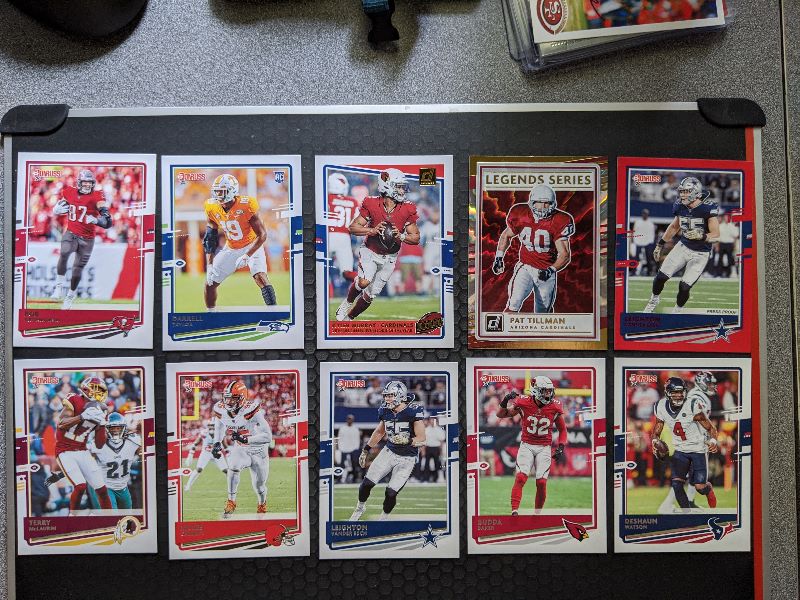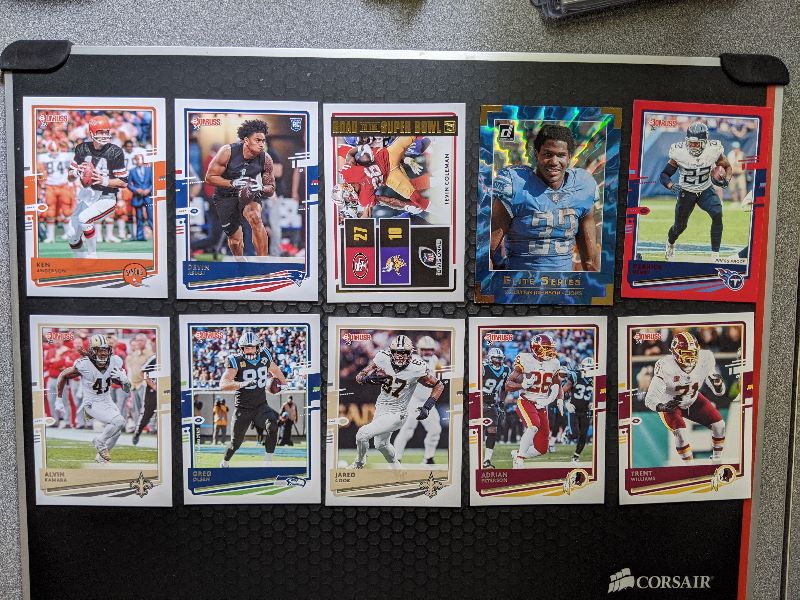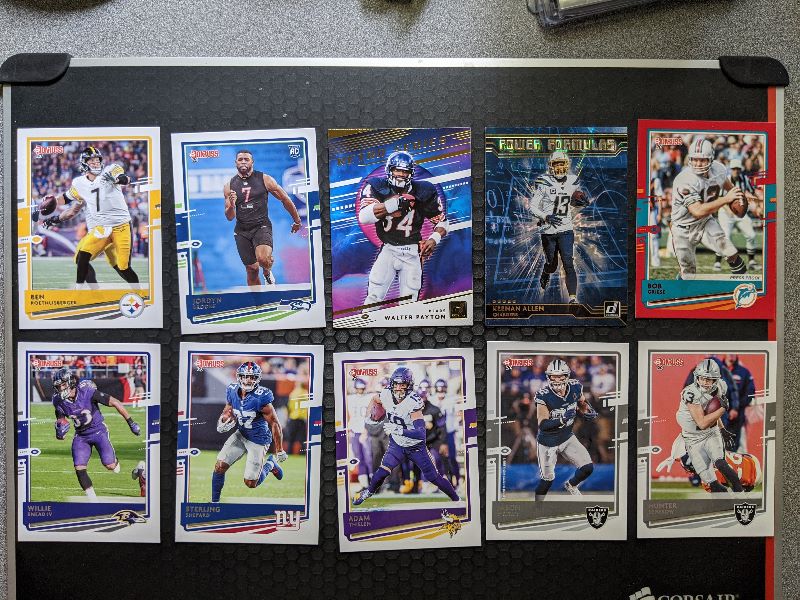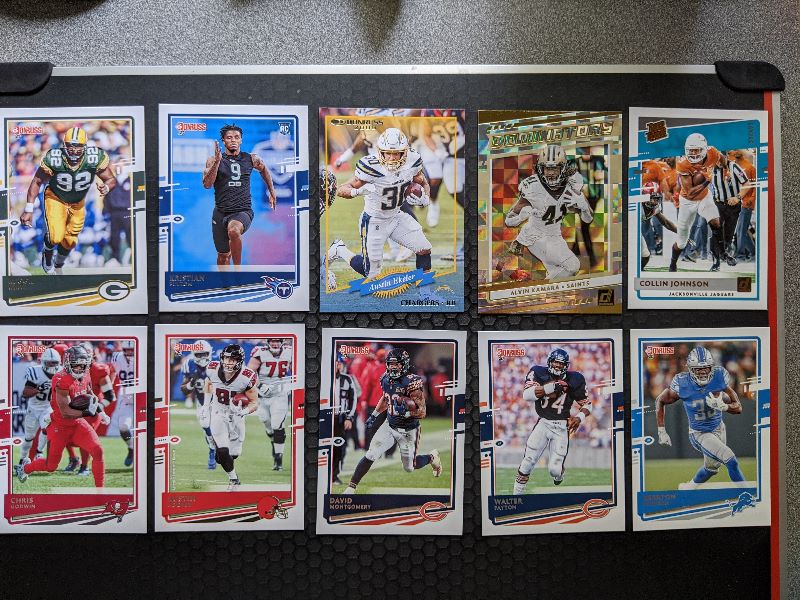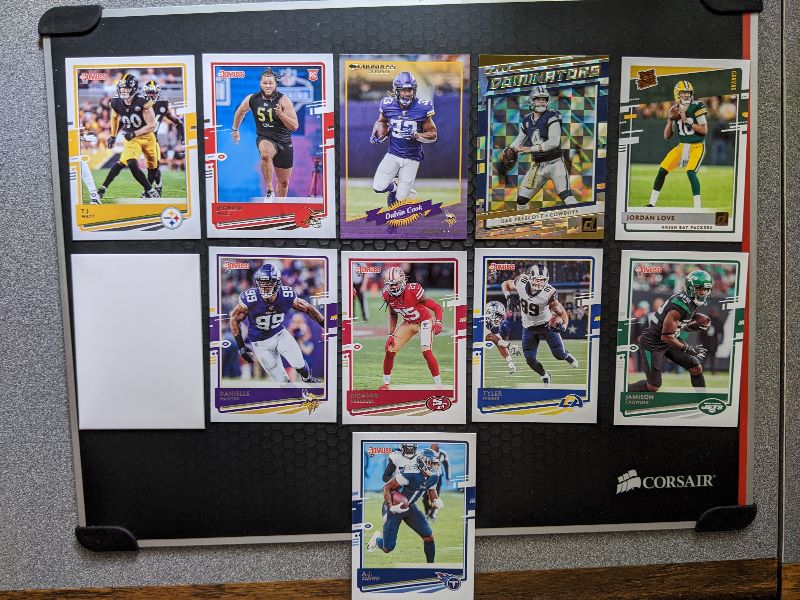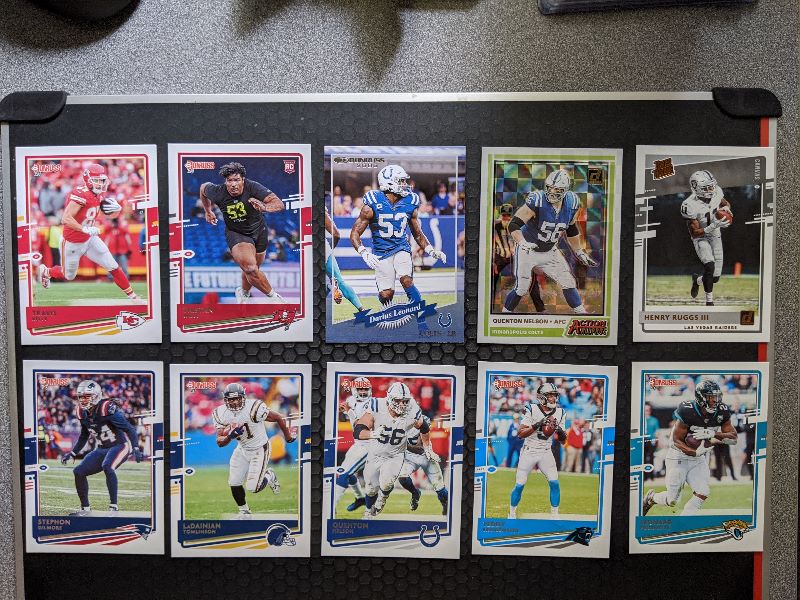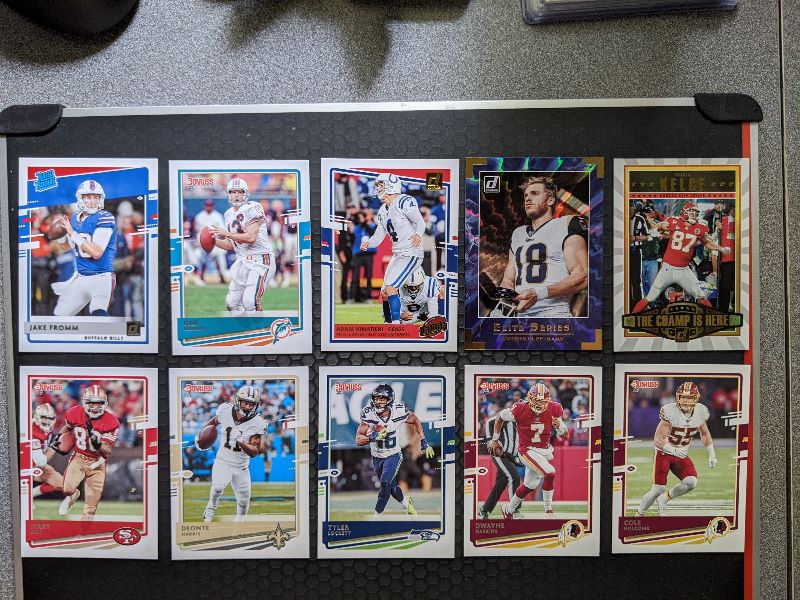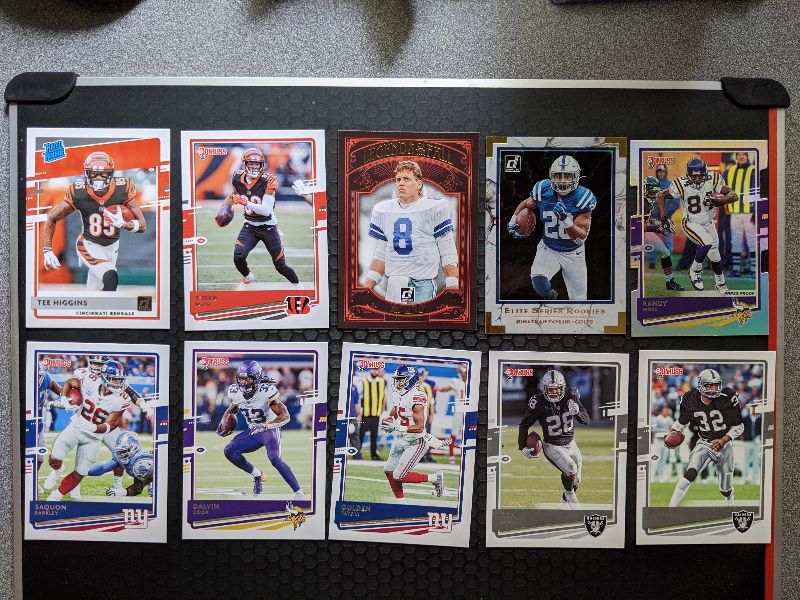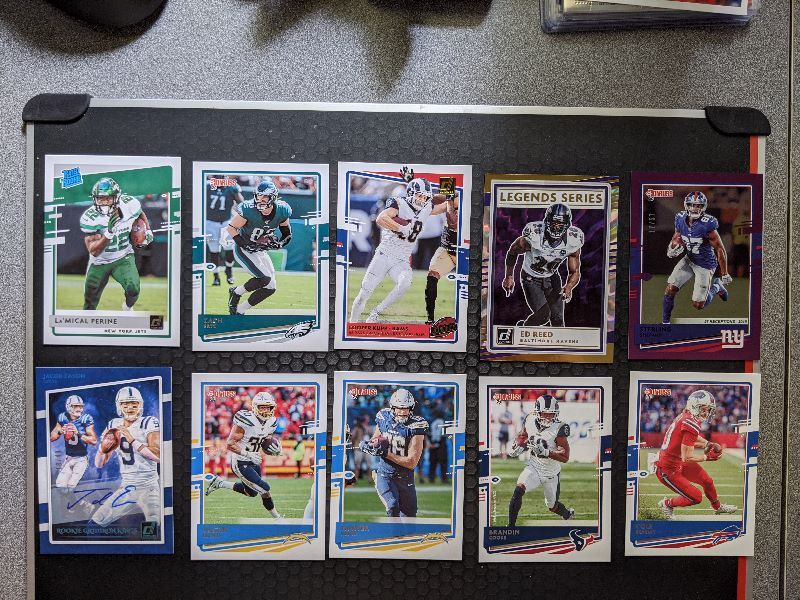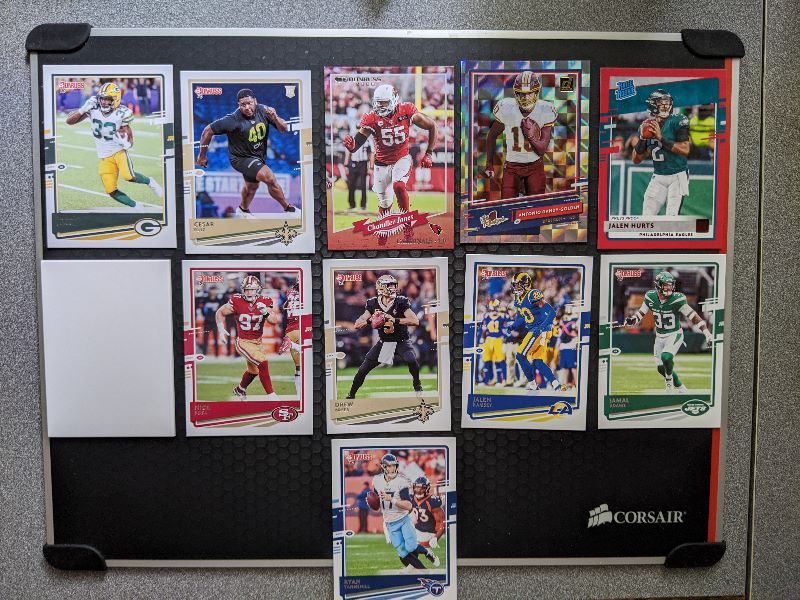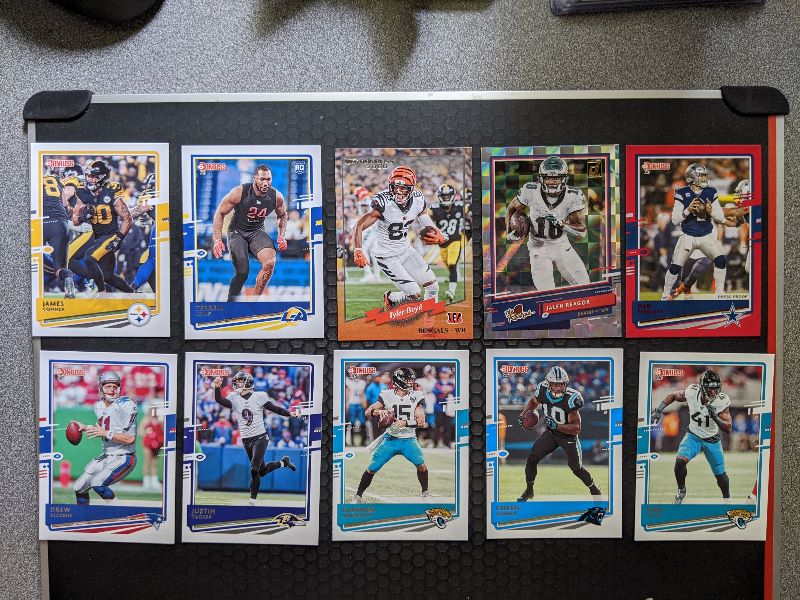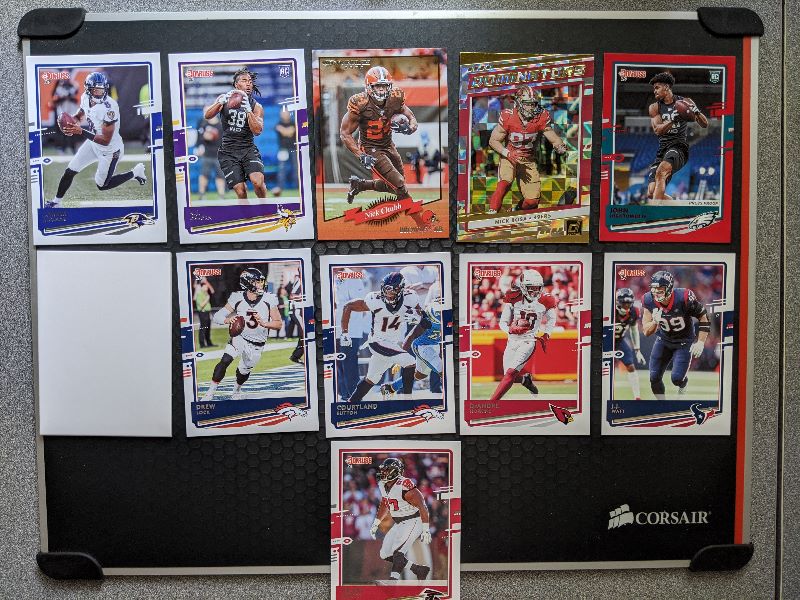 Thanks for looking!  Probably have most everything in my org by the end of the week.