04-26-2013, 01:09 PM
Jeter Griffey Hornsby Ruth Braun Dimaggio Musial Lincecum Chapman Verlander Mauer FT
List has been updated. Looking for mid-highend star/hofer autos in baseball and football. If interested in anything let me know and I'll check your organizer.
Ryan Braun 2005 Bowman Sterling Autograph RC BGS 9.5/10
Albert Pujols/Scott Rolen/Jim Edmonds 2005 Fleer Classic Clippings Diamond Signings Blue Triple Autograph /10
Derek Jeter/Berra/Jackson/Dimaggio 2008 Sweet Spot Quad Jersey
Ken Griffey Jr./Billy Williams 2005 UD Reflections GOLD SP /75 Dual Autograph
Tim Lincecum 2009 Bowman Chrome Autograph RC BGS 9.5/10
Derek Jeter/Roger Maris 2008 SP Legendary Generations Dual Jersey
Stan Musial 2008 Triple Threads Jersey/Bat/Jersey /27
Tommy Hanson 2009 Bowman Chrome Gold Refractor Autograph /50 RC BGS 9.5/10
Aroldis Chapman 2010 Bowman Chrome Autograph RC
Starlin Castro 2010 Bowman Chrome Blue Refractor /250 RC BGS 9.5
Bubba Starling 2011 Leaf Draft Prismatic Autograph /99 RC
Rogers Hornsby 2001 Donruss Classics Legendary Lumberjacks Bat
Brad Holt 2011 Bowman Platinum Green Refractor Autograph
Ryan Howard 2012 National Treasures Jumbo Patch Book (3+ Color) /25 HTG
Kirk Niuewenhuis 2012 Topps Chrome Blue Refractor Autograph /199 RC
Joe Mauer 2012 Topps Museum Collection Jersey/Patch(3 CLR)/Jersey Autograph /25
Justin Verlander 2012 Topps Triple Threads All Star Game Prime Jumbo Patch /9#d HTG
Babe Ruth 2001 Topps Tribute Bat BGS 9.5
Billy Hamilton 2012 Bowman Chrome Blue Refractor Autograph /150 RC (Probably going to need a Tom Brady, Rodgers, Jeter Auto/GU for this)
Golf:
Byron Nelson 2002 SP Game Used Scorecard Signatures Auto Beckett BCCG 10
Football:
Drew Brees 2001 Bowman Rookie Relics Hula Bowl Jersey Autograph RC (Has Edge chip and 1/4 GU crease) RC HTG
Greg Jennings 2006 Ultimate Autograph /150 RC
Dwayne Bowe 2007 Bowman Sterling Jersey Autograph RC
Andre Caldwell 2008 Bowman Chrome Autograph RC
Rob Gronkowski 2010 Topps Unrivaled Jumbo Patch (2 Color) Auto /15 RC
Chris Johnson 2008 Contenders Autograph RC
Jamaal Charles 2008 Exquisite Silver Patch (3+ Color) Autograph /75 RC
Chris Johnson 2008 Topps Rookie Progression Autograph RC
Mike Wallace 2009 Contenders College Ticket SP /85 RC
Sam Bradford 2010 Certified Dual Jersey Autograph /299 RC
Tim Tebow 2010 Gridiron Gear Hidden Gems Jersey Autograph /259 RC
Doug Martin 2012 Contenders Cracked Ice Autograph /20#d RC (Going to take a really nice Jeter Auto GU, Brady or Rodgers Auto)
Torrey Smith 2011 Inception Jumbo Patch Autograph RC
Kirk Cousins 2012 Crown Royale Autograph RC
Mike Williams 2010 Limited Patch (4 Color) Autograph /199 RC
Stanley Havili 2011 Absolute Spectrum Autograph /299 RC
Shane Vereen 2011 Certified Mirror Gold Quad Prime Patch Autograph /25 RC
Blaine Gabbert 2011 Contenders Autograph RC
Andre Johnson 2011 Crown Royale Majestic Materials Jersey /199
Shane Vereen 2011 Finest Patch (3 Color) Autograph /310 RC
Maurice Jones Drew 2011 Gridiron Gear NFl Nation Jersey /100
Von Miller Leaf Rookies & Stars Autograph /15#d
Stevan Ridley 2011 Inception Jumbo Prime Patch (4 Color) Autograph 146/599 RC
Demaryius Thomas/Cj Spiller/Jahvid Best 2010 Limited Draft Day Trios Prime (1 Color/3 Color/3 Color Reebok logo) 21/25 Spiller RC Jsy #
Jake Locker 2011 Press Head of the Class Autograph /25 RC
DeAndre McDaniel 2011 Prestige Autograph /1499 RC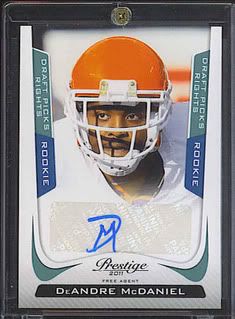 Ladainian Tomlinson 2011 Rookies & Stars Longevity Emerald Prime (1 Color) /99
Von Miller 2011 Sage Silver Autograph RC
Randall Cobb 2011 SP Authentic Patch (2 Color) Autograph /699 RC
Jimmy Smith 2011 Threads Silver Signatures Autograph /299 RC
Blaine Gabbert 2011 Topps Five Star Gold Patch (2 Color) Autograph /55 RC
Demarco Murray 2011 Topps Platinum Green Patch (2+ Color) Autograph /125 RC
Brandon Weeden 2012 Prominence Projection Jumbo Prime Patch (2 Color) /49 RC
If you have less than 20 feedback you're sending first.