01-24-2013, 01:03 PM
Another Jim Leonhard Mailday - Game Used Autograph Style!
Got a PM from gadsden86 a while back about some Jim Leonhard game used items he came across while searching eBay. Was able to get the seller down to half of his original asking price.
Big shoutout to gadsden86 for the heads up. There is a finders fee package on the way for you bud!
Game worn & autographed cleats and gloves from 1/24/2010 AFC Championship Game Jets vs. Colts. Jim had 4 tackles and a fumble recovery in the game. Laces and padding on the cleats are not blue, the phone on my camera is just a piece of junk. Also received a signed 8x10 as part of the lot.
Close up of the gloves. Both still have the pinky and ring fingers taped together. The right hand glove was also altered by removing the velcro strap so the glove could be fit over his hand which he had broken earlier in the season. They then put a cast and tape over his right hand for the game.
Close up of the cleats signed in silver. Again, cleat padding and laces are actually black, but appear blue because of my camera.
Photo of Jim from the game.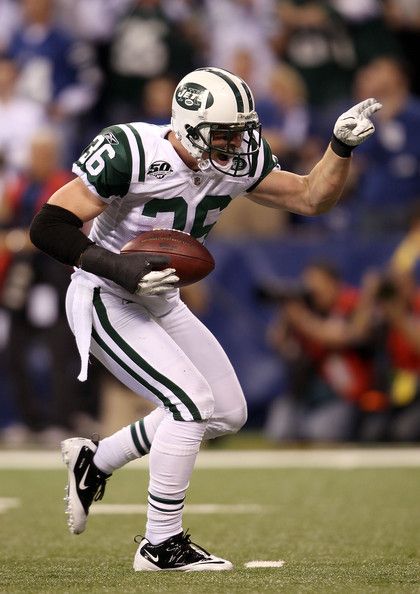 Will go great with my other game used items and the custom TTM set I got from him yesterday! Comments welcome & thanks for looking!

-Banner Courtesy of rogue655-
Jim Leonhard Needs:
2005 Longevity Holofoil /25
2009 SPx Super Scripts Autographs Eight /8
Joel Effertz Needs:
2013 Bowman Draft Black Paper /1, Black Plate /1, Cyan Plate /1