---
Beckett Baseball: Ask the editor - kingboricua - 10-03-2010 07:53 PM

hi, i have a 2007 jorge posada toppsbowman heritagecard,it came as a two cards stuck togeter,out of the wrapper,is this consider a rare or scare card?i would love to find out,so i can have peace of mind,thanks and keep up the great work,as you are number one in this bussiness,thanks<br />


---
Beckett Baseball: Ask the editor - aleciaspradlin - 10-05-2010 05:35 PM

have collected baseball cards for awhile but only recently really got into it and now i have gotten numerous cards, most of which are still in their foil wrappers, and unopened packaging. my question is do i open them or not, and are they worth more if unopened??most of these cards range from basketball, football, baseball, and hockey. hope u can help me or answer my question. thanks,<br />
alecias<br />
aleciaspradlin@hotmail.com<br />


---
Beckett Baseball: Ask the editor - griffey man 1 - 10-10-2010 12:14 AM

<br/> i cant find this on the site so i can add it to my collection for trade. i do see a quad and a dual auto of lbj from the set. the number is sh-lj and its a 1/1. if you know where it is can you please post the link for me or pm me.<br />
thanks<br />
nick<br />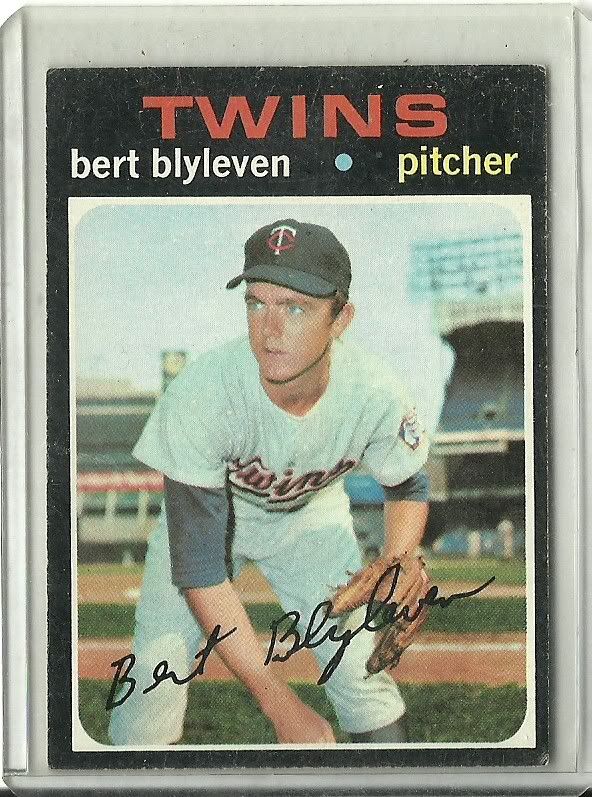 ---
Beckett Baseball: Ask the editor - gulfvet90 - 10-21-2010 05:18 PM

Hey Chris,<br />
A couple of days ago I asked a topic to the general public on the best way to organize a collection. I have over 100,000 cards..I'm interested on your thoughts...<br />
<br />
Thanks<br />


---
Beckett Baseball: Ask the editor - sesamestreet4life - 10-22-2010 03:24 PM

<h4><span id="ctl00_contentMain_lblItemName">2008 TRISTAR Prospects Plus Printing Plates Black #5 Buster Posey</span></h4>Just&nbsp; wondering if these plates should be listed as "AUTO" as they do feature a sticker autograph on the front. Currently they are not listed as such, makes them seem less exciting.


---
Beckett Baseball: Ask the editor - ricelynnevans75 - 10-23-2010 03:10 PM

Chris-Off the top of your head, have you ever heard of Topps doing a rainbow/refractor run where each color was a different pose?&nbsp; For example, blue=batting, red=fielding, green=front pose or have they always been the same picture along with different color borders?&nbsp; I don't know if any of the other companies did rainbows or not.&nbsp; <br />
<br />
<br />


---
Beckett Baseball: Ask the editor - jpatton11046 - 10-26-2010 04:38 PM

Hi, Im new and trying to find the right place to post this question. I hope this is the place. Anyway I have an Orel Hershiser Donruss/Leaf card #38 and it says 1984 on the back. On the front it doesnt have the Donruss/Leaf with the 85 in it but to this day i can't find it anywhere with just the Donruss/Leaf on the front and to make it harder i can't find the 1984 for it. The card number is # 38. Can you please help me out with this or help me understand what is going on? Thank you so much for your time. Have a Great Day.


---
Beckett Baseball: Ask the editor - nathancrandell1 - 10-31-2010 11:10 PM

Here's a question Chris, when will Beckett start listing prices for autographed memorabilia? I go to several baseball games and get several autos, I love doing it. But sometime, in the back of my mind, I wonder how much is this worth. I look on ebay at similar items and they are all over the place, as far as pricing and bids. It would be nice to have Beckett look into doing this type of pricing, thanks. <br />


---
Beckett Baseball: Ask the editor - chrisolds - 11-01-2010 11:08 AM

You can see approximate values for signed items in Beckett Sports Card Monthly. We typically have a page in every sport that is dedicated to this.<br />
<br />
As for other questions here. I will check back soon to chip away at them. Been very busy with a lot of print projects lately.<br />


---
Beckett Baseball: Ask the editor - john1580 - 11-02-2010 04:49 PM

i was wondering if there was a limit on the amount of packs i can send to topps for the redemption . Do i have to send seperate 24 pack lots , or can i send 6 different lots at one time. and also, i don't know where to send them. thank you


---