---
Beckett Baseball: Ask the editor - malouf1850 - 09-21-2010 10:58 AM

I have several questions.<br />
<br />
1. I sent some comic cards to Beckett to be graded, the problem is I can not find them listed on the Beckett web site, there for I can not put them in my Org.<br />
<br />
2. I sent Beckett several emails about cards I could not add to my Org. I keep getting an error message that says invaled serial #. No one has contacted me, could you please pass this on to the right person so I can get the 15 cards logged into my Org. <br />
<br />
thank you


---
Beckett Baseball: Ask the editor - chrisolds - 09-22-2010 12:38 PM


HOCK4 Wrote:Can you tell me anything about a set of cards produced in the late 80's or early 90's that was not sanctioned by MLB? They featured high quality photography of the player, usually against a backdrop of the city or ballpark. I'm trying to find the photographers name the availability of these cards.<br />
<br />
Thanks,<br />
<br />
<br />
Would need a scan.<br />


---
Beckett Baseball: Ask the editor - chrisolds - 09-22-2010 12:39 PM


nperrus Wrote:Chris,<br />
Is there any way to validate a BCCG graded card?<br />
Looks like only the BGS and BVG are options.
<br />
<br />
Not totally sure here, but I think there is only a database for pop reports or BGS/BVG.<br />


---
Beckett Baseball: Ask the editor - chrisolds - 09-22-2010 12:39 PM


ktcardshop Wrote:I have another one for you. You list the 1988 Donruss Puzzle & Cards Team Collection. It is a 9 X 11 1/2" Booklet flat stapled w/Metallic blue binding tape. There are five books, One each for the Oakland A's, Boston Red Sox, Chicago Cubs, New York Mets, and the New York Yankees. Each book consists of a front cover, Three pages of reproduction cards, 9 to a page, A 6 1/2 X 8 7/8 large Stan Musial Puzzle, and a back cover with a stadium photo and a team history with a team logo on the back cover. This booklet was meant to be kept together and yet you list it as 27 individual cards with no mention of the puzzle or the front and back cover.
<br />
<br />
Pretty sure that they just catalog the "card" elements on that stuff.<br />


---
Beckett Baseball: Ask the editor - chrisolds - 09-22-2010 12:41 PM


klingenwald Wrote:how does one search and/or find all of another trader's wants?&nbsp; i cannot seem to figure out how to do it either from their collections site (it only pulls up haves and wants, and does not seem to differentiate between them), or from within the trades site (i.e. the best i can do there is search my collection, and sometimes i get lucky and the other person seems to want the card and that fact is noted at top of search results, but its obviously hit and miss).<br />
<br />
i can also search wants for particular cards, but that pulls up everybody who wants card.<br />
<br />
is there a way to get a listing of all of a specific trader's wants (sometimes, i like to include other cards in a trade that matches another trader's wants, but i cannot figure out how to search for/through them in isolation)?&nbsp; i am sure there is a way, but i am just too thick to figure it out.<br />
<br />
thanks!<br />
<br />
klingenwald<br />
<br />
<br />
Not my area, but I think you can only do that by user -- or through a player's page. Also, some collectors don't make all aspects of their my collection public.<br />


---
Beckett Baseball: Ask the editor - bagwellbiggio57 - 09-22-2010 07:04 PM

Dear Chris,<br />
I have a card that i was guaranteed to get from a box. What i know so far is it is a Blue Refractor Mickey Mantle 2008 Topps Baseball with a 1952 design and the number on the back of the card is MMR-52. I included a picture, and also what is the price.<br />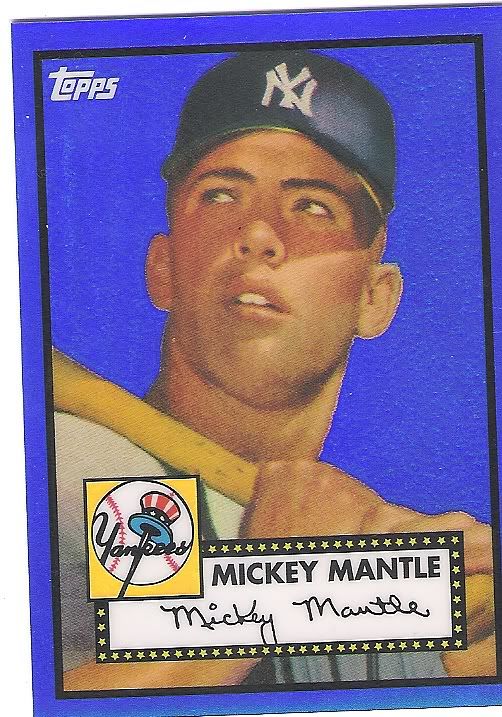 <br />


---
Beckett Baseball: Ask the editor - jkettles - 09-23-2010 10:16 PM

I have a 1993 UD "Then and Now" Don Mattingly TN13....however upon further inspection of the hologram, it's Mickey Mantle. I can't find any info on a UER card or anything about this error...any thoughts?


---
Beckett Baseball: Ask the editor - mikemike080178 - 09-25-2010 08:44 PM

I have a question. How do I find out the price of a graded card? I have a 1987 BCCG 10 Fleer Update Glossy Greg Maddux, and I wanted to know the value of it, as well as many others. Can you help me? Thanks, Mike<br />


---
Beckett Baseball: Ask the editor - portfan - 09-27-2010 02:19 PM

I can't find the Series 2 Million Card Giveaway code cards to add to My Organize. Will these be added to the site eventually?


---
Beckett Baseball: Ask the editor - nixsfan1188 - 10-02-2010 05:39 PM

Found it just over looked it


---