---
1st Annual weslamb and friends Contest for December!! Final Entries Only - weslamb - 12-21-2012 10:33 AM

***This Thread is Final Entries Only***
***Please if you have questions PM me***

**Final Entries will have until 12/30 to post their Entries**

Welcome to the Weslamb and Friends 1st annual contest!!!!!

I will try to do a contest once a month to help collectors win cool prizes and have a great time doing things other than winning bids on the internet


Judges for this month: englandhousehold, msimonds and weslamb


Ok now to the fun part

Since it is the first contest; I would like to make it a meaningful one for everyone.

First: Come up with a player of your choice Mainly someone you collect please.

Second: Come up with a paragraph or however much you want to write. Explaining why you collect them and how you got into collecting them etc. etc. etc. Leaving that up to the member entries, that way we don't have all the same formats.

Third: You or your family will make a 1 of 1 sketch card of your player entry. Theme this anyway you like! This can be done in all formats and freehand. You can get the family involved with this or your neighbors don't be scared *Just make sure you downsize it on the forum entry*

Remember guys this is a contest! So have fun with it! I know everyone is not top notch artist here, but that's not what we will be judging.

I hope you guys will enjoy this


**Once again guys please please! use this thread for final entries only**
**Remember No LATER than 12/30 for your final entry post**

This month final prize will be a hobby box of :




Also you will receive a bonus prize


Enjoy guys!

Much love and happy holidays

-wes


---
RE: 1st Annual weslamb and friends Contest for December!! Final Entries Only - giantsfan - 12-26-2012 10:58 AM

I am mainly a Giants collector with my son who was the artist here. I can't draw at all especially football players. So I had him do all of the "dirty work"


Mine is Jerrel Jernigan:



His was Reuben Randle



I started collecting back in 1993. Have always been a Giants fan because of my dad and now my son is becoming one as well because of me. Same goes for collecting cards. WE collect mainly NY Giants but we also collect top rookies of the year. He has gotten more into collecting of 2012 and has a few Randles put together right now. Nothing high end but some singles. And I have been scooping up Jernigan lots off from eBay hoping sometime this guy will step up and get playing time. Not to mention he is a NYG and is cheap so I can pick up some nice cards for a decent price. had a feeling I would have a lot of him..just didn't know he would be my most.

He has seen me collecting and has learned along the way.If we win this prize we will do what we normally do and split the prize and open it together.

We both appreciate the contest and say thanks and good luck to everyone who enters! This was a lot of fun to draw and be able to search through our Giants cards in the process to finding the ones we have the most of.


---
RE: 1st Annual weslamb and friends Contest for December!! Final Entries Only - sports_guy21 - 12-26-2012 03:05 PM

First off I want to say a big thanks for the contest, always fun to participate! For me, this contest there is only one player I would consider doing..Jerry Rice. When I was around six or seven years old my dad read me a children's book about "The Story of Jerry Rice," from that moment forward I was hooked. What got me about his story was that when he was training at the high school level, his family wasn't able to afford the gear or equipment to properly train. His father was a mason and would throw Jerry bricks to strengthen his hands. I was so fascinated by the fact that Jerry would catch bricks to become a better football player!

Since then I would ride my bike to my local card shop and spend my allowance and paper route money on Jerry Rice base cards and inserts. I remember visiting my card shop and bringing in my report cards and for every A I had, the owner would give me a Rice card. Collecting was so much more than just a hobby for me. It was a shared experience between my dad and younger brother. It motivated me in school, and it gave me some of my loftiest dreams of being a football player… something every kid should get to experience.

As the market for cards changed, around 2006 I was able to afford a higher tier of cards and got my first Jerry Rice jersey card. For me though, my most exciting moment was my high school graduation present of a mint Jerry Rice Rookie card. Today, Jerry Rice is still my favorite player of all-time and will be to the day I die. Even though he is no longer playing, I still love my Niners! If I was to win this box, I would have my bro over and "bust some wax" like we did when we were kids. Thanks again and happy holidays to all!

I can't get the photo to post correctly, so a separate link to my photo bucket can be found below.

http://i1341.photobucket.com/albums/o758/sports_guy212/IMG_1371_zps4dd0506d.jpg


---
RE: 1st Annual weslamb and friends Contest for December!! Final Entries Only - slufan83 - 12-26-2012 03:16 PM

My entry is for Sam Bradford:

When I was younger I was a huge Steve Young fan. Not necessarily a 49ers fan, but I just loved watching the way Steve Young played the game. When he retired, I didn't really have a "favorite player" anymore. Since the Rams moved to St. Louis and gave us a "local" team back, I've always been a fan. When Bradford came along in 2010, he was given #8, which of course was Young's number. That started a little bit of a connection right there. Also, since Bradford was supposed to be the future of the Rams to bring them out of some really bad seasons as of late, I was really high on him as being a star. I actually went to Bradford's first regular season game as a pro against the Cardinals in St. Louis on 9/12/10. So with all the connections with my former favorite player and the potential Bradford had, I thought he would be the perfect player to collect since I hadn't really been collecting anyone new since Young. This has been a rough and depressing year for me, so if I were to win the box it would be a nice end to the year as I haven't been able to afford to bust a box in over a year now.

Here are a couple pics from Bradford's first regular season game:



Finally, here is my 1/1 sketch card....I'm horrible at free-hand drawing
---
RE: 1st Annual weslamb and friends Contest for December!! Final Entries Only - koolkellygirl - 12-26-2012 08:54 PM

First, thanks for the contest.

I'm picking Steven Jackson for a few reasons. First off, he's a Ram...But, as heir apparent (circa 2004) to Marshall Faulk, I did not think SJ39 could fill the shoes. Next thing is, he's a Beaver. I DO collect any and all players to come from Oregon universities, so that one was a no-brainer.
Next thing is, once SJ39 WAS the starter at the beginning of the season-2005-he has more than filled Faulk's shoes. This year he made it to 10,000 yards rushing and can make his 8th straight 1000 yard games in the next one against Seattle.

Now, why do I admire Steven? The guy is SMART! He was a member of the the National Honor Society in high school, and still someday wants to go back to college to get an engineering degree so he can be an architect. SJax also started the Foundation for Literacy and Education "an organization started to help give youngsters educational opportunities, and reduce the dropout rate in local high schools".

Steven Jackson is a man to admire and has given back to the community. THAT is the main reason I like him and collect his card fanatically!


---
RE: 1st Annual weslamb and friends Contest for December!! Final Entries Only - alanch - 12-29-2012 11:15 PM

Thanks for the contest & good luck to everyone else! Some pretty good looking sketches on here already!

My player is Jim Leonhard for a number of reasons. First and foremost, my local ties to him. Jim's uncle was my High School and American Legion baseball coach and his dad was my high school basketball coach. When Jim started out his career with the Buffalo Bills, he was always done with football by January and would actually come and participate in basketball practice with with us, which was really cool.

Throughout his college and pro career, Jim has always been a bit of an overachiever. Growing up in a county with a total population of less than 16,000 not many people from this area make it big in pro sports.

Leonhard didn't receive any D1 scholarship offers out of high school and was a walk-on Wisconsin. He was not awarded a scholarship until his senior year even though he had already been named First Team All-Big Ten twice. He also earned the award as a Senior. He left Wisconsin tied for most interceptions in team history with 21 and was also a great asset as a punt returner. He left Wisconsin as a 3 Time All American with the Big Ten Conference career punt return yardage record with 1,347 yards as well as most interceptions in a season with 11, which says a lot when you look at some of the athletes and Heisman Trophy winners to come out of the Big Ten.

Despite his college success, he went undrafted and again had to prove himself as a "walk-on" with the Buffalo Bills. After beating the odds as a 5'8" 185 lb. undrafted rookie and making the Bills opening day roster as a rookie, he went on to play three seasons with the team as a punt returner and safety. In his final year with the Bills, he finished 6th on the team in tackles. Since his time with the Bills, he has been an important member of some very good defenses with the Ravens and the Jets. During his three years with the Jets, he was the opening day starter. This season he has played well as a reserve safety and punt returner for the Denver Broncos.

Through all of this hard work and success, he has still found time to support his local community and hosts a youth football camp every summer at his old high school, just down the road from my hometown. He is a great story of how hard work and dedication pay off and is a great community guy. Someone that you can't help but cheer for.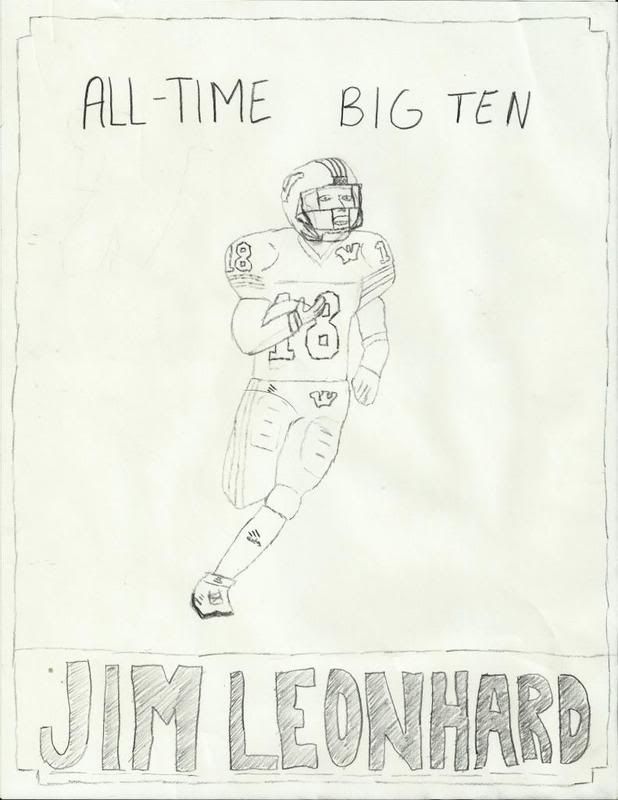 ---
RE: 1st Annual weslamb and friends Contest for December!! Final Entries Only - jdetter23 - 12-30-2012 01:51 AM

My player, Bruce Carter. Why? First and foremost I am a HUGE UNC fan. Bruce Carter is my favorite player from UNC that I can actually remember playing there. I mean, im 25 lol so I cant go way back. Bruce was a little known high school athlete who played qb in college. UNC took him and made him a linebacker. He started ever since he was a freshman and gave it his all every single game, whether it was on defense or special teams. I remember in a 3 game stretch he had blocked like 4 or 5 punts and was just a game changer. There was some misconduct with some of the players at UNC that were eligible to go pro but came back to school and Bruce wasnt caught up in that mess even though he was a likely 1st round pick before tearing his ACL against Duke on senior day. Bruce Carter is and always will be a Tar Heel and I loved hearing Kenan Stadium go Bruceeeeeeeeeeeee. I picked up one of his letterman autos last year and was hooked. I was able to pick up another and knew i just had to finish the name plate, which is displayed proudly in my room. I am now down to only needing 13 Carters to have 100% of his non 1/1's. This sketch will now be part of my collection lol and it was a very cool contest. Some great drawings!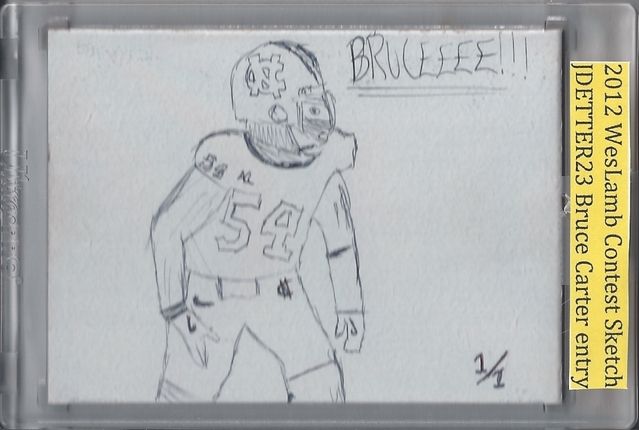 ---
RE: 1st Annual weslamb and friends Contest for December!! Final Entries Only - G_Money44 - 12-30-2012 06:50 PM

When I saw this contest come up I not only wanted to enter in it because of the prize, but also because I love telling people about the man who saved baseball in Seattle. It was a no brainer for me to draw a picture and talk about George Kenneth Griffey Junior because he is the only athlete whose memorabilia I collect. To this day I have a binder full of Griffey cards, a homerun ball, his auto, several posters and pennants in my man cave, and surprisingly much more. In the seventies and eighties the Seattle Mariners organization was consistently finishing towards the bottom half of the league and did not have a winning season during that time; there were even talks about moving the franchise out of Seattle. But when the organization was given the number one pick in the 1987 amateur draft, they were about to select one of the most electric players in MLB history and all was about to change. In the nineties Griffey was the pure definition of a five tool athlete and brought the Mariners wins, attendance, and hope. With his towering homeruns, beautiful swing, acrobatic defense, and memorable smile, every kid in the northwest wanted to be Ken Griffey Jr. I was only a child in the nineties, but my love for baseball is because of Griffey and I will forever be indebted to him because of what he did for this whole area. With the success he brought the organization in the nineties, the Mariners were able to build "Safeco Field" – the "House that Griffey built" and ensure the organization was not going anywhere. All baseball fans knew what they saw was greatness and the Northwest will always love and remember "The Kid."


---
RE: 1st Annual weslamb and friends Contest for December!! Final Entries Only - LongliveStl - 12-30-2012 07:35 PM

My personal play is probably one of the most underrated wide recievers in the game, Marques Colston

I fell like I can connect with Marques Colston on tons of different levels, but mainly being the fact that he was overlooked so much and not taken till the 252nd pick in the draft. Being a highschooler, there are lots of many judgmental people who overlook me because of my friends that I have, or they believe that im not worth their time. I love Marques Colston because just by his playing, he is proving everyone wrong that he is not 7th round material, but the fact that he is prime material and he doesnt need anyone to tell him that he can achieve anything he wants. I really admire this because I fell like being in the "undesirable" group at my school, that I have everything to prove and nothing to lose, only to face the struggles that I have that keep myself from achieving what I want in my highschool experience, acceptance. I always think of Marques Colston when times are tough and just push on, telling myself that just because im not given a chance doesnt mean that I cant do great things.

The other part that I love Marques so much is because he is the ideal shape I hope to be in someday, fast and able to do incredible things. I play lineman for my school because I have a 6' 2" 240 pound build, but I really hope someday that I can play linebacker. Not only do I look at Marques Colston as pure motivation, but an ideal health figure for anyone as well!

Here is my picture of Marques Colston (horrible, isnt it?):

https://dl-web.dropbox.com/get/Camera%20Uploads/2012-12-30%2018.10.31.jpg?w=08d27f89


---
RE: 1st Annual weslamb and friends Contest for December!! Final Entries Only - englandhousehold - 12-30-2012 07:39 PM

Can't see your sketch bud, post it back up with photobucket or another photohost, etc.



(12-30-2012 07:35 PM)

LongliveStl Wrote: https://dl-web.dropbox.com/get/Camera%20Uploads/2012-12-30%2018.10.31.jpg?w=08d27f89
---