---
Show off your best pull ever. - scamperssnickers - 12-02-2012 07:03 PM

Here's what you should do. List your best pull you ever got, if possible a photo/scan, and if you have a story to go with it post that too.
---
RE: Show off your best pull ever. - dallas_collecter84 - 12-02-2012 07:15 PM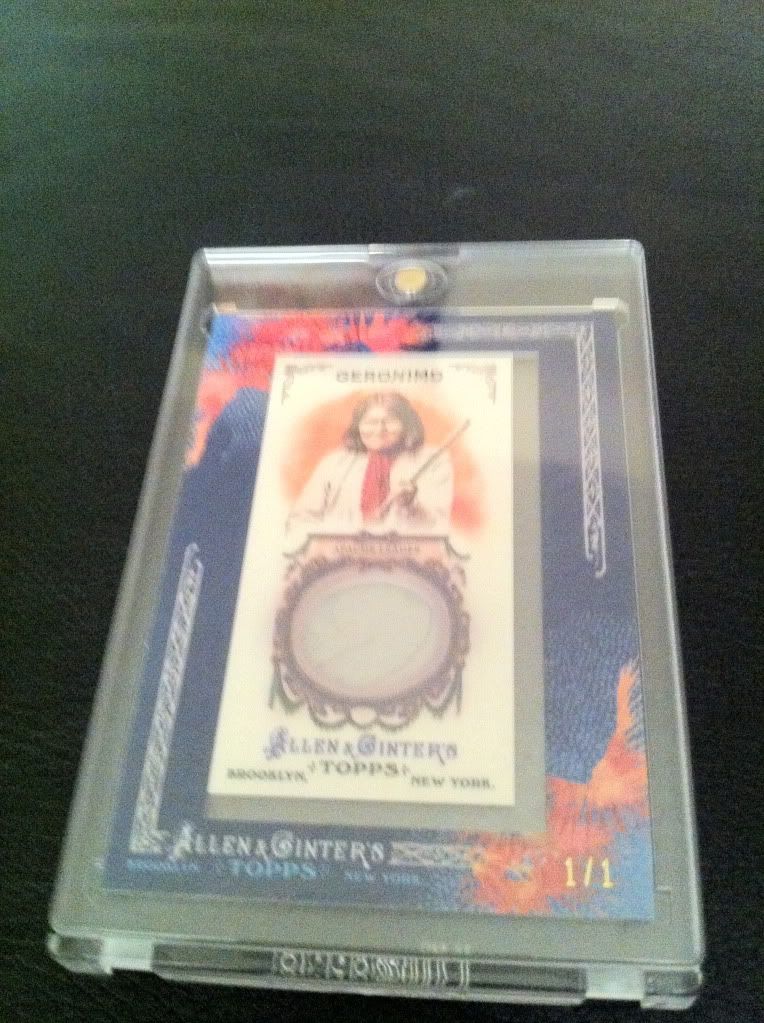 Best pull is the Geronimo 1/1 DNA card from 2011 Allen & Ginter. I was at a card show in Arlington, TX with my grandfather and decided to get a box. I talked the guy down from $90 to $75. I couldn't wait to get home to open it and I opened it in the car. When I saw it I went nuts and my grandpa just looked at me and said "I guess you pulled something good." Best. Pull. Ever.


---
RE: Show off your best pull ever. - tntmclmm - 12-02-2012 07:26 PM

Pulled this out of a jumbo box of 2012 Topps series 1 I picked up for my birthday. It was a redemption and they sent me #1/50. It was the quickest redemption I ever received back, took a little less than 3 weeks.
---
RE: Show off your best pull ever. - Merciless365 - 12-02-2012 08:10 PM

My best pull ever, 2005 Leaf Century - Cal Ripkin Jr Autograph, Prime Material Blue Velvet Pants with stamp above auto - 1/1

---
RE: Show off your best pull ever. - johnnysbench - 12-02-2012 08:25 PM

Last may, as 2012 Bowman was set to be released, my LCS had one sole hobby box of 2011 Bowman Paper Hobby in their bargain bin for $70, so I pulled the trigger on my way home from work one afternoon....the chrome auto? Brian Fletcher!!!!(not the pull)...then the second to last pack yeilded this bute...it was fun...
.....
---
RE: Show off your best pull ever. - joserobles - 12-02-2012 10:40 PM

2009 Topps Heritage High NUmber.



2011 Bowman Chrome SUPER... Sold it when I needed cash. Sold way to low!!!

---
RE: Show off your best pull ever. - ronfir - 12-03-2012 09:16 AM

Here is my story. Back in 2004 and I don't have a scan of the card but I pulled a 1/1 Jackie Robinson cut autograph / jacket card.

I used that card plus a bunch of other cards and traded for this card:




Then fast forward to around 2010 and I saw a card on eBay that I wanted. I contacted the seller to see if he would be interested in a trade.

Did we ever work a deal! I got the original card I wanted in a deal but we did an even bigger trade:

I traded the 2004 Babe Ruth auto straight up of this 1/1 quad auto:

Front;




Back:




So my pulling the Jackie Robinson lead in a round about way to the quad auto.


---
RE: Show off your best pull ever. - stera8 - 12-03-2012 09:33 AM

Wow!!! Love all the pulls. Especially the Ruth


I'm still waiting on my first big pull lol


---
RE: Show off your best pull ever. - kata78 - 12-03-2012 09:52 AM

Pulled these 2 back in 09' from Sweet Spot. I was opening packs at red lights when I hit the Griffey. Was so excited I did not hear the horns honking at me when the light turned green. The Jeter I hit at the LCS and the owner still has a polaroid of me, among others, on his wall of amazing hits
The Griffey I sold not to long ago to support my Jeter collection and of course I still have the Jeter Glove Auto.

I miss Sweet Spot
---
RE: Show off your best pull ever. - ronfir - 12-03-2012 11:37 AM


(12-03-2012 09:33 AM)

stera8 Wrote: Wow!!! Love all the pulls. Especially the Ruth


I'm still waiting on my first big pull lol


I think the Yankee Quad auto was originally pulled by a Beckett board member who may have sold it to the guy that I traded my cards to get the quad in return.

If you are interested here are the cards I got in return on my other trades with the guy:




2/2



I also got this but sold it when I got too good an offer to turn down: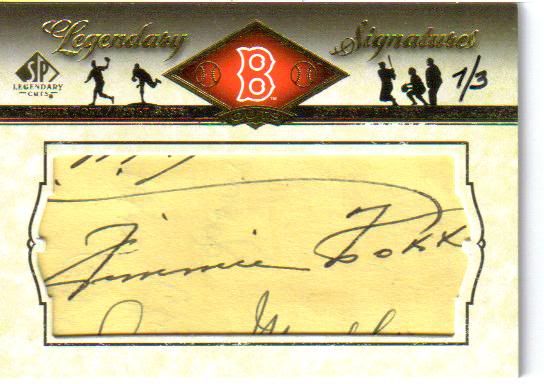 ---