---
1981-82 box - pawpawdiv9 - 08-18-2012 09:55 AM

was lucky and got the WHOLE BOX of 81-82 topps.
Not much for basketball, but i knew it had some top hits in Byrd/MJohnson/Irving and others.

So..I opened them all up. Put them in a 9 card page binder, except the Larry Byrd cards..yes i said cards..that (s) neaning several.

I have no idea which one i need to choose to get graded.
These could be possible 9.5-10's.


---
RE: 1981-82 box - alstott9adams - 08-19-2012 11:40 AM

Send them both lets see some scans please! ty


---
RE: 1981-82 box - taffster74 - 08-20-2012 06:27 PM

weren't the triples from 1980-81 topps? 1981-82 had the east and west subsets and the kevin mchale rc.


---
RE: 1981-82 box - pawpawdiv9 - 09-04-2012 04:57 PM

Here are the pics, finally got around in taking pics.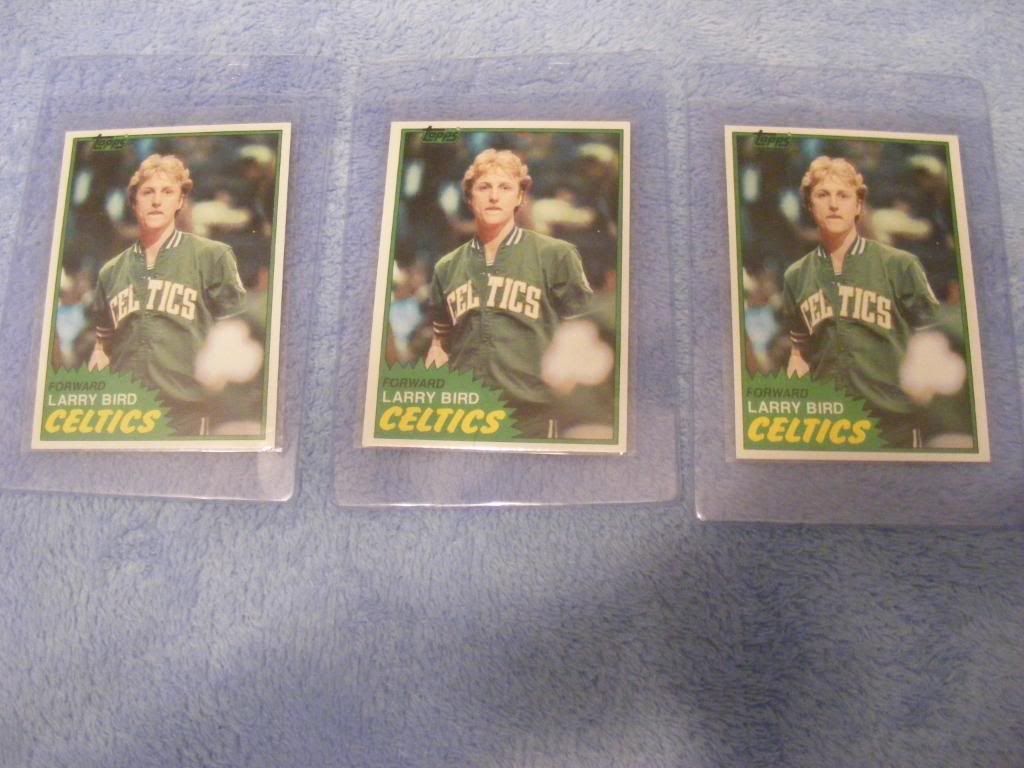 ---
RE: 1981-82 box - kevinr - 09-05-2012 09:13 AM

Congrats on the hits. I would send the one on the left it looks to be the better of the 3 on centering.


---
RE: 1981-82 box - mtadams2 - 09-05-2012 10:07 AM

Nice Birds, man.


---
RE: 1981-82 box - gjpoll1 - 09-06-2012 04:11 PM

I agree, the one on the left looks best for grading. Congrats on the break.


---
RE: 1981-82 box - user_3n5kp - 09-27-2012 10:13 AM

Just grabbed a box of these myself for a nice price. The Bird in PSA 10 is a great card and currently sells in the $500-700 range. The big card in there is actually the Mchale RC that was only available in the "East" region boxes.

In 81-82 Topps released these in 3 regions (East, West and Midwest). Some cards are only available in certain regions. Mchale being one. The Mchale RC in PSA 10 is the big boy in there and sells for $1000+ when you can find one. VERY condition sensitive. I would recommend sending any well centered Birds, Magics or Mchales to PSA. Anything pre Star has more of a market in a PSA holder due to the registry and the ssues BGS had with trimmed cards.

Pulled a gorgeous possible 10 Bird last night. My 80-81 packs yielded nothing (4 packs) but the 81-82 box is looking strong. Busting the rest this weekend. Will post results next week.


---