---
Assorted Cheap Stuff Break - dlcarst - 08-07-2012 11:22 PM

I ordered some random cheap stuff from DA. I've wanted to complete my 2009 Topps 206 set for a year or so, and DA had rack pack boxes for cheap, so I bought one, a case of Cardinals World Series sets that I hadn't got yet (2 for me, 1 for each of my boys and some surplus) and added some other stuff. Rack pack box has 18 packs, also got 2 Lineage blasters, and 1 jumbo pack of 2010 Topps series 2 and 1 jumbo pack of 2010 Update. Also a free 2011 Upper Deck football blaster that turned out to possibly be the best of the break, with a Cam Newton SP RC, another Cam Newton, and some other decent RCs. But on to the baseball, first 206. Some good rookies to chase, Freese and McCutchen most notably. As a Cards fan I was not only chasing the rest of the base set (over half) but a Freese Cycle mini RC. The auto checklist is not bad, but no gold minis, cloth, or other fun stuff in retail. There's roughly a 66% chance of an auto or relic in these boxes. Minis:



Campanella is a variation, Matsuzaka is Old Mill back, Cabrera and Sonnanstine are Polar Bear back, Jered Weaver is Cycle #d/99. There's one Cycle per box, I definitely hit a good one! Best card of the box, especially if Weaver wins the Cy Young!

Bronze highlights:



Cardinals bronze, and a hit:


Pulled the wrong Cardinals bronze RC. I did get an auto, and there's lesser names than Volstad. As you can see I did decent on my Lineage jerseys as well, not too many better current players than those two guys. I was hoping for the Ozzie as I never bought one when I should have, but I'll take it. I'm slowly piecing together the inserts as well, and trying to pick up as many minis as I can. Here's what else I got of note from the blasters: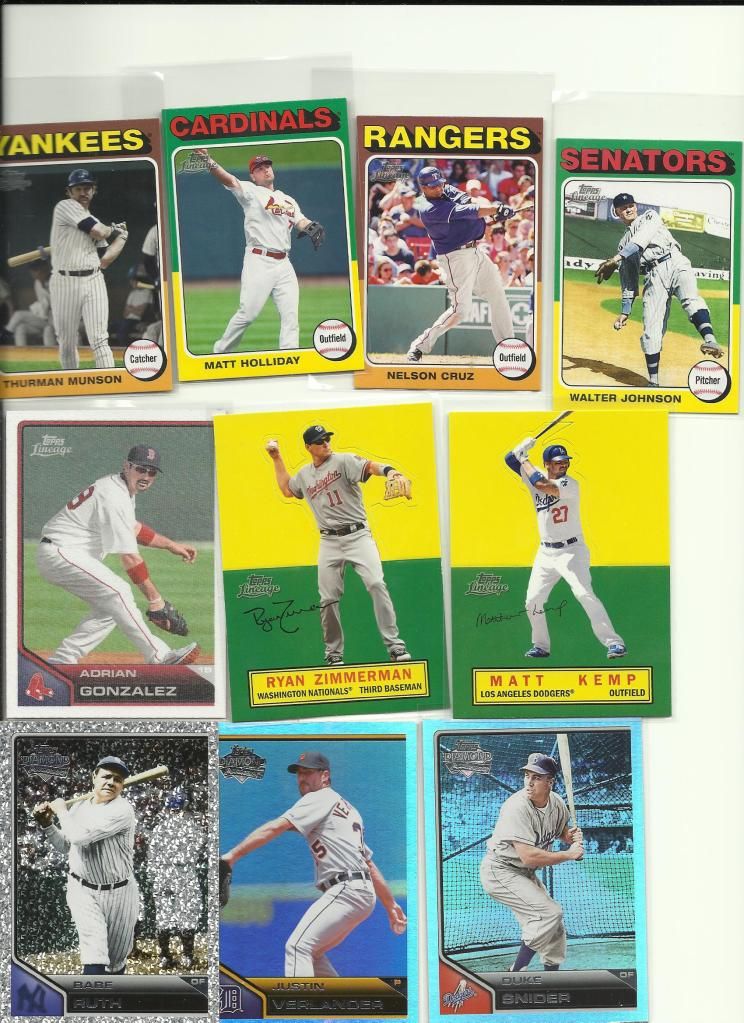 And got absolutely nothing of note in the 2010 Jumbos, but they were cheap and always fun to open. Anyway, thanks for looking, it was a fun cheap break and for the amount of cards I got, definitely worth my money, though I don't yet know how close I got on my 206 set. Hopefully I'm close and didn't pull any dupe SPs. I'll be posting another break hopefully later in the week when my 2012 Topps Mini box arrives.


---
RE: Assorted Cheap Stuff Break - sesfan01 - 08-10-2012 09:37 AM

seems like you had fun busting those packs. At least you got some new trade bait out of it.


---