08-03-2012, 08:30 PM
Did anyone besides...
... Ashley & myself go to the Nationals in Baltimore? I will be posting this weekend my 20 box breaks of BSB and 1 break of UM11. Also will post my p/u's of some great cards. Randi I found plenty of Halak cards but left them behind since you have them all. Just kidding I picked up a parallel I think you do not have.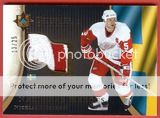 Collecting; Flyers-Red Wings-Brodeur-Cujo-Hasek-Shanahan, 04-05 Franchises Memorabilia