04-03-2012, 02:23 PM (This post was last modified: 04-03-2012, 09:09 PM by sconnienation3.)
Lunchtime LCS visit UPDATE w/SCANS
Stopped by my LCS at lunch and grabbed a pack of Totally Certified and 10 packs of 2012 Press Pass (my guy has em 5 for $20--can't go wrong!)
NOW WITH SCANS, FOR ALL YOU VISUAL LEARNERS OUT THERE! lol
Totally Certified garbage:
Ryan Fitzpatrick Blue #/50
Clyde Gates jsy #/499
ick.
The PP (I figure 10 random packs should yield me 2, maybe 3 autos)
Robert Griffin Gold parallel
TJ Graham Gold Auto #/199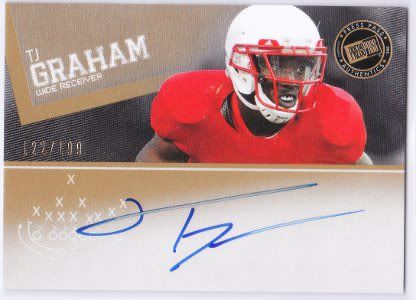 Dont'a Hightower Silver Auto
Devier Posey Bronze Auto #/99
and in the last pack...
RG III Blue auto #/50!
Sweet lunch break indeed!
Always interested in any Wisco alums I don't have.
The Wisconsin Collection