01-13-2012, 03:03 AM (This post was last modified: 01-13-2012, 04:21 AM by biglump007.)
Ho Ho Holy Crap What A Mailday, Shoutouts to Pbean and Jr, Alanch, Tsolson
Got a crazy amount of mail in which took Wifey and Mini Me forever to open and scan a few trades and a ton of stuff and I mean ton from some great members Pbean and Jr, Alanch, and Tsolson ( I think I spelled that right )
First up is cheesehead Alan who sent a fatty of a care package love them all bro. Wifey lived here Montana's and Mini loved the Target cards not to mention the fact he went nuts for the Facemask card. Thank You Very much Alan. 
For Mini Me 
Antonio Pittman Facemask 30/300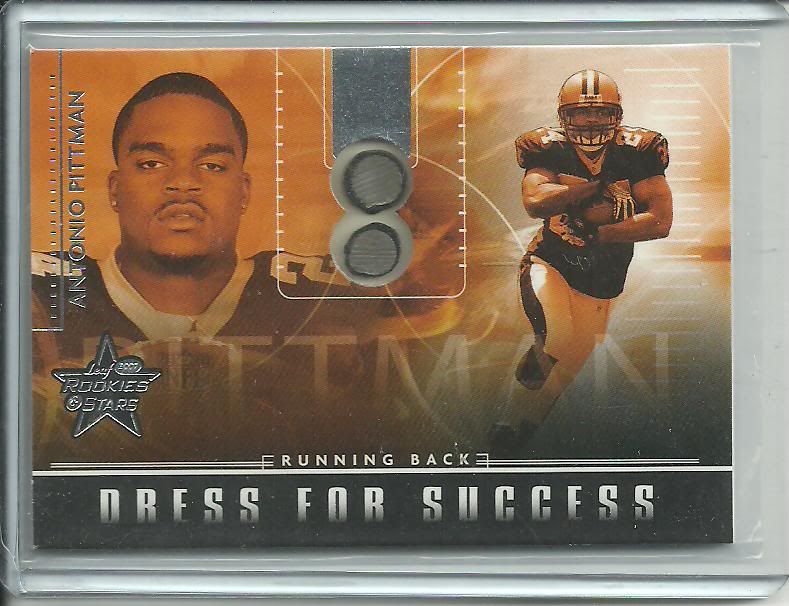 For Wifey 
Joe Montana GameDay Oversized
For Me 
Dexter McCluster Epix 378/499
Eric Berry Cross Training 52/249
Eric Berry Forg 231/250
All of these and a couple Montana's in there for Wifey 
All of these 
And all of these a couple Target cards for Mini Me and notice the DT thank 
---
Next to light up my mailbox was TsOlson who sent all this. Thank You Bro just unbelievable now I know who got me on that T Jax lol 
Eric Berry Supreme 80/209
Eric Berry Prime 
Justin Houston Threads Auto 58/299
And all these Berrys, bad thing for me is first thing Wifey said is " Oh I like those school colors cards " that may end up costing me 
Oh wait did I mention a T Jax, yes, yes I did. 
T Jax Topps Unique Jumbo Patch Auto 9/10
Thanks Again Bro you really didn't need to. Lovin all of the new goodies. 
---
And as if my mailbox wasn't already in shambles in came the Beans, Pbean and Jr finished blowing up my poor little mailbox with a package that can only be described as well the way Wifey put it was Holy Crap there is no end. 
Not even sure where or how to start on this one but here goes 
Sweet Trent Green Refractor and Will Franklin elite 
T Jax Score Artist Proof  24/32
T Jax Elite Status Red Die Cut 5/93
Matt Cassel Elite Aspirations Die Cut 10/93 ( claimed by Mini Me ) 
Jamaal Charles Scorecard 29/50
D BO Redzone 29/30
D BO Classics Gold 13/50
Derrick Johnson Artist Proof 32/32 
And now the CRAZINESS Starts, Enjoy I know I did seeing all these 
Marcus Allen, Jared Allen, Tony G, and more 
DT finest awesomeness 
---
D BO and T Jax 
LJ, Tamba, Brodie Croyle
Eric Berry, Priest, and Thomas Jones 
Jamaal and some multiple awesomeness 
More Jamaal 
Baldwin, Houston, McCluster, and Cassel ( again claimed by Mini Me ) 
And finally as if it wasn't way to much already some more Dexter
Thank You Mr Bean and Jr, just amazing stuff really enjoyed looking through all the scans as Wifey put them up and can't wait to get home and go through all them in person just awesome. 

Tyson Jackson
Total Cards - 469/638 - 74 %
Autos - 164/249 - 66 %
Mems - 221/280 - 79 %
RC - 38/38 - 100 %
1/1s - 21
Total Tyson Jackson Cards Including Dupes 641