It's that time of year again and we're looking forward to seeing our friends (and new friends!) that we've made over the years!
The Toronto Card Show is setting up once again at Corner Booth #1004. It'll look something like this... I dunno, maybe better.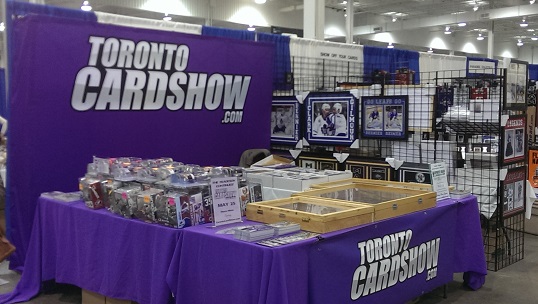 So swing by and say hi!
Cards for Kids
- I've lost count how many years that we've been doing this but you can drop off your unwanted common base/jerseys/autos which will be team bagged and passed out to kids.
- If you've got a stash at home or want to lighten the load from your box breaks, bring them to the purple corner booth #1004!
- (Just make sure they're from 2005-current so the kids can recognize the players)
Wear It & WIN
- got a purple TorontoCardShow.com T-shirt? Wear it and if we spot you then we'll have something for you!
As usual, the Expo is a great opportunity to chat with us about the shows, including our new one in Newmarket, about becoming a vendor, or anything else Toronto Card Show and hobby related! We're sharing our booth with a couple of our regular vendors so if I'm not around at the time, I'm sure they can answer your questions or call me to come meet you!
Looking forward to seeing you at the Fall Expo!