As promised, the pieces only get better from the Coleman and the Mike Brodeur. The toughest part was choosing #2 and #1 in this quartet as one represents one of my all-time favorite goalies, and the other represents a current goalie in the league, and as it seems, current and in the public eye makes it more desirable for people to see, so I saved him for day four.
Why do I like the guy chosen for today? Right-handed catch which is what I am in net, and he is a huge fan of Iron Maiden, getting Eddie painted on his masks...making him head and shoulders the coolest guy out there
That and he wasn't too bad in net either. I'll be honest, one of my biggest surprises post-2005 lockout was his absence in the league. He always put up fine numbers, was capable of getting shutouts, and was also capable of leading a team to victory. And he wasn't that old yet, either. Oh well...
Today's player in the quartet, Roman Turek. Born May 21, 1970 in Strakonice, Czechoslovakia. A standout star with the Czech national team, Turek was originally drafted 113th overall by the North Stars in 1990. He made his NHL debut on November 20, 1996 against the Flames, recording a convincing 3-1 victory. As third stringer to Andy Moog and Arturs Irbe, Turek only got into six contests that year, however, after Irbe was picked up by the Canucks the following year, Turek cemented himself as the number two guy in Dallas. From there, he joined the Blues in 1999-00 and immediately became their starter for two years. From there, he joined the Flames in 2001-02, and assumed the starter role there for another two years before falling into the back-up role in 2003-04 behind Mikka Kiprusoff. After being placed on waivers on March 4, 2004, Turek really stepped up his game for the last stretch of the season, recording consecutive shutouts and keeping his spot as the backup all the way to the Cup Finals against Tampa. After the lockout, he remained in Europe and ultimately retired from hockey after the 2009-10 season. In his eight season NHL career, Turek played in 328 games, recording a 159-115-43 record with 27 shutouts, 12 assists, a 2.31GAA and a 0.907% save average. Never once did he have a save average below 90%, so the shortness of his career still amazes me. In 22 playoff games, he recorded a 12-9 record with a 2.23GAA and a 0.908% save average.
The jersey you are looking at today is a Set 3/Playoffs Road jersey. This set was used in the regular season from March 13, 2004 until April 4, 2004, and also in 10 playoff games, making for a grand total of 16 games. Turek played the backup in most of these contests, however, he did play in three games in this sweater, the last three starts of his career: March 14, 2004, a 3-0 shutout victory over the Blues, March 24, 2004, a 4-0 shutout victory over the Phoenix Coyotes, and April 4, 2004, a 2-1 loss to Anaheim (which also turned out to be the final regular season game of his career, and also his last start in the league). His only other NHL game after this point was a 19 minute, three save relief effort in the playoffs while wearing the home jersey.
Front: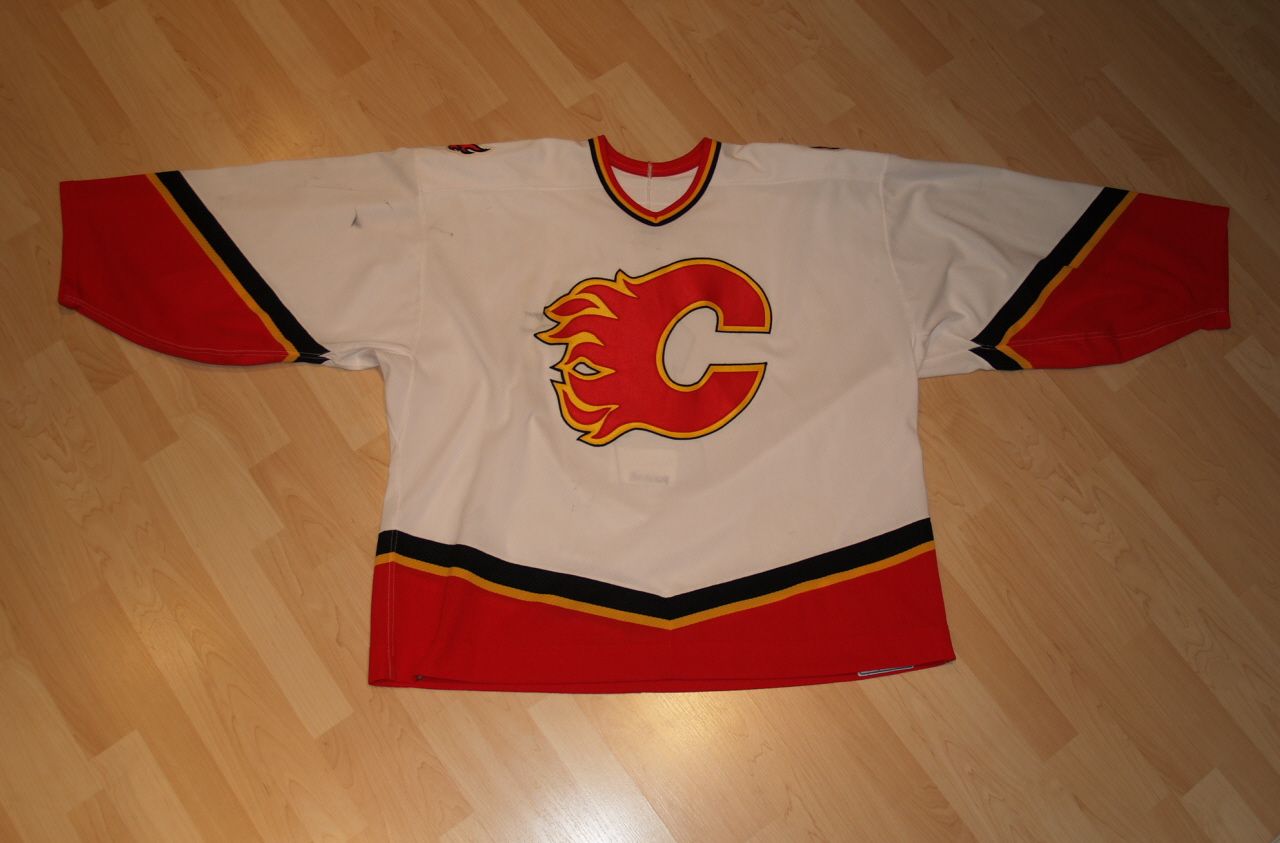 Front right sleeve with nice wear: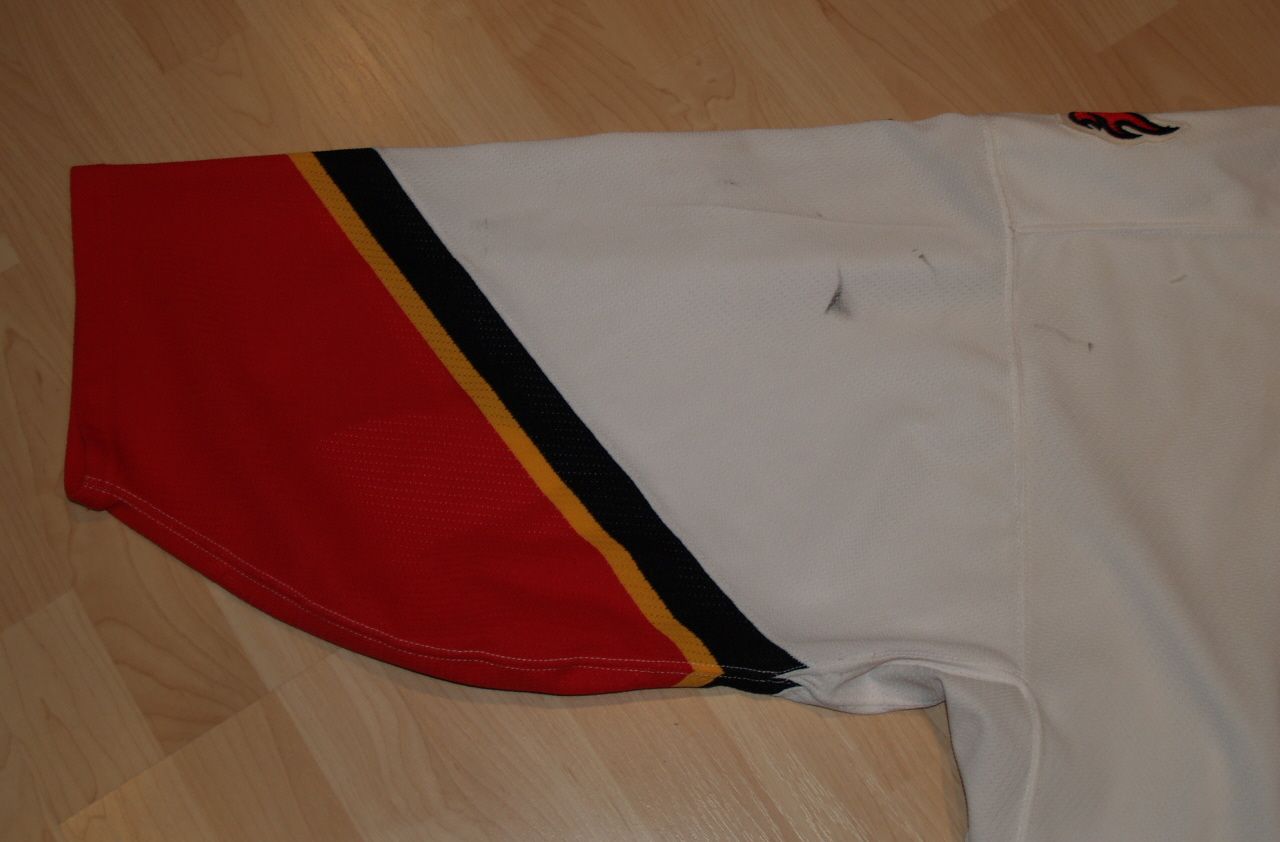 Right of crest, with great marking and unrepaired hole:
Under the crest, some nice wear: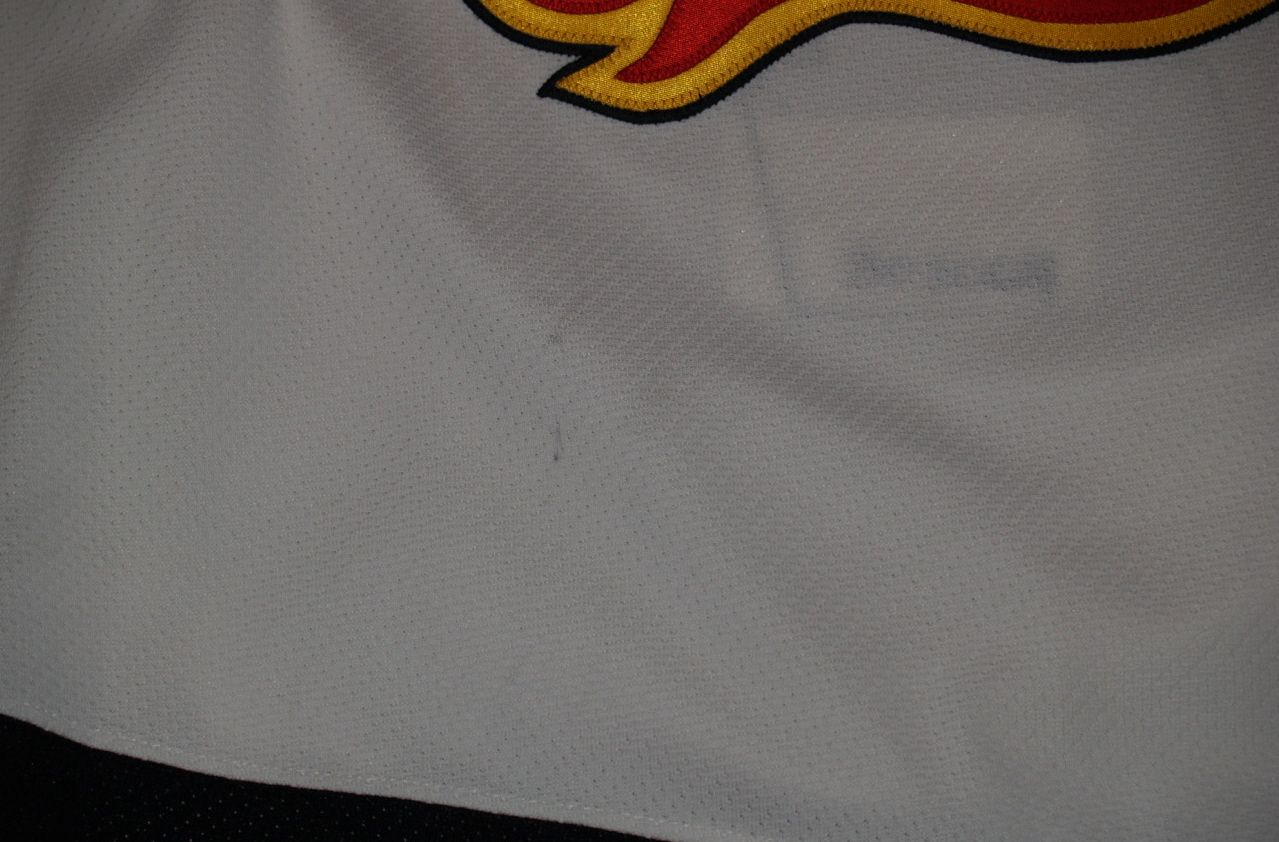 Some of the wear on the crest, also a key in the photomatch:
Front left-sleeve with minor wear: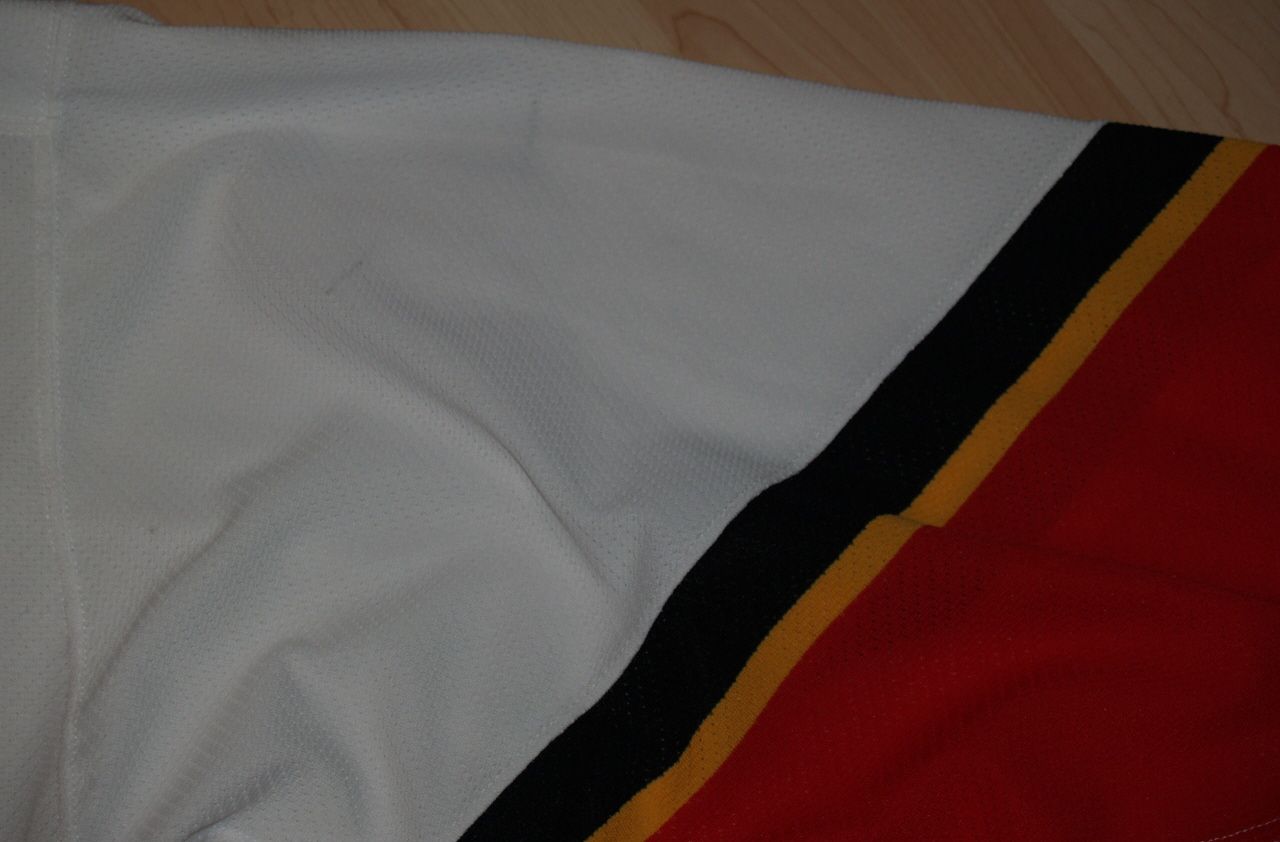 Rear: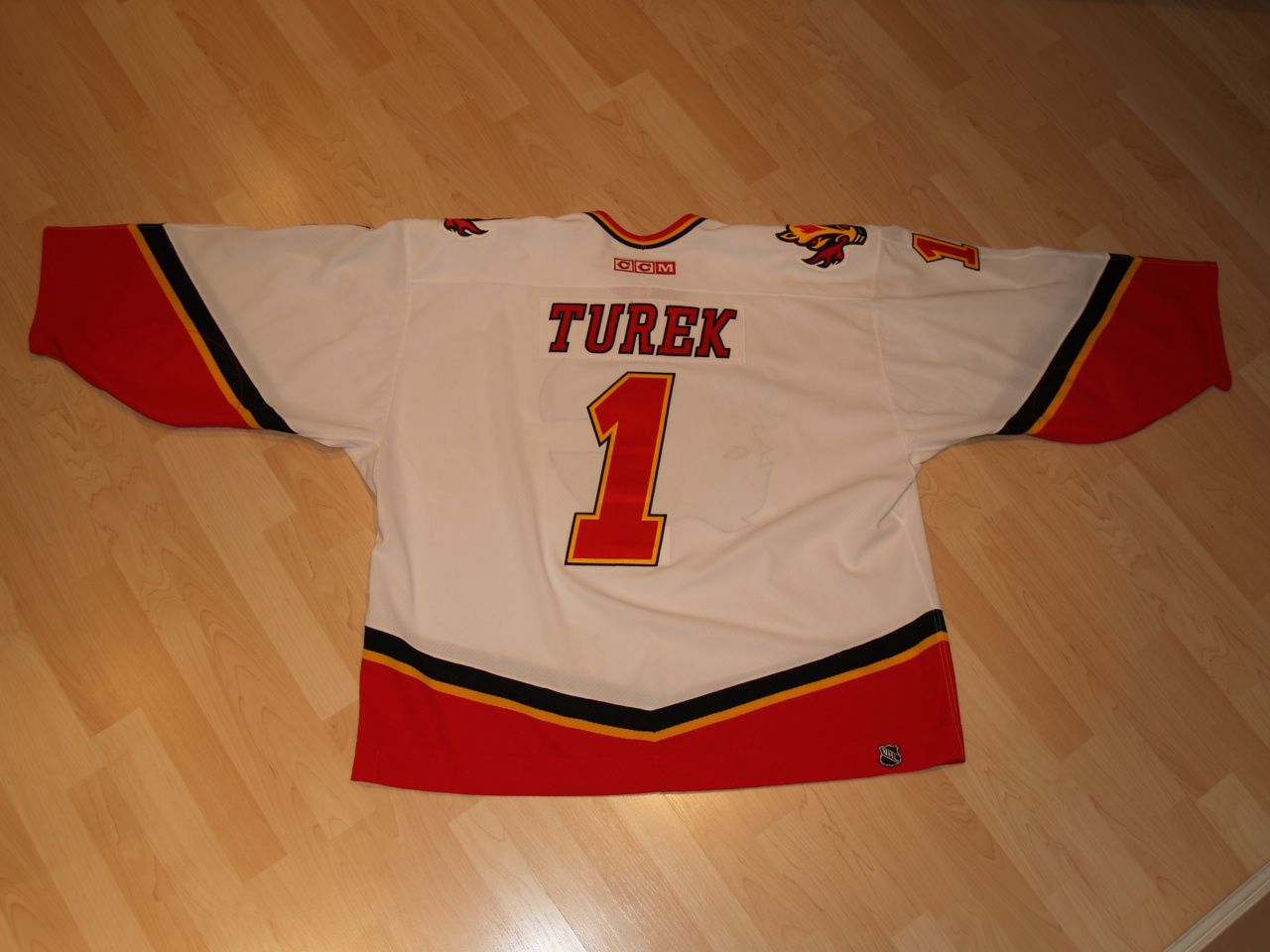 And the photomatch since the number one complaint I got about the last two posts was..."where is the photomatch?"
Comments always welcome and kind of encouraged since I got practically tumbleweeds from the last two days.