NASCAR was built on the backs of men that would never go on to be Superstars. They were men that put in many hours working on cars and then driving the hauler themselves to the race.
Men that kept cars going so others could drive and acheive their dreams.
These men did it for the love of the sport and did the best they could do.
They are remembered by some but forgotten by time. NASCAR tries to embrace the past but in order to please the current fans some are let behind.
In the last three weeks three of these men have passed on.
First was Charles Hoss Ellington. MAY 12 1935 - MAY 31 2014
He drove in 21 races and had 4 top 10s over three seasons. His real success was as an owner. His cars ran 264 races and gave him 5 wins. Four of those with Donnie Allison as a driver. The remaining win was David Pearson. Actually that win was Davids last win ever.
On the card side Hoss has exactly two, each being from the pro set company. One in 91 the other in 92. He also has a couple of diecast available.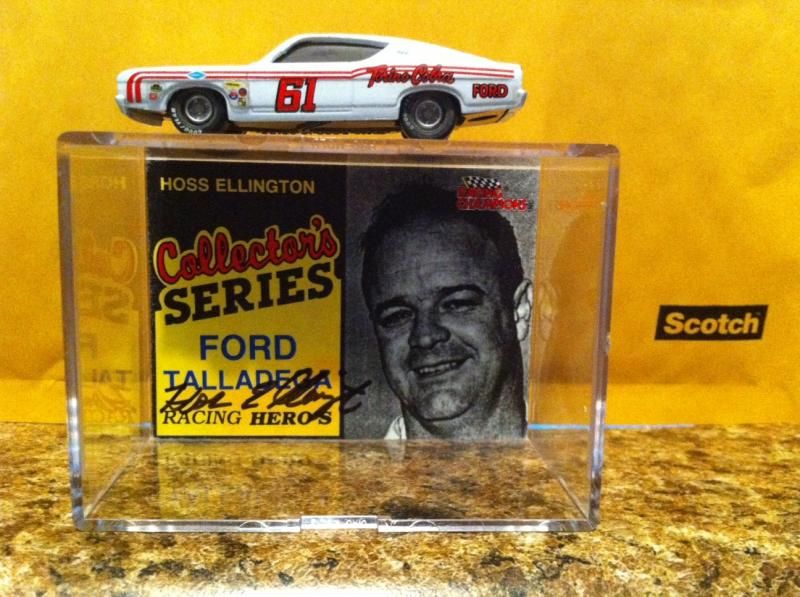 The next to pass away was Junie Donlavey. APRIL 8 1924 - June 9 2014
As an owner Junie started 863 races with only one win. That win was also the only win for his driver Jody Ridley. Junies last start came in 2002. He was a popular fixture in NASCAR and was known to work well with young drivers. He is also in the International Motorsports Hall of fame which should guarantee him a spot in the NASCAR Hall of fame one day. He has 33 cards out there if your looking and some diecast. He even has 3 cut signature cards from leaf sports icons.
The most recent to pass was Ray Fox May 28 1916 - June 15 2014
Ray was an engine builder crew chief and owner. After his racing days were behind him he went to work for NASCAR inspecting engines. He also formed the living legends of auto racing. Ray had 14 wins as owner nine of those with Junior Johnson at the wheel. He also was the crew chief on David Pearsons first three wins. He has only five cards and most of those are from the excellent masters of racing set. If you want a diecast. He has a fantasy racers 1940 coupe. Also his name is on both sides of the RCCA david pearson 3 car.