Recently I carefully looked through the online Beckett checklist digital spreadsheets of the top four players that I collect for the purpose of primarily picking out specific examples of listed items that I doubt exist, and I rounded up a few others that perhaps should not be listed in the first place for one of various reasons. I used many resources I found online, in books and in magazines in an attempt to verify my hunches. After conducting a little more research I learned that in many cases the sets that these potentially nonexistent cards are part of may not completely or even altogether exist either. As a result I have compiled a detailed list of examples from 1993 to 2009 which will be presented in this thread. One will notice that I am more certain of the existence of some of these items than others and I will document my current opinion in each case. Most will have scans of cards as well, some from my own personal collection and others not.
Let me state up front I am not doing this to show up anyone on the Beckett staff. The number of available collectibles that has been created over the decades is mind-boggling and completely difficult to keep track of. Years of successfully cataloging multi-millions of sports cards is impressive and I commend Beckett for their endeavors. My intentions are simply to streamline innocent inconsistencies to this particular thread in the hopes that corrections will be made if indeed I am correct on any of the provided examples.
Please scan through every example I provide in this thread and if I am wrong in any case let me know about it, or feel free to add your opinions. Perhaps some of you have a few of these so-called existent cards in question which would help validate that these parallels were indeed once printed. I bet some of you may have also been looking for some of these cards for your own personal collections and wondered why you could never find them.
I am going to break everything in to four groups:
-Sets/parallels that do not exist at all
-Sets/parallels that do not exist for all cards in the set
-Sets/parallels that are double listed
Lastly,
-Sets/parallels that exist but should perhaps not be listed
A. SETS/PARALLELS THAT DO NOT EXIST AT ALL
1. 1994 Pro Tags Super Bowl XXIX (1-168 plus Super Bowl XXIX logo card) parallel set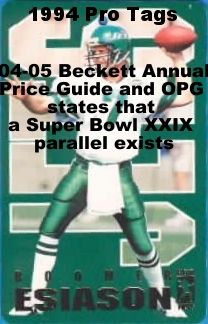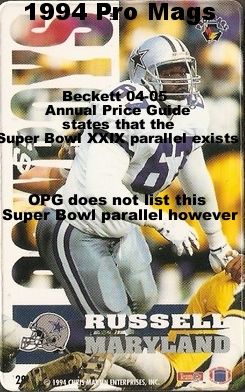 The Beckett annual price guide from 04-05 states that the 1994 Pro Mags Super Bowl XXIX (1-140) parallel set also exists but that one is not listed in the OPG unlike the Pro Tags one from the same year. The descriptions in these price guides for those parallels are rather clear cut as well stating that 750 of each exist. So does both, just one or neither of these parallel sets exist?
Nittany13 verdict: I have never seen a Super Bowl parallel for the 1994 Tags or Mags, nonetheless I have this strange gut feeling that at least one of these parallel sets (Tags) exist.
(I am submitting these in batches, so much more is coming tonight)
---
2. 1995 Pinnacle Team Pinnacle Dufex Back (1-10) parallel set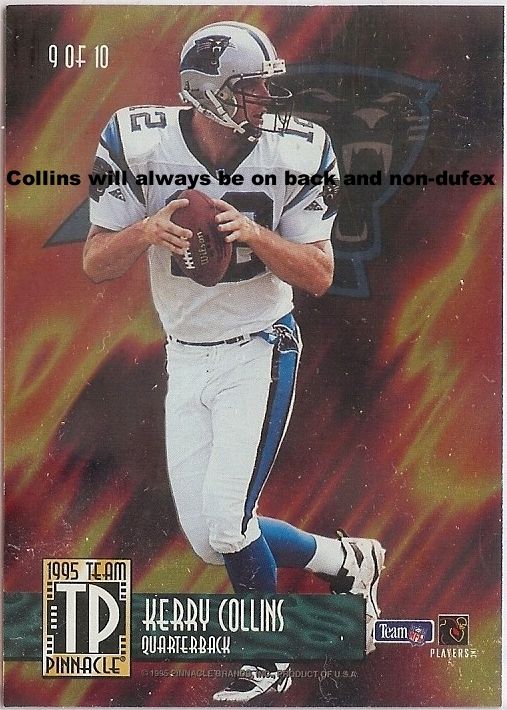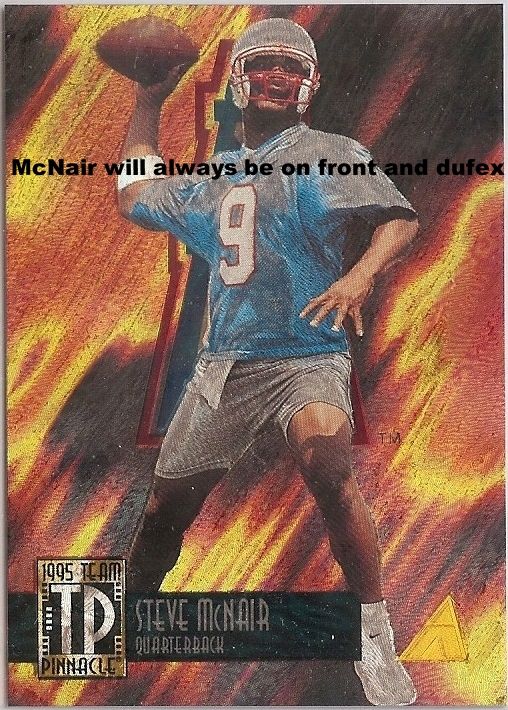 I looked at many cards from this set and have never seen a variation. The same front player will always be dufex and the same back player will always be non-dufex for each respective card in the set. The featured players on front always will be and the same goes for those on the backs as well.
Nittany13 verdict: These parallels do not exist.
3. 1996 Pro Line Memorabilia Redemption (1-10) set
There is a fairly thorough description of these cards in the Beckett OPG set description. I just never saw one yet. These were to be mailed in for the chance to win one of various memorabilia prizes (I would also like to know what those were specifically) which may explain its scarcity.
Nittany13 verdict: This set does exist…I think.
4. 1997 Crown Royale Silver (1-144) parallel set
This was discussed extensively on a previous thread a while back, and to this day I am not sure if I have ever seen one. Apparently it is rather difficult to distinguish the Blue and Silver versions when looking at these parallel cards on the computer screen, so I have been told.
Nittany13 verdict: This set does exist… I think.
5. 1997 Studio Postcard Portraits (1-36) parallel set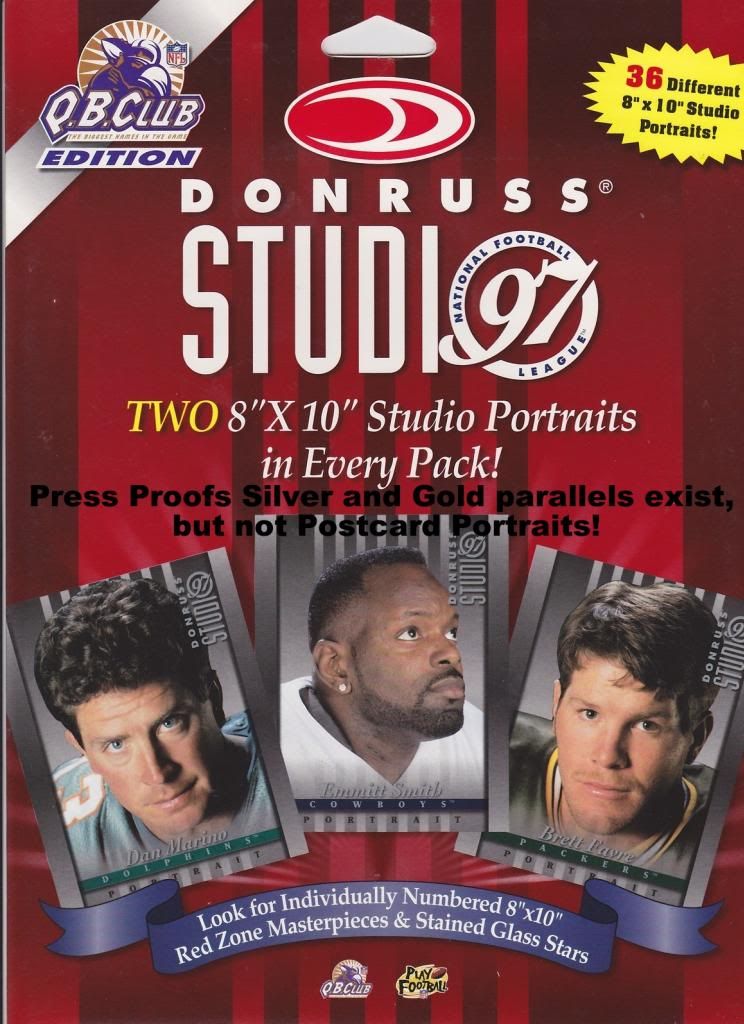 I have never seen a 4x6 version of any of these cards. The Gold and Silver parallels do exist, however.
Nittany13 verdict: These parallels do not exist.
---
6. 1997 Ultra Brown Backs (1-173) parallel set

This was another parallel set that was deeply discussed on another thread. Until someone can produce a scan of one I will still not believe that these were actual parallels.
Nittany13 verdict: These parallels do not exist.
7. 1998 Score Rookie Autographs, Curtis Enis # 12A Black Ink parallel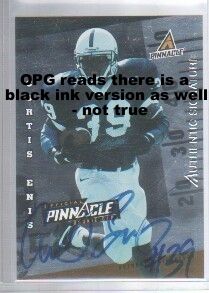 I find this OPG listing very peculiar. 34 autographed cards are in this set but the Enis is the only one listed with two versions based on ink color, blue and black. Both are priced the same so it would seem that one is not scarcer than the other. 500 autographed cards exist for each player in this set so does that mean 1,000 or 500 black and blue ink Enis autographed cards supposedly exist? I ask rhetorically. Most importantly however, I never have seen a black ink version anywhere anyway.
Nittany13 verdict: This version of the parallel does not exist.
8. 2005 Topps Total First Edition (1-550) parallel set
Bakerman deserves the credit for bringing this one to my attention (not personally) and discussing it in a recent thread. I subsequently investigated this myself and I also believe that these do not exist for this 2005 set (they do for the 2004 set on the other hand).
Nittany13 verdict: These parallels do not exist.
---
B. SETS/PARALLELS THAT DO NOT EXIST FOR ALL CARDS IN THE SET
9. 1993 Action Packed Mint Parallel (1-222) set, 221 of the cards
Until recently I was convinced none of these existed, however that changed when I noticed a submitted picture of a Troy Aikman gold version in the Beckett OPG. This Aikman card is the only one that I have ever seen and I have hunted high and low for other examples for a while now. The description of the parallel set also states that 500 were produced for each base card, and if so it is very strange I have not yet stumbled across more examples. Perhaps parallels exist for only a select number of cards from the set?
Nittany13 verdict: I am super confused.
10. 1995 Signature Rookies Tetrad Autobilia Autographed Photos (1-99), various cards
First of all, the multi-sport Signature Rookies 8x10 Photographs have a very confusing history as far as I am concerned. Some are from 1995 sets and others from 1996 (or even 1994) and they are hard to tell apart if you do not know what to look for. The 1995 Tetrad ones are the only ones listed in the Beckett OPG as well. Many are autographed but I have seen others that are not (bankruptcy secondary market stuff?).
Concerning the 1995 set, supposedly there was a redemption autographed 8x10 photo issued for all 99 player cards in this set. The OPG recognizes that there is a Kerry Collins out there, for example, but I have never seen one after many years of looking. It does not automatically mean that it does not exist but I do find it odd, especially if supposedly 3,000 were originally issued of every photo. I am willing to bet there are similar examples from this set.
Nittany13 verdict: I have a strong feeling that 8x10 photos do not exist for all 99 player cards featured in the multi-sport set, and it is possible that some others that do were never autographed.
11. 1996 Classic NFL Rookies Gold (1-100), cards 75-79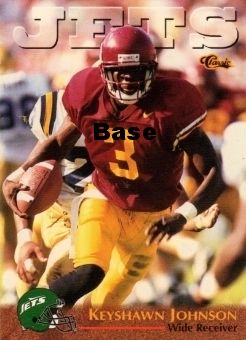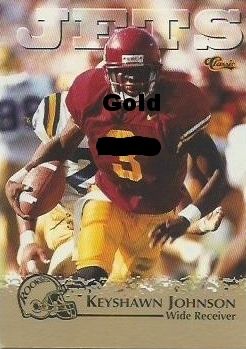 Only the main cards from this set have parallels. Subset cards 65-74 are correctly listed as not having gold parallels, however cards 75-79 are and this is incorrect. This subset includes Emmitt Smith, Steve McNair, Kerry Collins, Drew Bledsoe, and Marshall Faulk.
Nittany13 verdict: These five cards in this base set do not have gold parallels
---
12. 1996 Donruss Hit List Promos (1-20), 17 cards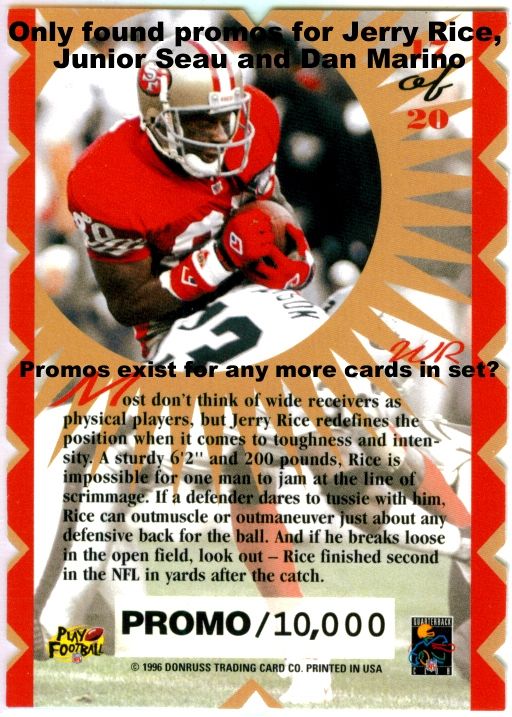 The only promos from this set that I have ever seen are one of Jerry Rice, Junior Seau and Dan Marino. The Rice and Seau promos are prevalent especially. Has anyone seen any more?
Nittany13 verdict: I believe only three cards in this set have promo variations.
13. 1997 Fleer (1-450), checklist cards 446-450 Crystal Silver and Platinum Blue parallels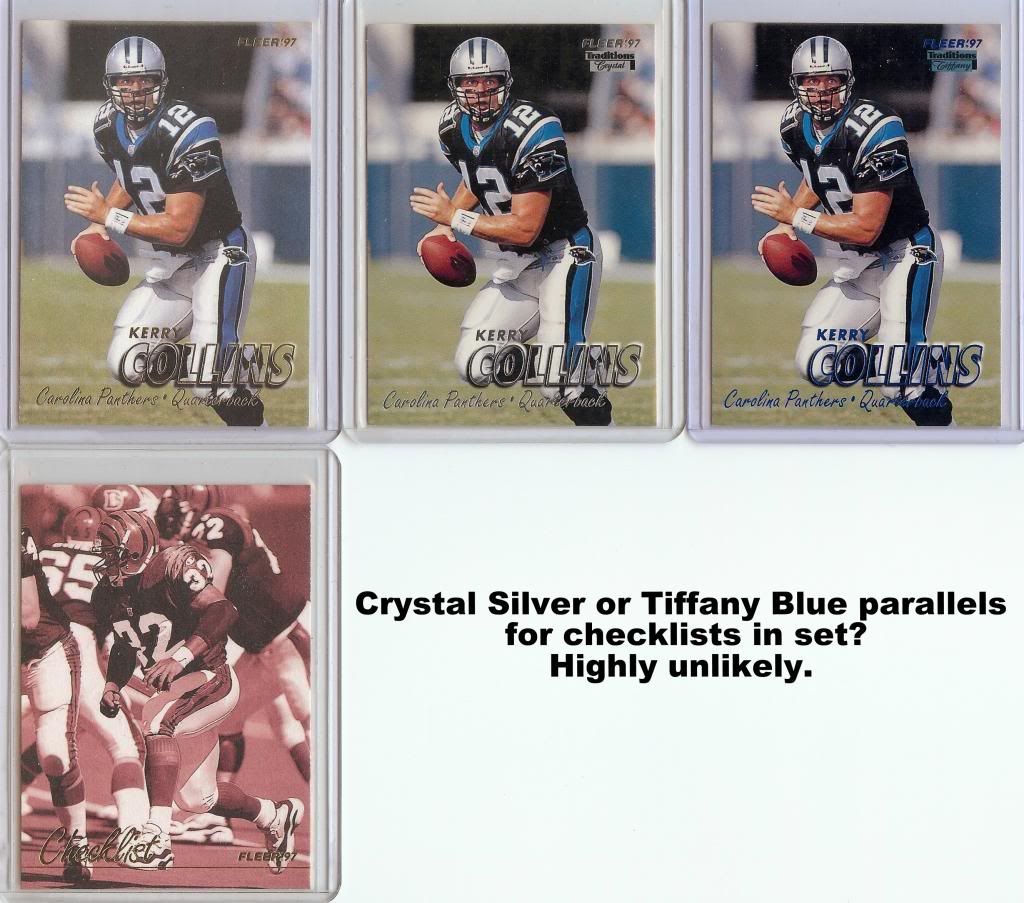 This was brought up by cdog on a previous thread. The older annual Beckett price guide that I own does not recognize the existence of these two parallels for the five checklist cards in the set, and I have never seen any.
Nittany13 verdict: These two parallels do not exist for these five checklist cards.
14. 1997 Leaf Signature Autographs First Down Markers (91 cards) parallels, a select few of the 91 cards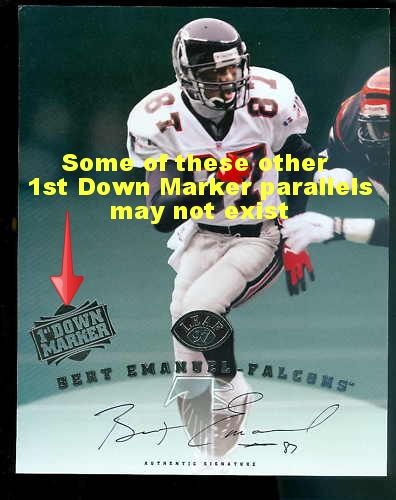 There are 108 Leaf Signature Autograph 8x10s that are listed in the OPG, 91 of those have First Down Marker parallels according to this same OPG. The First Down Markers have a stamp signifying that it was one of the first 100 of the respective 8x10 cards to be signed.
I question whether the First Down Marker parallels exist for all 91 of those cards however. I for one have never stumbled across a Bobby Engram though, not that it means that this rare parallel does not exist however.
Nittany13 verdict: Some of these First Down Marker parallels may not exist, but that is pure speculation on my behalf however. I currently have no idea what the status of most of these 91 parallels is.
---
15. 1997 Pinnacle Certified Promos (1-150), all but three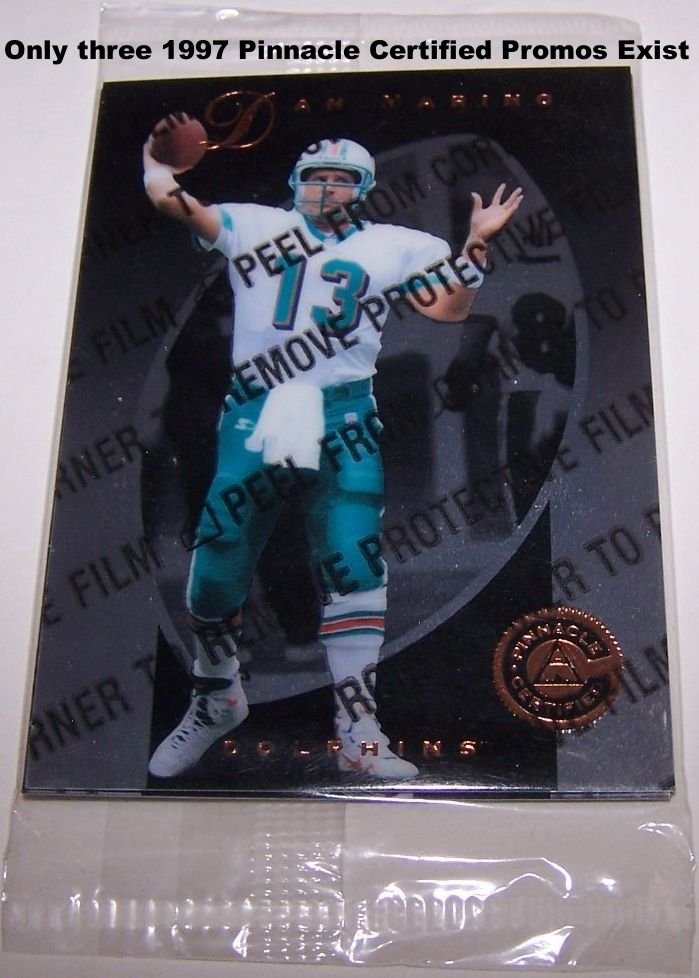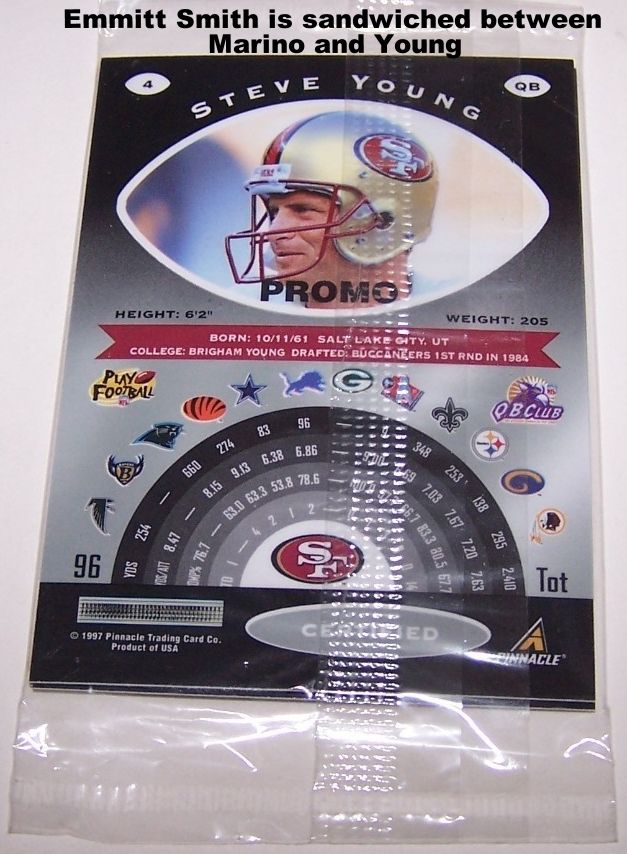 I have only discovered three of these promos in my life.
Nittany13 verdict: The only promos that exist in the 150 card set are those of Emmitt Smith, Dan Marino and Steve Young.
16. 2001 eTopps Super Bowl XXXV Promos Refractors (1-7), two of seven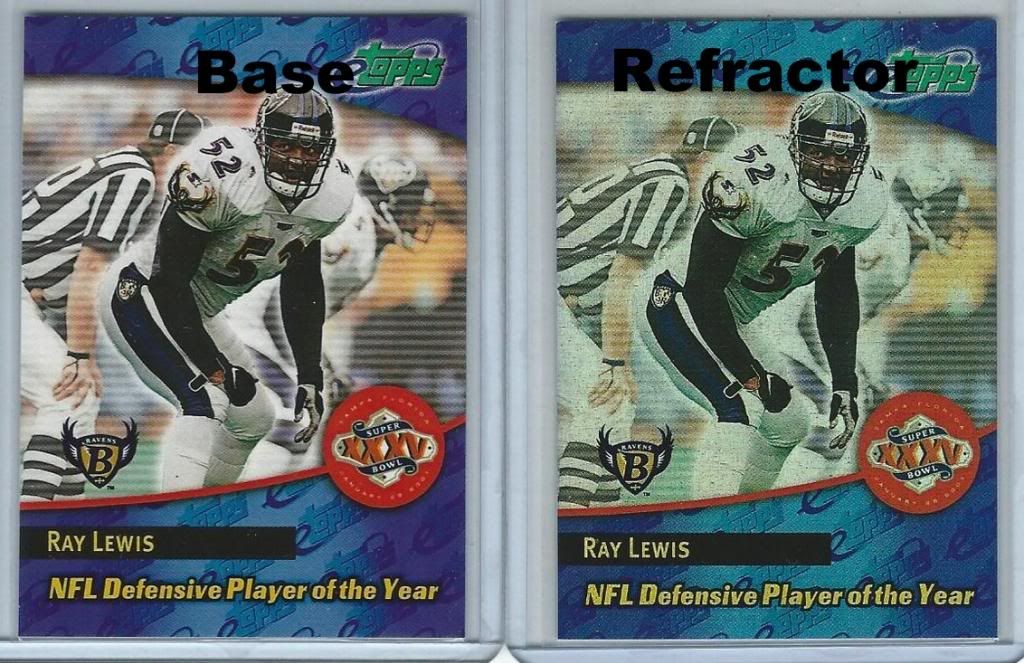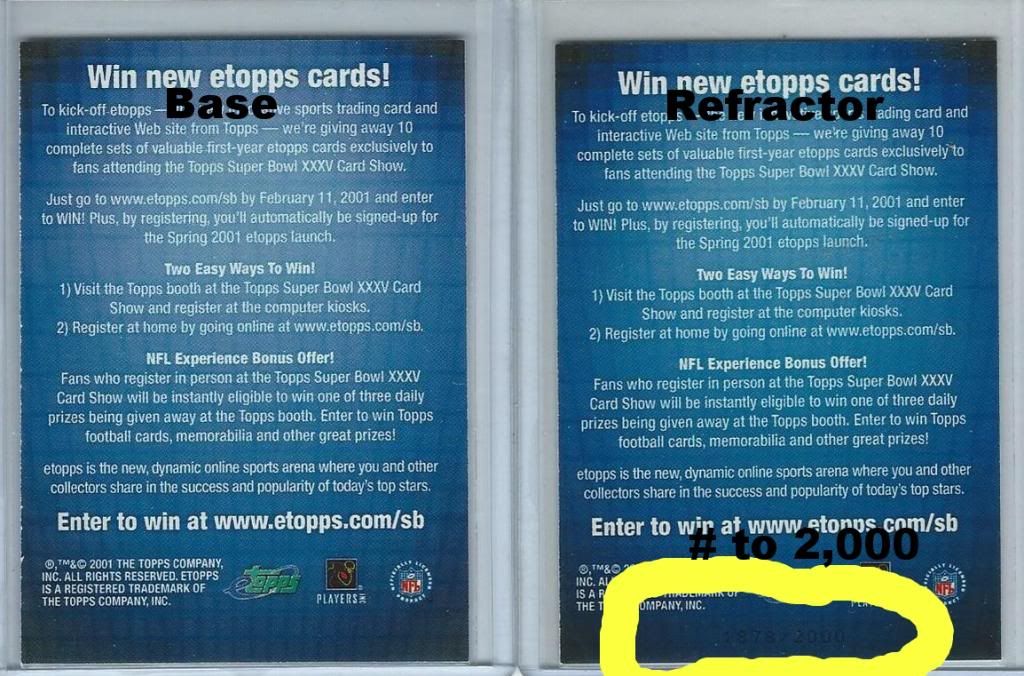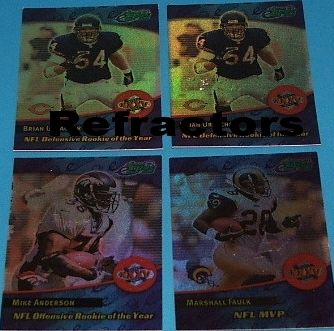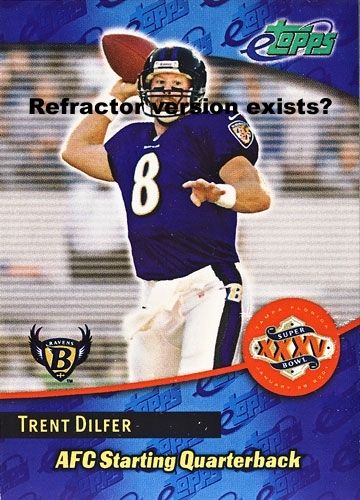 These were promotional cards given away at the festivities prior to the day of the Super Bowl in Tampa, FL that year. I believe all seven listed cards in the set exist and so do refractor variations for at least five. I believe that refractor versions do not exist for the Kerry Collins and Trent Dilfer cards however. I have searched high and low for the Kerry Collins one for years to no avail, and I noticed this card was on the want list of a major Trent Dilfer collector as well. These were the two starting Super Bowl quarterbacks so perhaps Topps created cards for these two players very quickly beforehand on short notice after the conference winners were determined. It is just a theory if in fact I am correct on my prior point.
Nittany13 verdict: Refractor versions do not exist for the Kerry Collins and Trent Dilfer cards in the set.
---
17-21. UD Promos for 2003 Upper Deck (1-180), 2004 SPx (1-100), 2004 Upper Deck (1-200), 2005 Upper Deck Foundations (1-100), 2005 Upper Deck (1-200), various cards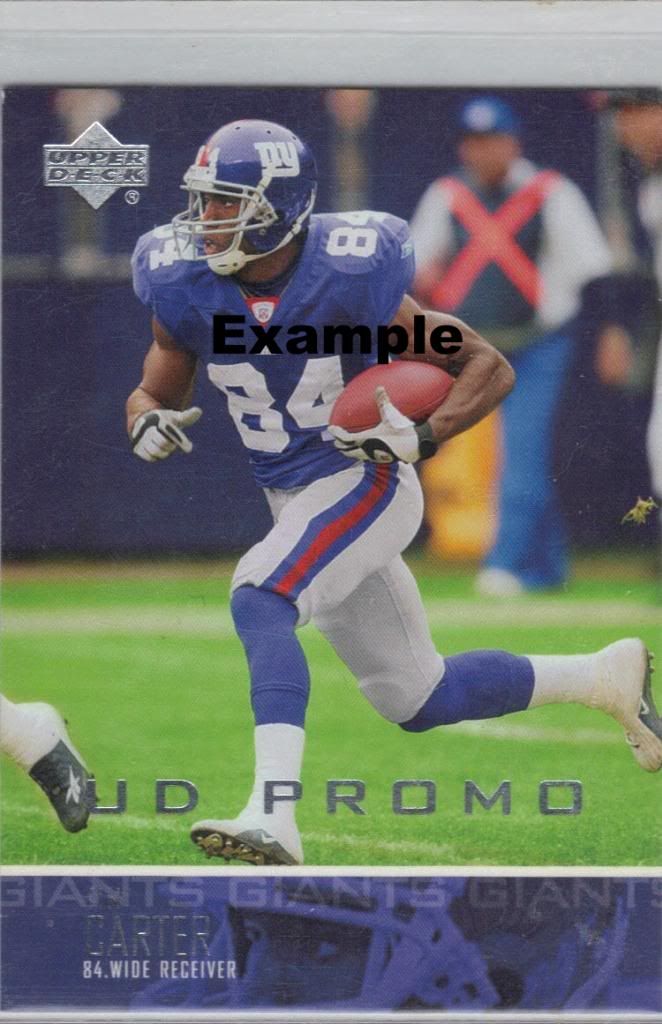 Not too long ago only a select number of UD Promo cards were listed in the OPG, but for some reason Beckett decided to recognize that parallels exist for every card in each of these sets. Do they? Can anyone verify this claim?
Nittany13 verdict: UD Promo variations do indeed exist for a select number of cards, but most likely not all, in each of the aforementioned five sets.
22. 2009 Breast Cancer Awareness cards, various cards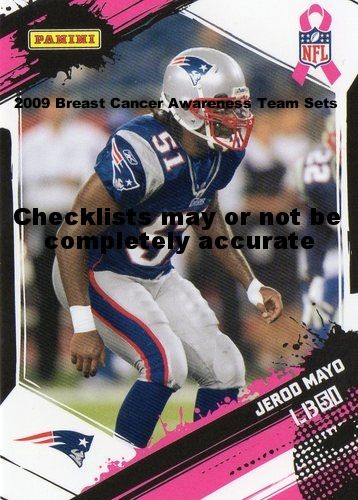 Beckett has had difficulty cataloging these cards and for good reason - extreme scarcity. 87 cards are listed and 46 of those are designated with a "TBD". According to the OPG, three players are featured on one card each and the cards are "pinkish" variations of the 2009 base cards from one of the three brands (Topps, Upper Deck, Panini) they are shown on. 29 of the 32 NFL teams are listed. The Colts and Vikings are two of the three teams not listed yet I was able to find Peyton Manning and Adrian Peterson versions online, and ironically I could not find too many 2009 BCA cards to begin with.
The point however is that I am skeptical that not all of those 41 listed player cards exist. For years I have been looking for the Kerry Collins one but have come up empty, which is very peculiar. Perhaps not all of the teams participated in this promotion, which is just a theory.
Nittany13 verdict: The checklist is far from complete and I believe that at least one of the listed 41 cards does not exist, which means perhaps others do not either.
---
C. SETS/PARALLELS THAT ARE DOUBLE LISTED
23. 1996 Clear Assets A Cut Above/Assets A Cut Above (1-20)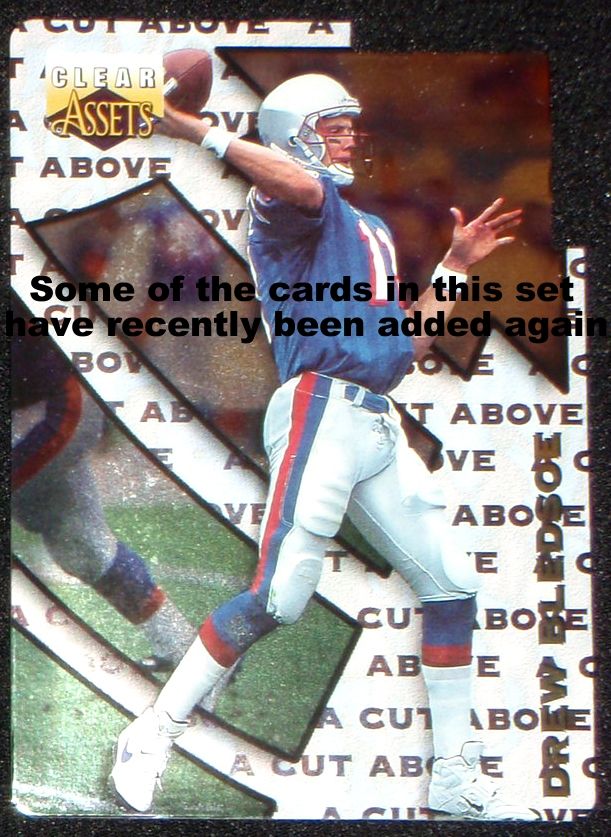 Some of these multi-sport cards were inserted in to retail packs and others in to the Clear Asset ones. Nonetheless the entire set was listed under the Assets A Cut Above listing, most likely in the interest of convenience. Not too long ago a second set was listed under the Clear Assets A Cut Above as well. Many of those items have a "TBD" but unbeknownst to the contributor it would be the same checklist under the Assets A Cut Above…if it existed in the first place. Do two variations exist?
Nittany13 verdict: I doubt a second version of this set exists. I think the second set was listed in error.
24-26. 1996 Panthers Fleer/Skybox Impact Promo Sheet, Skybox Impact Samples #NNO Uncut Panel, Skybox Premium Samples #NNO Uncut Panel and the individual cards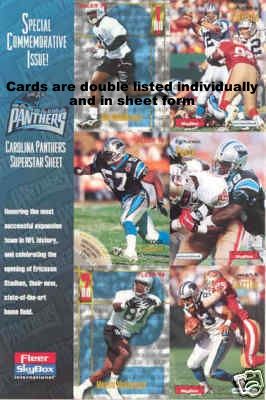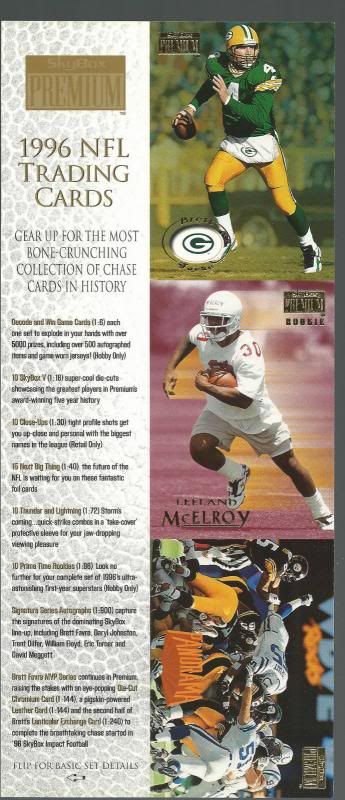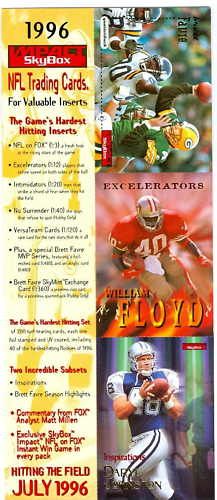 These are cards on three different perforated sheets. Originally just the uncut perforated sheets were listed but later the individual cards were as well, at least this was the case for the Panthers sheet. Initially I also believed that these single cards that were added were somehow variations, such as not having perforated edges for example, but I do not deem that to be true anymore. If I am correct then the full perforated sheet needs to be eliminated from each respective player's downloaded checklist, it just makes sense since what we have here is a confusing and unnecessary double listing. When you download an OPG player checklist you typically will not see both the card and the complete set it is listed under.
On a side note I still believe that the intact card sheets still should be listed and priced in the OPG just like the individual cards though, albeit separately from each downloaded player checklist as stated. Curiously the intact 1993 McDonald's Game Day team sheets are only listed as an intact sheet but not individually. Conversely if you take a look at all those Dolphin NCL books the perforated cards are listed individually but not as a complete intact booklet.
Nittany13 verdict: Only one version of each card exists from the aforementioned perforated sheets.
27. 1997 Pro Line Gems Gems of the NFL 23K Gold/ Pro Line Gems Gems of the NFL Redemption (1-15)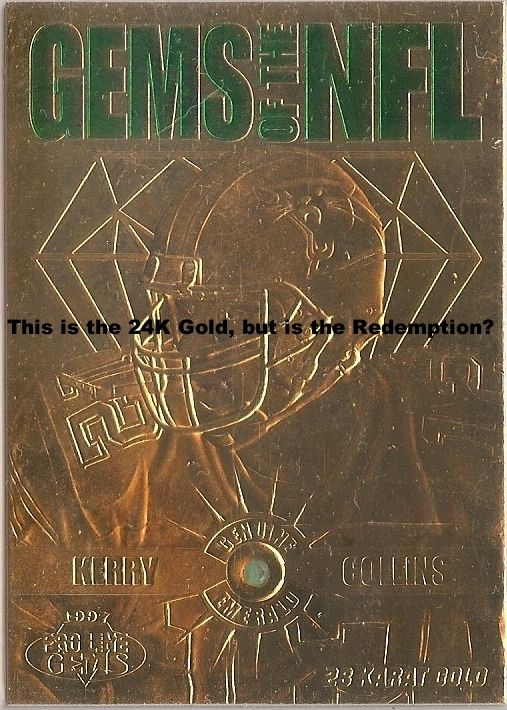 Are these two one of the same? Or, is there an actual redemption card with a player picture shown inserted in the packs that you could redeem for the type of card shown above?
Nittany13 verdict: These are the same, I think. If so one of the two listings needs to be deleted for every card in the set.
---
D. SETS/PARALLELS THAT EXIST BUT SHOULD PERHAPS NOT BE LISTED
This group is different from the first three in the sense that the items listed are known to exist, however all four basically discuss items that perhaps should not be listed in the Beckett OPG in the first place which is the underlying theme of this thread. Over the years I would like to think that I have developed a good understanding of what Beckett considers to be a worthy item to include into its OPG and what it does not. This is why I am baffled as to why the following examples are listed in the OPG in the first place, although there may be explanations for a couple. Granted, it is not the end of the world that these items are included, but in the interest of consistency and accuracy…
-1996 Collector's Edge President's Reserve Running Mates Gold Unnumbered (RM1-RM24)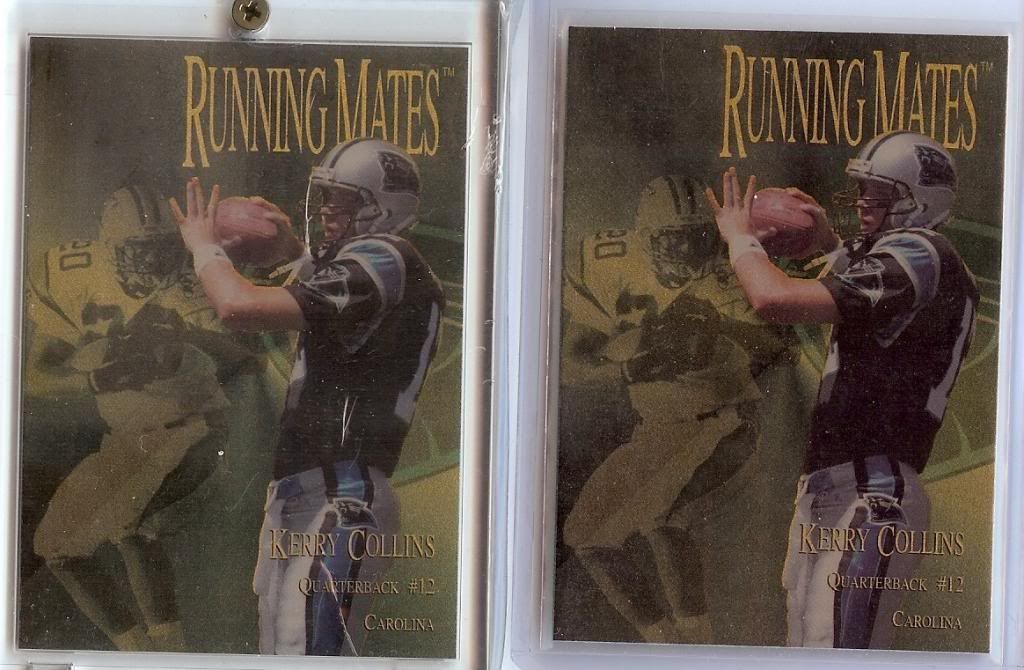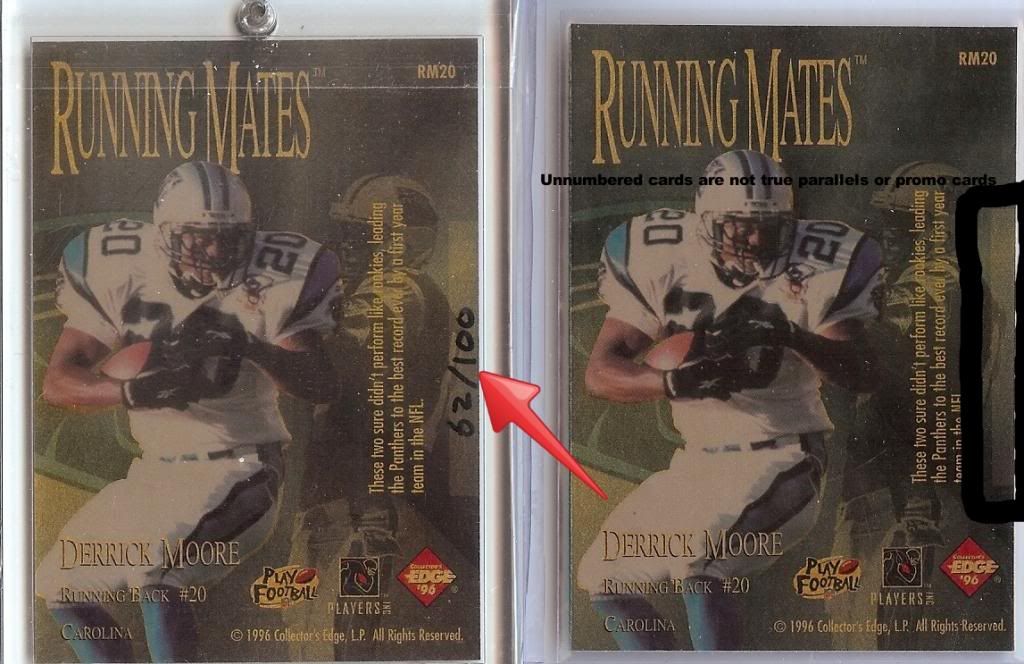 These were added to the OPG a couple years ago, I think. The ones I always knew of prior were always hand numbered to 100. When the unnumbered ones were added to the OPG I decided to purchase one, thinking that this was a variation of some sort. Apart from no serial number I could not find anything. The big question is whether these unnumbered cards were pack inserted or if these were dispersed to the public after the company bankruptcy. I am inclined to believe the bankruptcy theory.
Nittany13 verdict: If these are indeed "bankruptcy releases" than they should be eliminated from the OPG.
---
-1997 Action Packed Extra Points (1-100)
I always thought these were odd inclusions. I always assumed that at least a photo of a player would have to be shown as a first step in determining its status as a legitimate listed collectible. After all, you typically do not see generic pack inserted redemption or Strat-O-Matic cards listed anywhere.
Nittany13 verdict: I would not have these listed.
-2000 Fleer Tradition Glossy 2001 National 1/1 (1-400)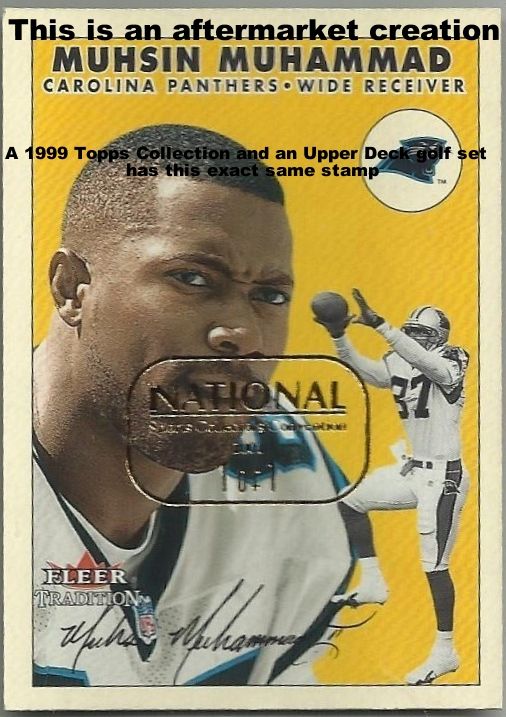 I can only explain this addition as an honest mistake by someone on the Beckett staff. This set was not even stamped by the Fleer company, and if that were the case I could understand. Instead someone at the show acquired this set and decided to literally put their own stamp on each card and pawn these off as legitimate chase cards. This was done for a Topps Collection and golf set as well and I would not be surprised if there are other examples floating out there.
Nittany13 verdict: This set should be eliminated from the OPG altogether.
In closing, there are several other types of items which I find curious are included. One is magazines, however I do not think those ever pop up when you download the player checklist which is fine. Another is schedules; some perhaps make more sense than others. Schedules and team sheets (shown below) have similar issues in the sense that there are so many out there that only a tiny fraction of them out there are actually listed in the OPG. To complicate matters these team sheets have variations such as player snapshots in different locations or different players on various sheets.
I hope that someone out there enjoyed looking through this. Please remember to submit any opinions you have on anything listed.