A LETTER TO OUR MEMBERS
Welcome to summer! It's time for vacations and relaxing during the summer break, but there is plenty of action going on here at Beckett. We've been launching new features as well as making progress with our performance improvement projects.
You may remember from our last update that we were working on cleaning up Organize to improve performance. We have completed the initial phases of:
1. Deleting all items in member's TRASH folders.
2. Deleting in-active items from Organize that did not have any associated quantities.
With that finished, we have begun the rebuilding of the Organize structure in the database and are half way finished. Once done, we will rebuild the indexing of the data and add new hardware. This project is taking longer than we had anticipated, but we are making progress and hopefully you have started to see some improvements already.
Organize isn't the only project we've been working on. This week we have completed many other improvements and features, some of which you may have already seen and others which you will see very soon.
1. Beckett Preferred. This is the return of a Beckett product that was very popular a few years ago. It combines a 1-year Total Access Online Price Guide; 1-year magazine subscriptions to Beckett Baseball, Beckett Basketball, Beckett Football, Beckett Hockey, and Beckett Sports Card Monthly; a $100 Beckett Grading Services gift certificate; and a gift certificate code for 2 free Beckett Certified Appraisals. To find out more, visit us here:
http://www.beckett.com/opg/preferred
.
2. Organize Test Drive. If you are new to Organize and don't know if you are ready to really dig in and try it out, we've made the test drive even easier for you. You can now test drive up to 2000 items for free. Give it a try. We think it will become a pivotal part of your collecting. Remember that using Organize is free if you have an Online Price Guide subscription. Otherwise, it is available at a low yearly rate of $19.95.
3. Add To Organize. We have taken your suggestions to heart and are updating the Add To Organize functionality. When you add a card or cards to Organize, you will be able to select not only the collection it will go to, but also the condition and quantity (haves, wants, buys, and sells). If you are adding more than one card, your selections will apply to all cards you are adding at the time. With each new ADD, you can select different collections, conditions, and quantities.
4. Auto-Complete. This feature offers you suggested set names when you begin typing in the Search field. For example, if you start typing 2012 Topps, it offer suggested set names beginning with 2012 Topps. Ten options appear for you to select from. As you keep typing, the options can change to reflect the new letter or words that you type.
5. Item Detail Pages. In its new format, it will show information such as the Beckett price, attributes, print run, manufacturer, brand, availability on the marketplace, a pricing history graph, and then a whole list of actions:
a. Add to Organize
b. Submit Data Correct (coming soon)
c. Watch this Item (coming soon)
d. Share this Item
e. Appraise this Card (with Beckett Certified Appraisal)
f. Grade this Card (with Beckett Grading Services)
g. View POP Report
h. View BGS Registries
Information related to pricing is available if you have an Online Price Guide.
Here's an example: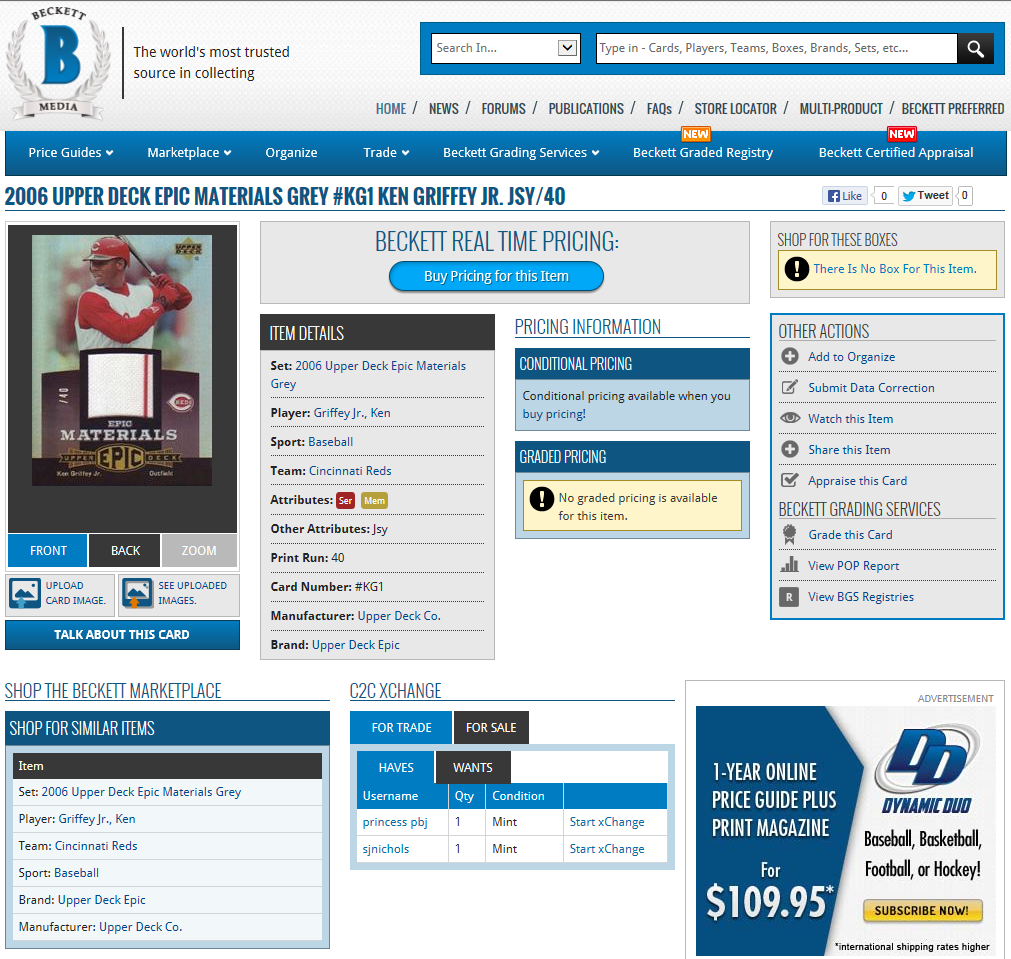 6. Beckett Marketplace Detail Page. This is similar to the Item Detail page, but this page is in the Beckett Marketplace. As mentioned in our previous email, it will include a more streamlined view of the card, price, Beckett value (if you have an Online Price Guide), dealer stats, and card attributes. It will also create links to related items from the Marketplace dealer or from all dealers on the Marketplace, broken out by player, set, and team.
7. Beckett Marketplace Homepage. This homepage will include more statistics about the marketplace including inventory and sales, and a sales ticker showing recent purchase details. A feature we are excited about is the return of the "More Ways to Shop" drop down and the "New Items" option. This means you will see search results of items that have been uploaded to the Marketplace over the past 2 weeks. In addition, we are finalizing a feature where you will be able to coordinate your WANTS in Organize with items that are available on the Marketplace. This will be available as we finish the Organize project.
It has been a busy month and a half. We hope you are as happy as we are with what has been accomplished. Please keep submitting your suggestions and experiences on the website. It's how we'll make Beckett the number one website for collecting. We have some fun stuff planned for the remainder of the year so keep visiting us and good luck with your collecting!
Be sure to visit us at the National at booth #866; and be sure to check out beckett.com for show updates, previews, and specials,
http://www.beckett.com/news/tag/nscc/
.
Sincerely,
Bill Sutherland
Chief Hobby Operations Officer