Merriam-Webster defines 'screed' as "a ranting piece of writing."
With that in mind, welcome to the Local Card Screed blog, basically a running, rambling, stream-of-consciousness rant about all things hockey card. Apologies to those misled by the thread title but cheap gimmicks are what we do here at the LCS.
Warning, this LCS carries:
*Unpopular opinions by the
pack
. Panties and boxers alike may become wedged uncomfortably. If that sensation bothers you, we invite you to leave.
*
Singles
displayed for no other purpose than to say, "yeah, we own that."
*
Cases
upon cases of whine about the hobby and the industry.
*Ample
supplies
of South Park-ism: flame everything including yourself so no one can call you out when you say something genuinely stupid.
Sorry, we don't carry Pokemon.
We hope we can become your #1 spot for hockey card rant exchanges. Every night is Trade Night here as we swap complaints about card collecting topic by topic. The only thing you have to bring is an opinion, whether by 500ct BCW, shoebox, or rubber band.
Onward then…
--
CAPTION CONTEST:
Think you can do better than the caption below? Try me.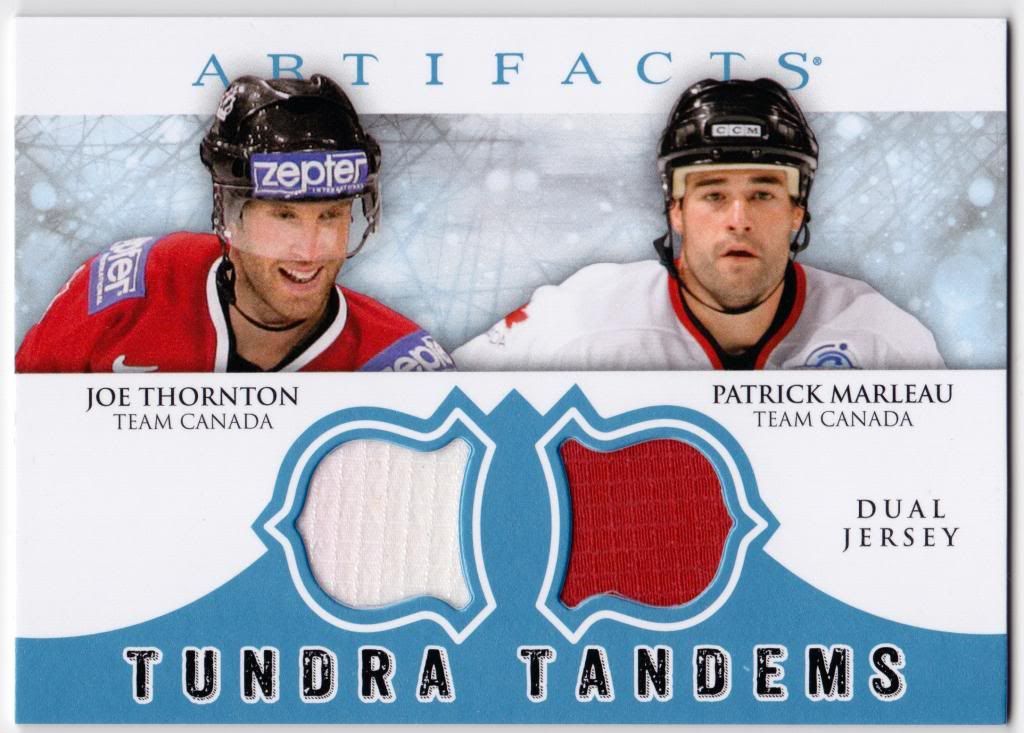 Suddenly Coach realized the folly of inviting Elisha Cuthbert to preach focus at practices.
--
Today's rant is brought to you by iluvladies5015.
I have a confession: I check the mail for bubble packets every day. Like, whether I have a pending trade going or not. I figure there's always a chance a long-since forgotten redemption shows up right? Right?!?? Anyway that was my frame of mind as I trudged out to the mailbox the other day, having not done a trade in over a month. Imagine my disbelief when I found folded between two Red Plum coupon pages a large padded envelope - and not the scruffy, cardboardy kind from the card companies either. Inside, I found 4 cards including this beauty: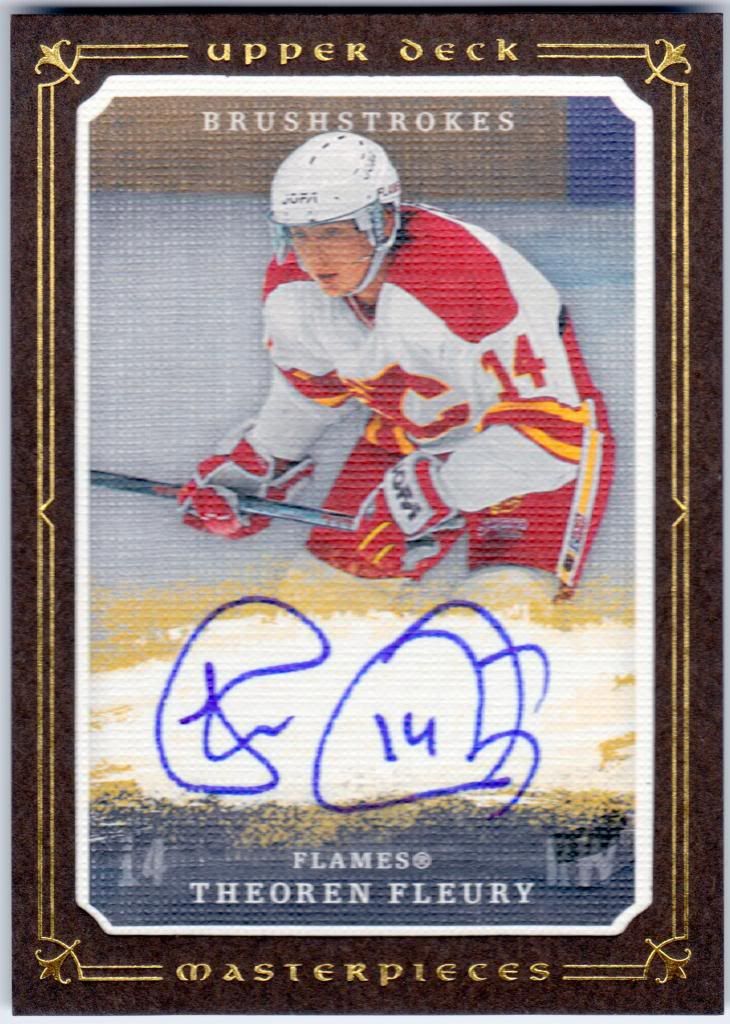 Little known fact: Theo once sued Upper Deck for making him appear only 3 1/2 inches tall but lost because truth is a valid defense.
Having seen the cards, I immediately realized who they were from. I'll elaborate in another post and also take that opportunity to show off the other 3 cards. In the meantime: Nick, what a nice surprise - it was a jolt of pure joy you sent my way. And just as I was about to set the Guinness World Record for crummy days in a row too. Thank you!
And now to sully those good feelings with a rant. I've admired these Masterpieces ever since this card found its way into my collection: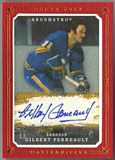 It's a clickable thumbnail this time around. That way no one will notice my entire collection consists of the same 5 cards I keep posting over and over.
They're gorgeous cards, these Brushstrokes. Now, I realize every card company has its fans and detractors, but c'mon, how is In The Game going to compete with Upper Deck when it puts cards out like this:
I gather from what it says on the front that McDonough graduated from high school in 1972 and this is his yearbook photo?
ITG, spring for some Getty images already - this is embarrassing. And while you're at it, hire some new artists too. That's a card design only the designer's mother could love. There are
amateur hobbyists on this very site
who
put it to shame
.
I realize ITG is a small-town values type of company squeezed out by the NHL-UD-Panini cartel, but its products don't come with small-town prices and I don't imagine its market-share aspirations are small-town either. The big companies can be lazy (I'm sure we'll get to that rant eventually) but if ITG wants to expand its fanbase, it needs to try much harder.
It's not that Upper Deck never face-plants...it does:
The reason Section 6.3(f) on hallucinogens was added to the Employee Handbook at Upper Deck creative.
But the fails aren't as frequent or spectacular. No doubt there are things ITG does better than the competition - irbefan4life has a great post about that. ITG has a fiercely loyal, even devout following and no one can take that away. But so do 'The Princess Bride' and Branch Davidians of Waco, Texas. Jus' sayin'.
It may be unfair to compare one of Upper Deck's better-looking autograph sets against a random ITG autograph set in the post-license era, but it'd be even more unfair to compare UD's entire body of work against ITG's.
How can anyone disagree?