So once again, another Christmas has come and gone. The jolly man in red has ridden down all of our chimneys to dispense his gifts.
I was not disappointed this Christmas...never have been.
I earned a plethora of gifts from "Santa", ranging from hockey stuff to more fun stuff like a brand new phone to replace my half a decade old relic of cellphone history.
Anyways, I digress. This Christmas, for the fun of hockey, I got ten boxes of products, as well as a new game-used jersey for my collection.
Let's get started with the boxes!
First up was a box of 2001-02 Pacific Vanguard.
The hits were dual jerseys of Conroy/Stillman, and Miller/Kovalev, a blue parallel #/89 of Dafoe, a RC #/404 of Huselius, and Premiere Date #/83 of Fedorov.
Next up was two boxes of 2001-02 Titanium.
The dual jerseys were: Sakic/Tanguay, Hossa/Dopita, McLennan/Kuba, Tanguay/Nedorost, Belfour/Turgeon, Thornton/Guerin, Havlat/Hossa, Lalime/Gagne, Hejduk/Drury, Calder/Nylander, Kolanos/Langkow, and Alfredsson/Lalime.
Hobby parallels #/94 were of Daniel Sedin, Sergei Samsonov, Alexei Yashin, Ziggy Palffy.
Next up was a box of 2001-02 Private Stock.
The jerseys and patch were of Stillman, Savard, Yzerman, Sundin, Damphousse, Mironov (patch), Marshall, Dumont.
The rookie #/414 was of Pavel Datsyuk. The Premiere Date #/100 was of Peter Bondra, and the gold parallel #/106 was of Alexei Yashin.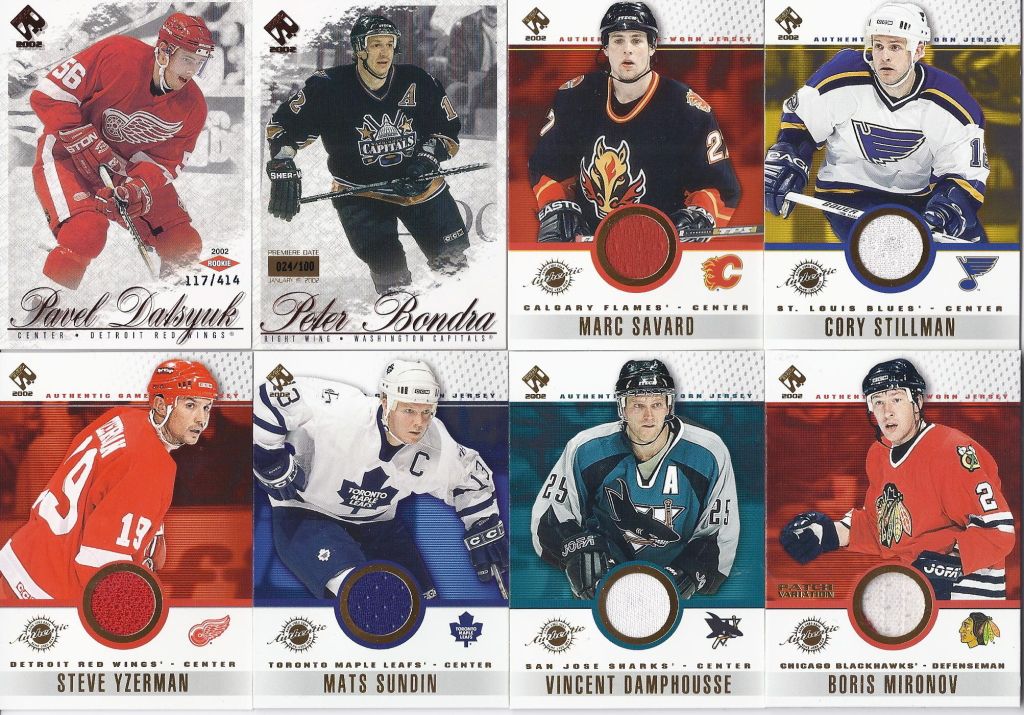 Next up was 2 boxes of 2002-03 Titanium...the hunt for the #/21 Irbe patch.
The jerseys and patches were: Perreault, Ferraro, Pronger, Legwand, Kallio, Kolzig, Klesla, O'Neill, Lindros, Smyth, Lemieux, Messier, Biron, Bell, Brind'Amour (patch), Kiprusoff (patch).
Red parallels (#/299) were of Somik, Sakic, Gaborik (x2), Lidstrom, Satan, Hainsey, Bure.
And finally were 4 boxes of the 2005-06 Between the Pipes Superbox. I got two Billy Smith autographs, a Johnny Bower autograph, a Glenn Hall autograph, a Patrick Roy jersey #/80, a Jose Theodore gold jersey #/20, a Jose Theodore Glove #/20, and a Gerry Cheevers Pad #/20.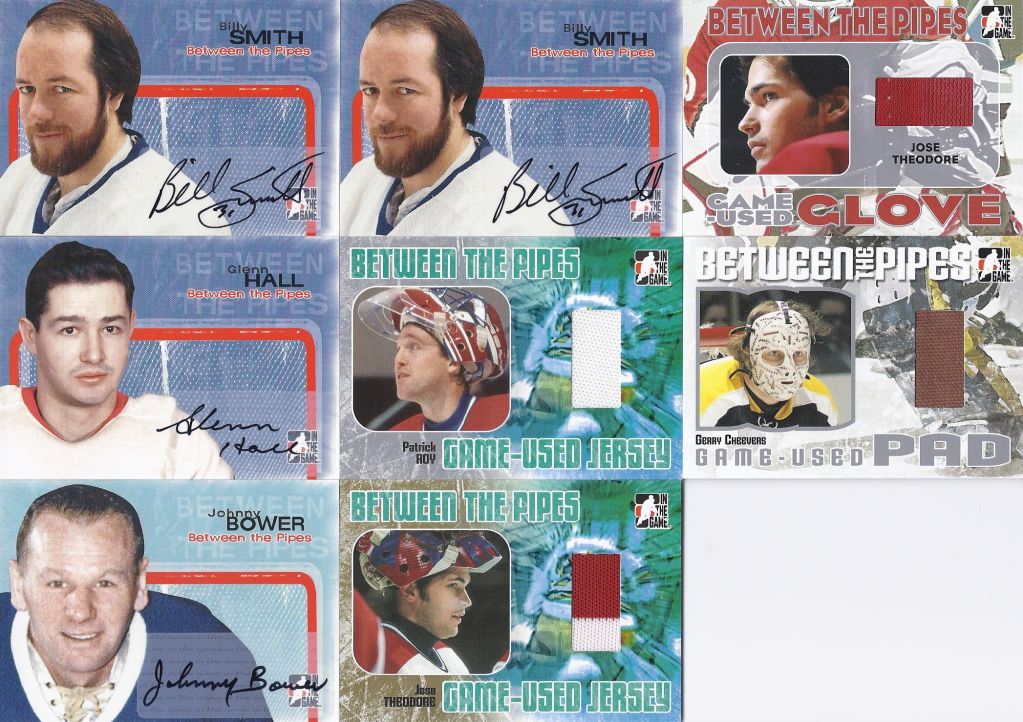 And last but not least is my latest game-used addition delivered by Santa.
I had admired this particular goaltender since he became the unofficial shootout king of the Oilers in the 2005-06 season. Coming out of nowhere, Michael (Mike) Morrison ended up playing in 20 games for the Oilers and shocking the league by becoming a nearly undefeatable goalie in the shootout. He finished the year with 10 wins and 4 losses. This jersey was worn by him in his rookie year, 2005-06.
Front:
Crest with puck marks:
Front-right sleeve with puck mark:
Front-left sleeve with tear:
Tagging:
Rear:
So there you go. Merry Christmas everyone. I hope that your Christmases were as excellent as mine!
Also, please don't send me messages asking for trades. I no longer trade except for Irbes, Szupers, and 2003-04 SPGU Game Gear. I am almost exclusively a game-used collector now.
-----------------------------------------------------------------------------
Fun update. After some digging through Oilers archival footage, I screenshotted a photomatch to this exact jersey. This game occurred on February 12, 2006 though I am sure that he wore it other times as well!