I cracked a few boxes of this stuff (just posted it in the Box Breaks section) and I pulled a couple of Tony Stewart's out of there, and decided to try to make a little collection. I would love to trade for some of the ones I need, or some upgrades, but here is where I am so far:
I need the Hot Rod Relics Melting, 1/1, so I am not holding out much hope.
The Single Swatch Melting are 01/10 and 10/10.
I need a Single Swatch Silver, #/199. That should be easy to find, but I can not get my hands on one...help!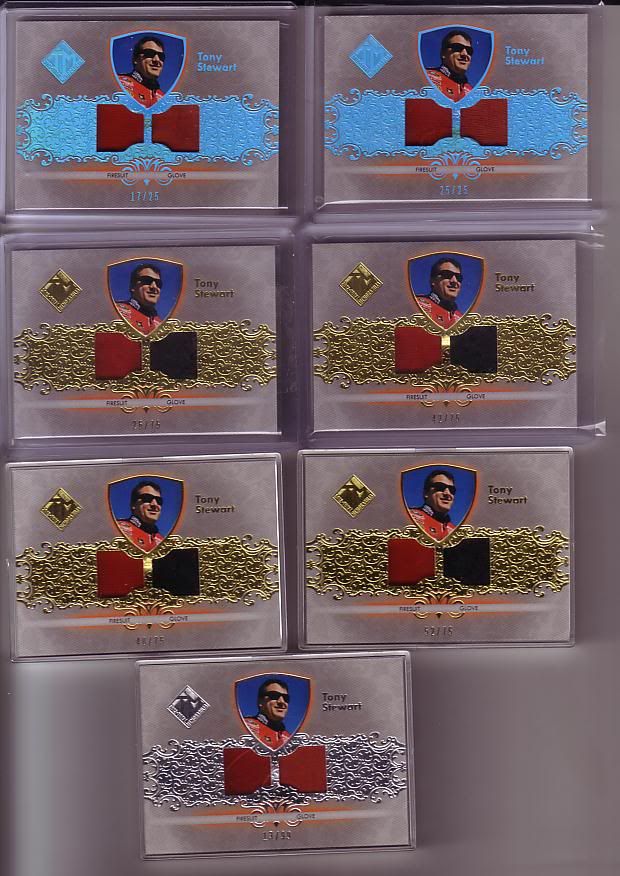 I went overboard a bit with the Dual Swatch Golds - I have three for trade,and two extra of the Silver, plus one Holofoil extra, as well.
I need the Dual Swatch Melting, #/5, if anyone sees one.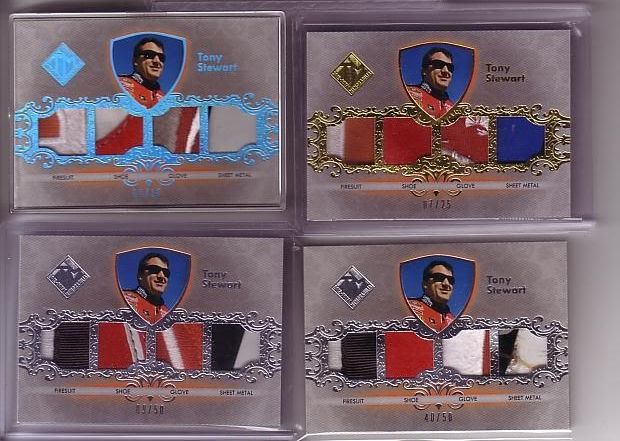 The Triple Swatch Silver was the first card I pack pulled, but it was damaged, so it is with Press Pass right now hopefully getting replaced...I picked up another one, just in case.
I need the Triple Swatch Melting, 1/1...sure.
I need the Quad Swatch Melting, 1/1...double sure.
I went a little overboard with the Stewart/Addington Tandem Treasures, as well, with two Gold and two Silver to trade.
I need the Holofoil, #/25 and the Melting, #/5.
I have seen a few of the Jumbo Swatch Gold, but not really any Holofoil (#/10) and certainly not the Melting 1/1. No Silver in the Jumbos.
I need the Stewart/Danica Tandem Treasures Gold (#/75) and the Melting (#/5).
As for the Signature Collection, the Triple is #/10, the Quad is #/5 and the Single is 1/1 (I am guessing it is a Jumbo Swatch).
So, all in, I am pretty far along, but the end is going to be a bit pricey and elusive...hopefully I have some friends out there that can help me out.
Cheers.