Card shows are a consistently exciting way to spend a weekend. The chance at finding unique wax, at finding that one unique PC card you have been looking for for years, and the chance at meeting some of the great people in the hobby today all evigorate the expo experience.
SATURDAY:
Saturday started off interestingly enough, I had to wake up at 5:50AM in order to make it to the Remand Center to run the Correctional Officer Physical Abilities Test. I was extremely nervous since failure would have meant waiting an extra few months before being able to take the test again. Luckily, with 20 seconds to spare in my allotted time, I was among the 10 or so people who passed the test, so that was an interesting way to start my day, by successfully completing another phase needed for my hopeful future working in Corrections.
After I drove home, I realized that there was not much time left before Tim Hunter's signing time ended, so I just slapped on some clean clothing and my dad and I headed out to Sherwood Park.
As soon as we got there, we loaded up with the weekend passes for $13 a piece and entered the hall. I immediately high-tailed it over to the Pro-Am Sports booth in order to buy my ticket and 8X10 picture for Tim Hunter. There was no line-up so I went right in.
Here is me with Tim Hunter:
And here is what he signed on my 8X10 photo:
And, of course, since he had played many times against Arturs Irbe in his career, I got him to take part in "In Other(s) Words" project. So, here is Tim signing my Irbe card: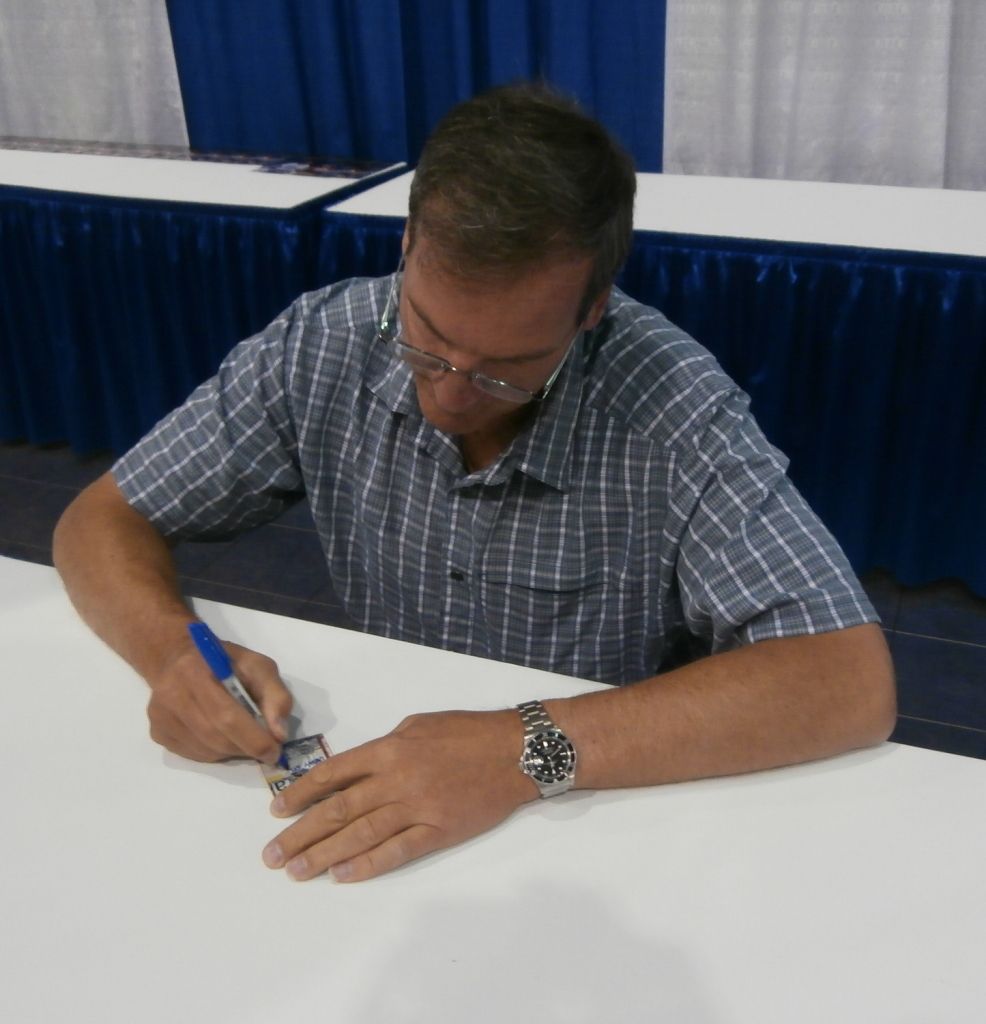 And this is what he wrote on it for "In Other(s) Words" #7: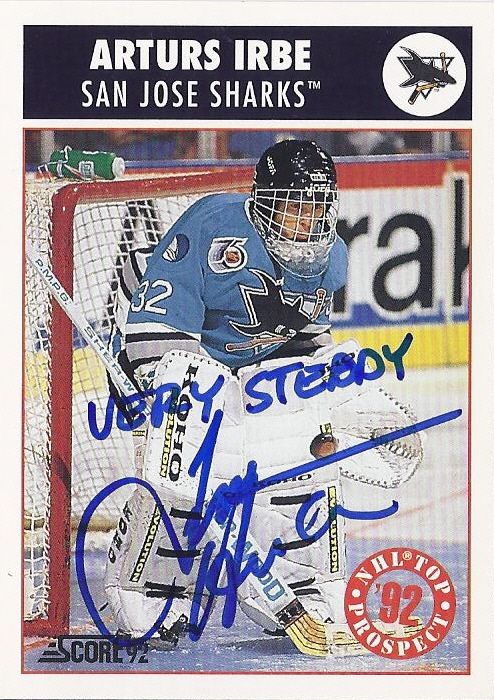 After thanking Mr. Hunter for his time, I went right over to In The Game Land in order to open my box of BTP and get a 1/1 show-stamped redemption. The box was very nice, with three autographs, and a nice triple memorabilia within. The show-stamped card was also nice as it features M.A. Fleury and Garon.
Then, I met with Jeremy (gomaz) the owner of Hobby Insider and I had a good conversation with him. I also met many other familiar faces from all over Alberta. The Saturday at the expo was nice, not thrilling, but nice.
As we headed home, my dad's vehicle's transmission blew out and we were stranded on the Whitemud. After getting the vehicle towed to our trusty mechanic, my mom picked us up in her BMW and we went out to eat at a Boston Pizza, really close to Wayne's Sports Cards. Of course, after eating, we headed over to Wayne's. The main reason was that Nikki and Wayne were interested in hearing how I did on my COPAT, so with the good news, I was happy to go inside and say. Of course, my mom was also proud of me (like moms always are) and she bought me a box of the new SPx. Nice overall:
---
SUNDAY:
After the fiasco with my dad's van, we debated whether or not to go on Sunday, weekend pass or not. We decided we would go anyways, so we took my car instead since the van was not in driving shape. The day was a hit and absolutely destroyed the Saturday in terms of awesomeness. We started out by getting in and again buying the ticket and 8x10 photo for Gerry Cheevers.
Unlike on Saturday, we were there early and there was time to spare until the autograph signing began. The first thing that I did was go to the Hobby Insider booth and make a trade with Jeremy. He got a card for his PC and I got something that I could use as a trader. I also met with my friend Marcel and some other members in the morning. Afterwards, I headed to some dealer from Red Deer and looked through a pile of old Hockey News magazines that he had. So, for a quarter, I added this new PC piece (whole thing did not fit in my scanner):
After the signing began, my dad and I continued to walk around and look at some more things until the line died down. Then, I went to meet Mr. Cheevers. Here is the picture of me with Gerry Cheevers: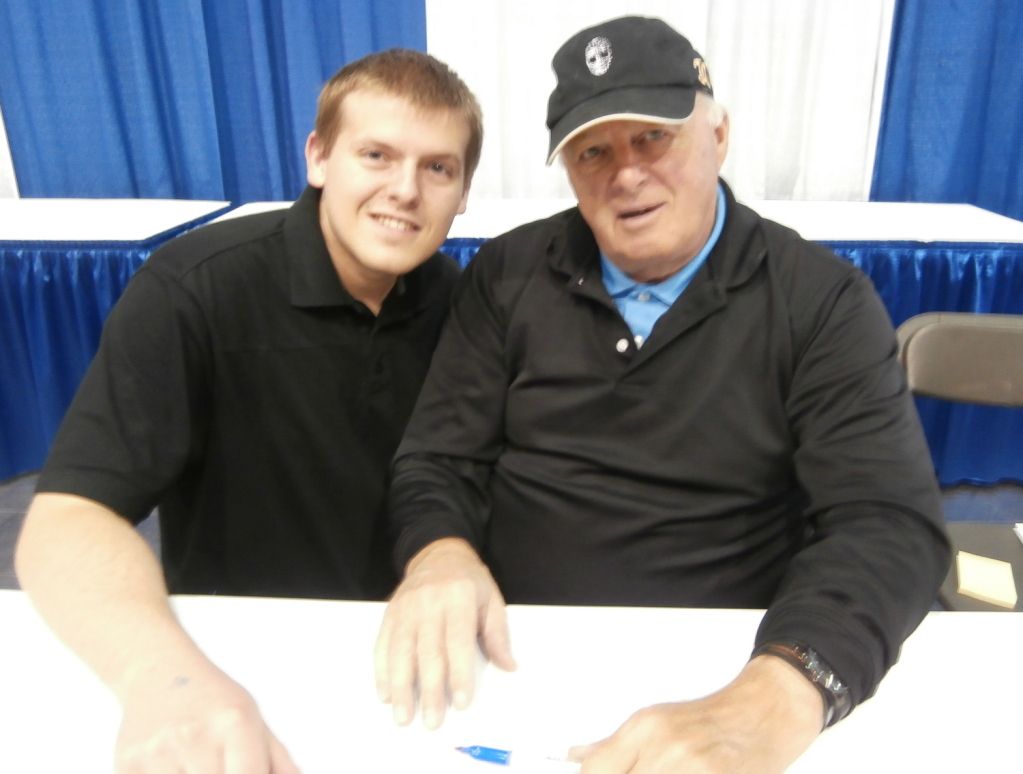 And here is what he signed on my 8X10 for me: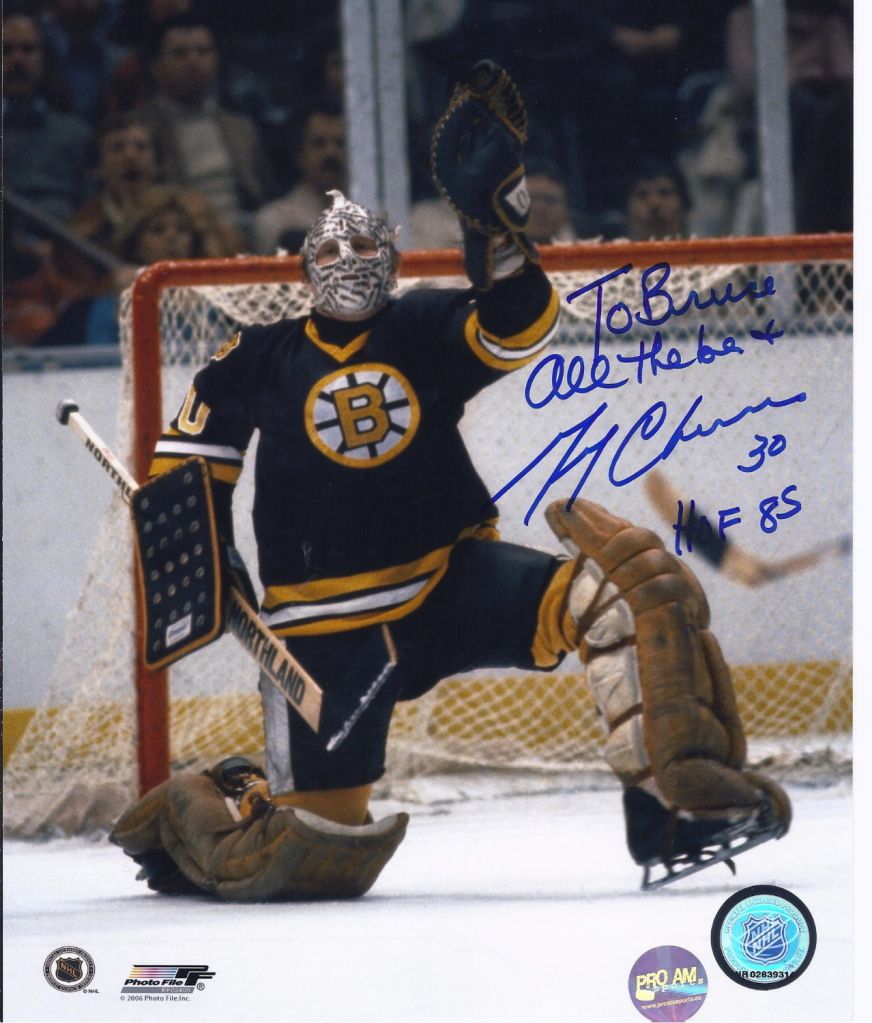 And of course, with Cheevers being a notoriously funny goaltender, with goalie coaching experience with the Bruins in 2002-03, I figured that he would be an excellent player to sign an Irbe base card for me to become #8 in my "In Other(s) Words" project:
Here is Mr. Cheevers signing the Irbe card: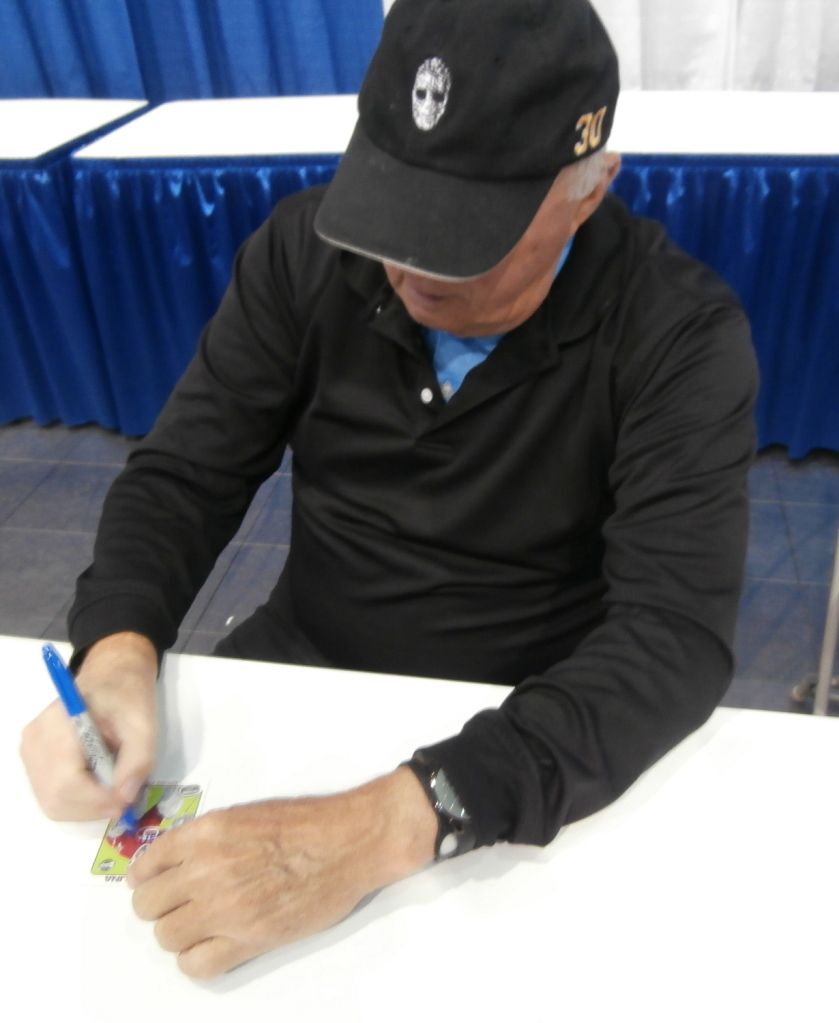 And this is what he wrote, in my opinion an excellent comment:
Then afterwards, the progress began. I showed off my Cheevers signed Irbe card to everyone and it was a huge hit at the show. I also picked up another box of Between the Pipes and destroyed my last break. A Murphy for the PC, a Quick SP auto and other nice stuff.
And beating the odds, I also pulled the redemption for the show-stamped 1/1 of...ARTURS IRBE! Boy was I happy, 1/1 number 35 for the collection:
Then, as I walked around some more, I looked to see what else I could find for some friends. Luckily, one person had a Chris Osgood 1/1 that I had to scoop up for 56Parkies:
Of course, I also picked up some other smaller stuff for the all-time Hurricanes PC along the way, but the big stuff far outweighed the relevance of having to post them.
NOTE: ALL $30+SV CARDS WILL BE AVAILABLE FOR SALE IN MY SALE THREAD ON SCF, BUT IF YOU ARE LOOKING TO BUY CARDS FOR RIDICULOUSLY LOW PRICES, DO NOT MESSAGE ME, I WILL NOT RESPOND TO PEOPLE TELLING ME THAT THEY WILL GIVE ME $10 FOR A QUICK AUTOGRAPH, ETC.
So there you go, the show experience. Not as epic as the Spring Expo in Toronto, but nice nonetheless! Comments are appreciated as always!