Ran by the LCS after a hair cut and gambled on a pair of 07 Absolute. Phone pics are in bucket, will have scans uploaded tonight. Not as fortunate as my box of 11 Absolute. But, a real nice McNair, my try and send the Edwards in for replacement.
2007 Absolute Memorabilia
Box 2
Pack 4
AAron Rouse RC 617/699
Donovan McNabb Tools of the Trade Jersey/Football 16/25
Pack 3
Demetrius Williams Absolute Heroes 19/50
Marion Barber III Tools of the Trade Jersey 31/50
Pack 2
Nate Ilaoa RC Spectrum 25/25
Patrick Willis RPM 031/849
Pack 1
Tony Hunt Marks of Fame 072/100
Trent Edwards Marks of Fame Au/Patch 03/25 (Lots of coloring gone all around edges)
Box 1
Pack 4
Alonzo Coleman RC 498/699
Michael Bush RPM Spectrum 088/100
Pack 3
Brian Westbrook/Correll Buckhalter Team Tandems 37/50
Gaines Adams RPM Spectrum 052/100 (Nice 3 Color in both patches)
Pack 2
Terrell Owens Spectrum 16/25
Yamon Figurs RPM 420/849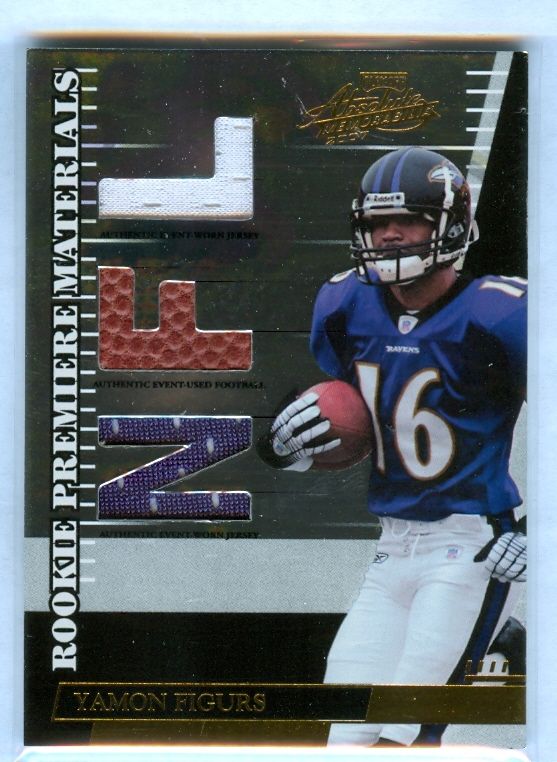 Pack 1
Marion Barber III Absoute Heroes 069/100
Steve McNair Tools of the Trade Prime Jersey/Shoe/Jersey Autograph

3/5
Yes, all will be.......