Got my first-ever graded cards back today! The results were pretty much as expected. Not the best grades ever, but that will be explained!
First scan: 1995-96 Metal Slick Silver, 1995-96 Topps Mystery Finest Refractor and 1995-96 Topps Top Flight
They all got 8's. I actually pulled ALL of these when I was a youngin barely able to spend $6-$8 a week on cards. I had them kept in screw down holders with no other protection, so over the years the surface suffered on a couple. The centering killed me on the Top Flight, hence the 8 grades.
Next: 1997-98 Bowman's Best Refractor, 2010-11 SP Authentic Floor Card (common), 1997-98 Topps Chrome Season's Best Refractor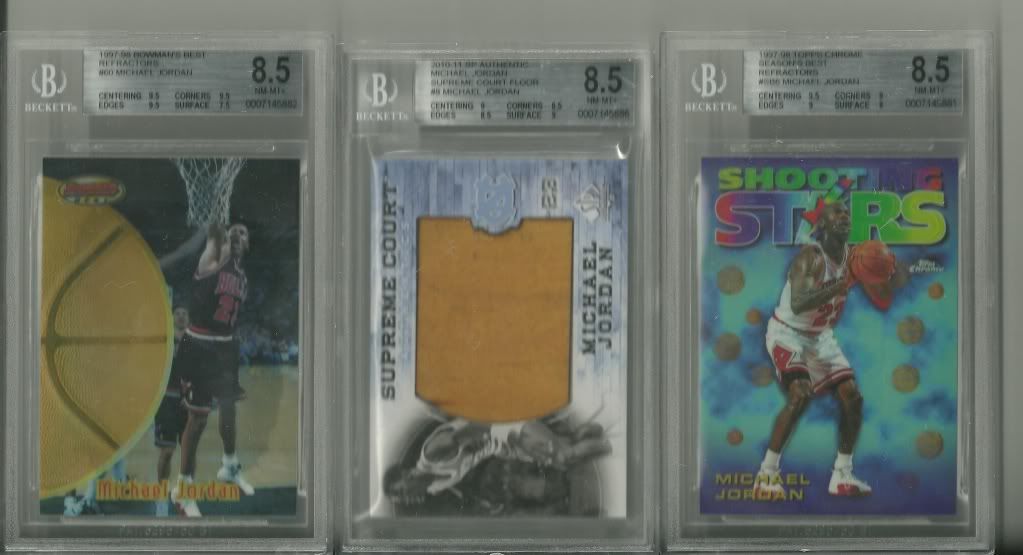 These were also all pulls! All have been pulls since I hopped back into the hobby a year and a half ago or so. The refractors suffered from poor surfaces again having been stuck to other cards in their packs for over a decade, and the corners/edges on those floor cards are a nightmare to keep nice (hence the grading!)
Next: 2000 UD Century Legends Final Floor Jumbos (FF6 and FF9)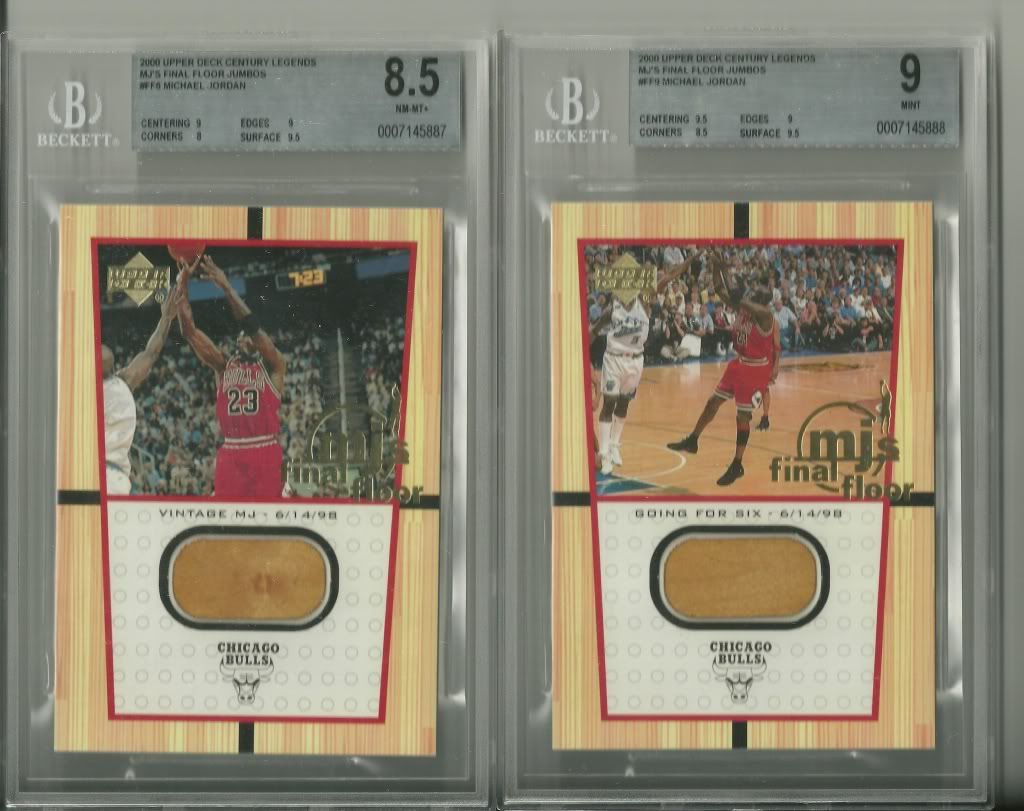 Picked these up on here in a trade with libs021 several months back (thanks again!). Love the look, and the FF9 that graded out at a 9 is actually the highest graded version in existence (only 4 have been graded, none higher than an 8).
Lastly: 1991-92 Upper Deck Promos, 1997-98 Bowman's Best Mirror Image Refractor
These two graded out best! I pulled the Mirror Image refractor less than a month ago, the promo came in one of my first trades on here and I cannot remember with whom! I was stunned at how good the 20-year old card looked and knew instantly I wanted it graded. I thought it stood a chance at a 10 honestly, but a 9.5 ain't bad either. There are 11 9.5s of the Upper Deck Promo card but no 10's, though I'm sure there are some out there with higher subgrades.
That's it! Pretty happy overall, just wish I had taken better care of my nice MJs as a youngster, especially that Mystery Refractor. Thanks for looking everyone!