I have a 1984/85 Steve Yzerman Topps Rookie Card for Sale.
The card is in MINT Condition. The Card has 4 Razor Sharp Corners, 55/45 Centering All Around, Smooth Edges with NO Chipping, and it has a Flawless Surface with NO Scratches, Scuffs, Dings!!
If it wasn't for the 55/45 Centering. The Card would be in GEM MINT Condition!! It's a Solid MINT 9!! Which is very hard to find for these Yzerman Rookies. Most of them have Worse Centering, Chipped Edges, or Dinged Corners.
This card would have no problem Grading at a PSA 9 or BGS 9!! It's listed in my Org. and marked for Sale.
I'm asking $25 Delivered within the US or Canada.
My Asking Price is 50% Off it's listed BV!!
The Card will be shipped 1st Class Mail with Delivery Confirmation. Insurance is available for an additional $1.50. Shipping any where else in the World will be $3 extra.
If you don't like my price feel free to make me an offer via PM!!
Here's a scan of the card.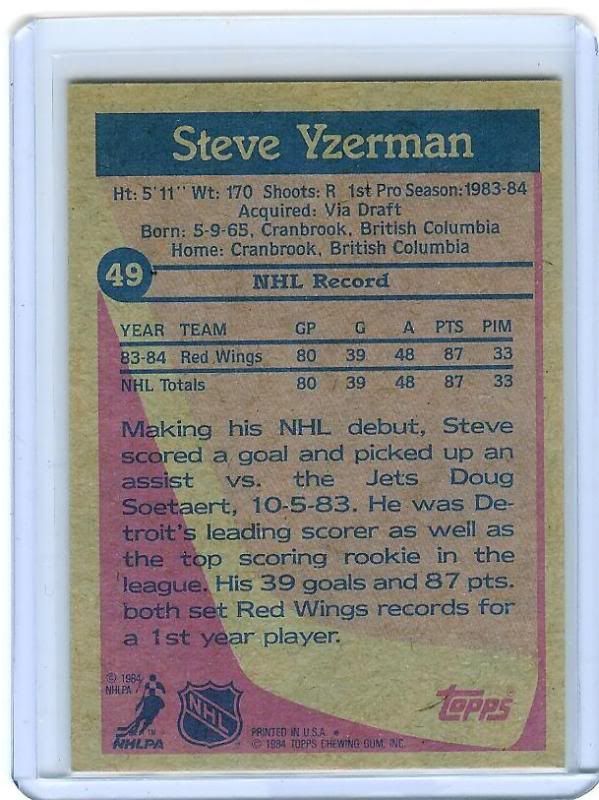 I've completed well over 200 trades here on the Beckett Message Boards. I stopped using these Boards back when Beckett updated their site back in 2007. After they updated the Site, it was Nightmare to use. So a lot of collectors including myself left. Before they had this Orginize Program.

It looks like they updated the Site again. The site looks like its a lot easier to use now. So I'm going to start using these Forums again!!

My Old user ID was: wilblas

I tried logging into my old Beckett account and it said that I had to reregister with them to use the Forums. So that's what I did.

Here's a small list of members that I've completed trades with in the past.

Zackfeld52, Shultz19, ThePatchMan, Pitts23, awfg2001, zcose.com, Benlee66, Manning NYG, coqxxx4, BGT Masters of TIKI D, papapitts, james5348, hurls88, chiefsfans, coolector29, weaseltreats, CRAZYLOX, bigmack, kazmo77, matth1020, RookieCardFan, jdogg8, liberatemadness, chowell3fan, broncosfan187, Serving 4 The King, ryanfan03, CARDCRAZEY, *bgs-gems*, Geoffrey R. Stein, slamma3, peaceandlove, Mr. Madtrader, Hobby Gems, bostonwillwin, Lets Go METS!!!, InBeaneWeTrust, halomaster_1, rdg0001, Chuck*(SoFarAway), Codasco07, Ringer2004, tiggerman72, Leafs1319, maximj, usfice6, jernst2, AVALANCHE2006, kovyheater, adlersam, 09232003

I've completed over 10 trades with a lot of the members listed above.

Also here's a list of members that burned me in the past:

GregCubs- He burned me for 12 assorted Jersey Cards.

rcsrgreat- He burned me for a 2003 Hideki Matsui Leaf Limited GU Base RC #ed 99/99.

CardinalsFan4Life AKA OVECHKINFAN- He Burned me for 3 Alexander Ovechkin Jersey Rookie Cards. 05/06 Ultra Rookie Uniformity Jersey, 05/06 Ultra Difference Makers Jersey, and a 05/06 UD Rookie Threads Jersey.