I'd like to give special thanks to dragik, iluvladies5015, kingkard543, vintagecardseller, themouth247, pens1fan, and csamsal for, over the course of 15 months, either trading these beloved pieces to me or sending the cards that helped me land them.
This was my first Ice RC /99. I remember watching people break boxes of 09-10 Ice last year and thinking to myself that what they pulled out was almost too colorful to be believed.
At the time, I didn't know there were 4 different Tiers of RCs, but I enjoyed looking at every one. Honestly, stealing a glimpse of a base card was itself a treat. Even detractors of the product acknowledged that its card design was striking and unlike anything that came before it, emphasizing bold, bright, primary colors. By then, though it seemed like every other box was yielding a Duchene RC /99, I was beginning to understand which cards marked the steepest challenge. I eventually saved up for two boxes and never pulled a lower numbered RC than /999, if that. But being able to trade for Backlund inspired me to track down as many of the 09-10 Ice RCs as possible. Of the non /99 RCs, I only have these four left to go:
#146 T.J. Galiardi
#148 Christian Hanson
#154 Ryan O'Reilly
#164 Artem Anisimov
.
.
.
.
.
.
.
.
.
.
.
.
.
So maybe Backlund wasn't yet a proven superstar but his card was to serve as the cornerstone of my project for over a year. Right after landing it, I figured I had all the momentum and I felt really optimistic about snagging another. I picked this up thinking that it would make finding another 09-10 Ice RC /99 an even easier task: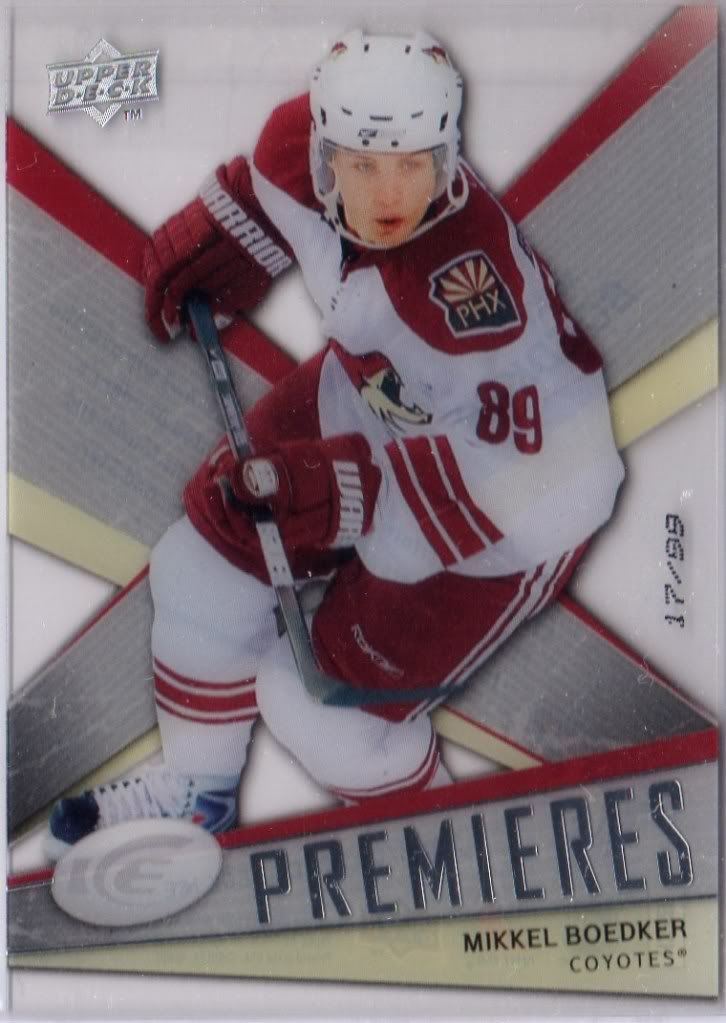 I was wrong. I shopped it for over nine months, a drought exacerbated by the fact that right after I got it, its BV plummeted twice, making it more difficult to justify a swap to those holding the 09-10 versions I coveted. After being thwarted for the better part of a year, I decided to keep the Boedker instead and to begin work on a long term goal of tracking down as many 2nd and 1st Tier RCs as possible...from any year. It's a decision I wouldn't regret.
Expanding the PC was counter-intuitive, since even an extremely narrow collecting goal can pose a tough challenge. But, assuming one wasn't a pure completionist like irbefan4life, surely a gift and a curse, releasing that safety valve and welcoming some other cards and sets and players into the PC was a relief...a realization that I hope rayeates will soon share.
.
.
.
.
.
.
.
.
.
.
.
.
.
But back to the matter at hand. It was looking pretty hopeless for awhile there. For some reason, people weren't eager to trade these RCs away. After plodding along for a few more months, I finally won a small victory and landed a card that at times seemed almost as tough as a lesser sought-after /99: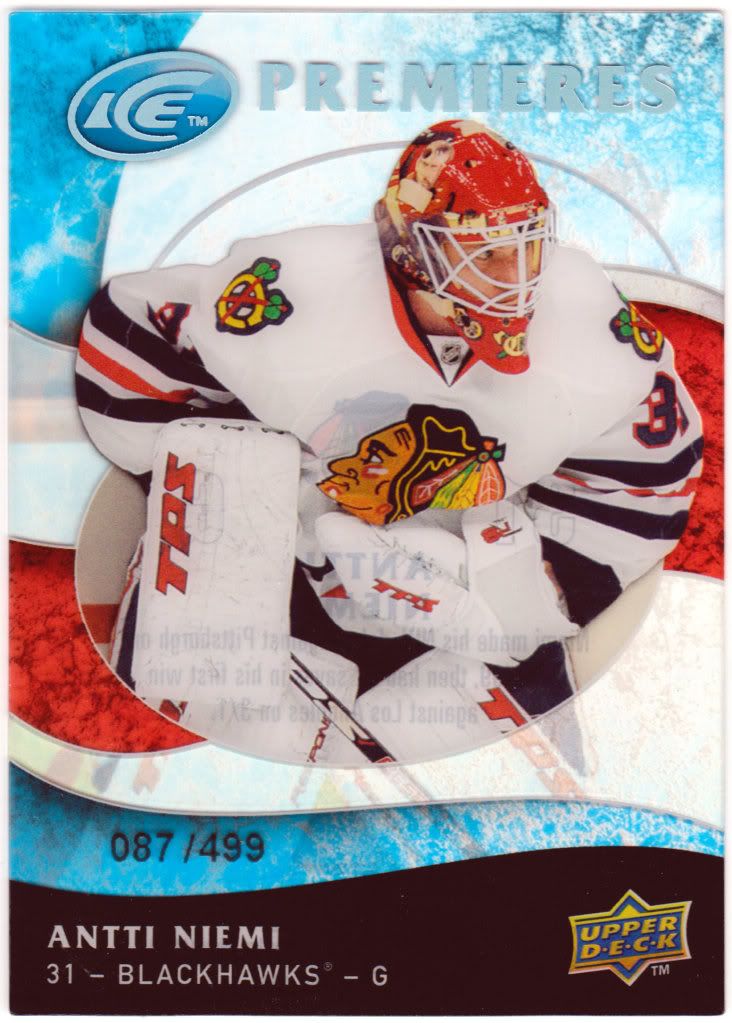 At least that's what I told myself. The double PC coup (rare-ish 09-10 Ice RC & star Shark) was a morale boost and it coincided with the most productive few months of trading I've ever had. It probably wasn't one card that turned the tide, but something snapped me out of a collecting funk. All of a sudden the deals were flowing in.
.
.
.
.
.
.
.
.
.
.
.
.
.
.
.
After months of flirtation, I finally found a path to this card, which was there all along but always seemed furthest from reach until the moment the trade was sealed:
It took dipping into the PC and trading away more than I wanted to until that point, but I knew any payoff (or not) would depend on how I felt when the card finally arrived. I'd find out then whether I'd made a "good" trade. When the Myers splashed down, bundled in equal parts bubble mailer and anticipation, I thought, sorry Backlund, you're gonna have to share the limelight now. It was an epic PC win...I'd have done it again a thousand times.
.
.
.
.
.
.
.
.
.
.
.
.
.
.
.
Apparently though, I was only getting warmed up. The trade that netted this gem required every ounce of skill and patience I had (not to mention a few cards too). It certainly helped to have a friendly counterpart to work with, but summoning the resources and time to make a serious pass at this card was an exercise that I relished, one that was worthy of this plastic wrapped in plastic wrapped in plastic.
Days later it still hadn't sunk in, and maybe you could see why. It was a cornerstone contender: a card that you looked at and said, "wow, there aren't too many other ones out there that I'd rather have." A card that knocked you off your axis a bit and demanded to know where you wanted to go from here. I didn't have time to get too philosophical though.
.
.
.
.
.
.
.
.
.
.
.
.
.
.
.
Just yesterday, after nearly 1 1/2 years after first embarking on my mini-quest, this card was received by my hands:
It's special. Logan Couture ('Coutch,' as he's affectionately called by fans) is probably the first homegrown Shark who has a shot at doing something really spectacular in this league. Collecting the greats will always be fun but being able to track a budding talent from year one is an entirely different kind of excitement, one I've been eager to experience for quite awhile now.
As for this project overall, it's not complete. Far from it. I've really barely scratched the surface and I've expended almost every borderline PC card to do it. It feels like I've made it to a summit though. Maybe not THE summit, but I'm on top of it whatever it is and suddenly 99 isn't as intimidating a number as it used to be.