Just got my scanner back up and running so I thought I would post my Gold Standard break.
Base/299 - Bryant, Pierce, Eric Gordon, Camby, Dwight Howard, Brook Lopez x 2, Terry, Richard Jefferson, Bargnani, Crawford, Scola x 2, Al Jefferson, Kidd, Paul, Turkoglu, Gerald Henderson, Ibaka, Billups, Ariza, Price, Terrence Williams, Collison, Ronnie Brewer x 2, Issel, ML Carr, Mutombo, Mourning
Base Auto/299 - Aldrige, Landry, Hibbert, Turkoglu, Gerald Henderson, Dalembert, Gibson, Derrick Brown,
Base Auto/199 - Felton, Ellington
Base Auto/99 - Donte Green
Base Auto/49 - Ben Gordon
Gold Rookie - John Wall x 2 (1 traded at the store), Henry, Patterson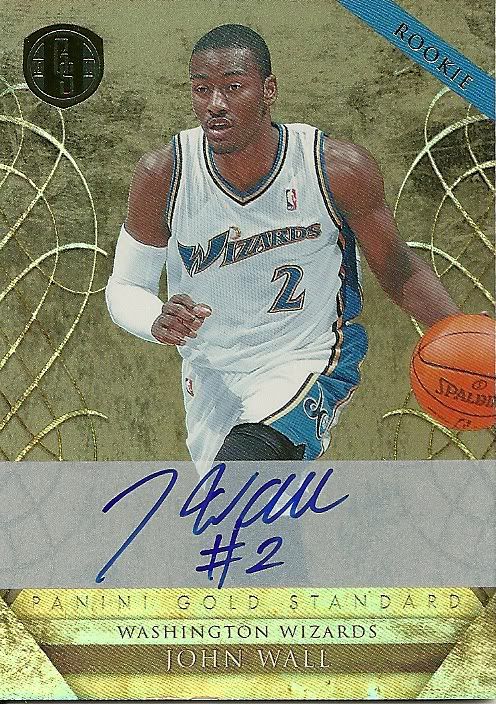 Gold Stars Base/299 - Dwight Howard, Odom, Flynn, Marc Gasol, Chandler
Gold Stars Materials/99 - Nene
Gold Stars Auto/99 - Iguodala
Gold Crowns Base/299 - Okafor
Gold Crowns Materials/249 - Durant, Chandler
Gold Crowns Auto/69 - Ridnour
Golden Age Base/299 - Erving, Dawkins
Golden Age Materials/299 - Tim Hardaway, Stockton x 3, Olajuwon
Golden Age Auto/99 - David Thompson - NFT
NBA Team Logo Auto/199 - Jalen Rose, Alvan Adams, Westbrook
NBA Team Logo Auto/99 - Goodrich - NFT, Archibald - NFT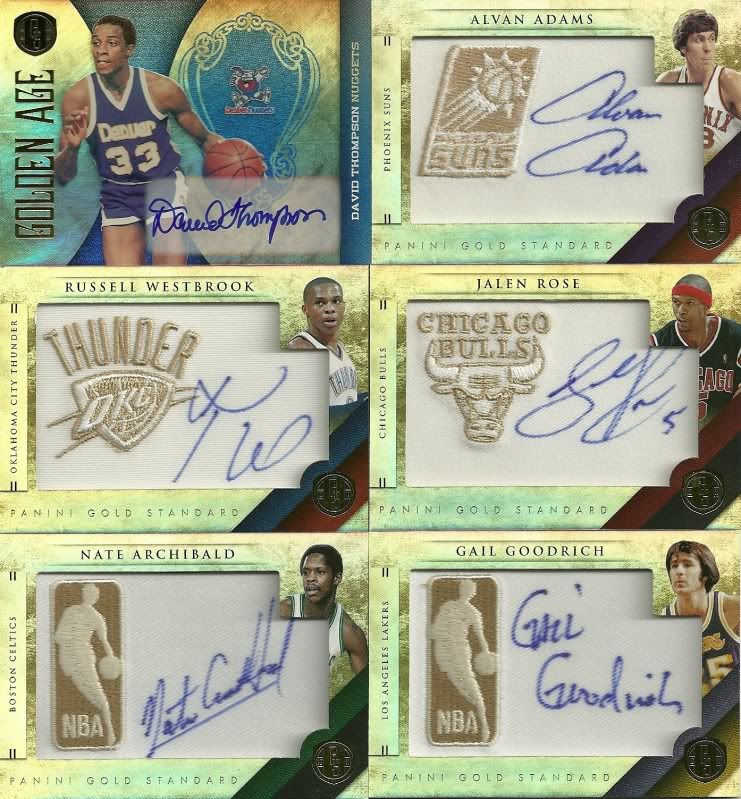 Gold Nuggets Base/299 - James, Durant x 2, Love, Jefferson, Duncan, McGrady, Martin, Curry
Gold Nuggets Materials/199 - Stoudemire, Nash, West, Horford
Gold Nuggets Gold Rush/10 - Aldridge, Durant

Gold Medalists Base/299 - Redd, Larry Johnson, Robinson
Gold Medalists Materials/299 - Dumars
Gold Rings Base/299 - Duncan
Gold Rings Materials/299 - Pippen - NFT, Mourning, Gasol, Parker
Gold Rings Auto/49 - Elvin Hayes
Gold Rings Material Auto/25 - Allen - NFT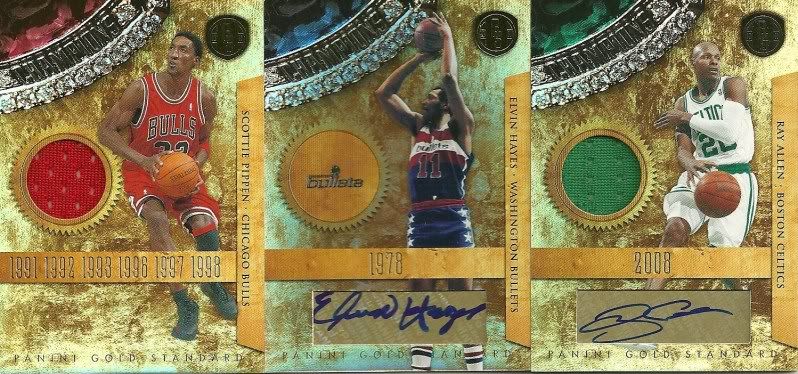 Golden Threads Base/299 - Fraizer/Billups, Pippen/Rose, Parish/Pierce
Golden Threads Materials/299 - Parish/Pierce
Gold Mining Base/299 - Stoudemire, Fisher, Durant
Gold Mining Materials/299 - Nowitzki, Fisher
Golden Anniversary 50th Base/299 - Baylor, Barry, Bird, Sam Jones
Golden Anniversary 50th Prime Material Auto/5 - Abdul Jabbar (was a sweet 3 colour Lakers jersey, but I traded that at the store as well)
Gold Records - Allen, Eaton, Chamberlain
Gold Bars Base/299 - Ellis
24K Kobe Base/299
All cards not NFT are available. Please send me a PM if interested in anything.
Mike