I've got WAY too many Autographs and figures to "show off"....but here are some of my nicer trading cards: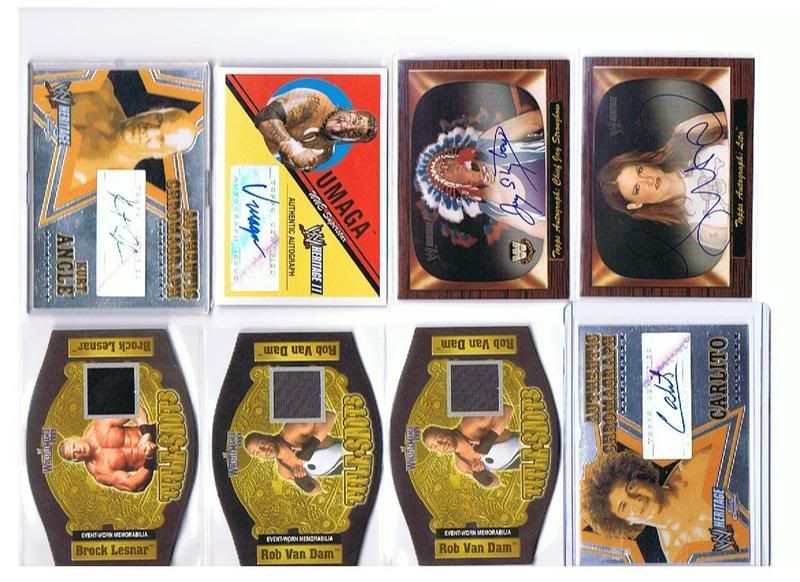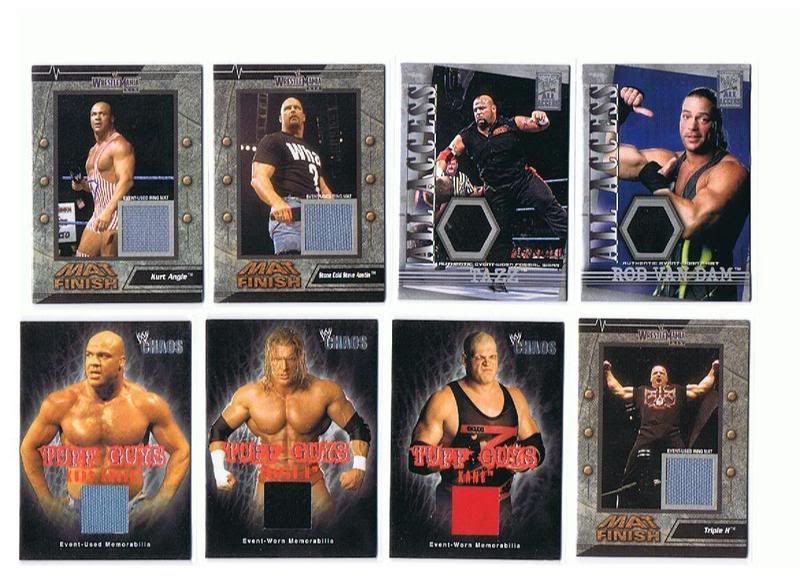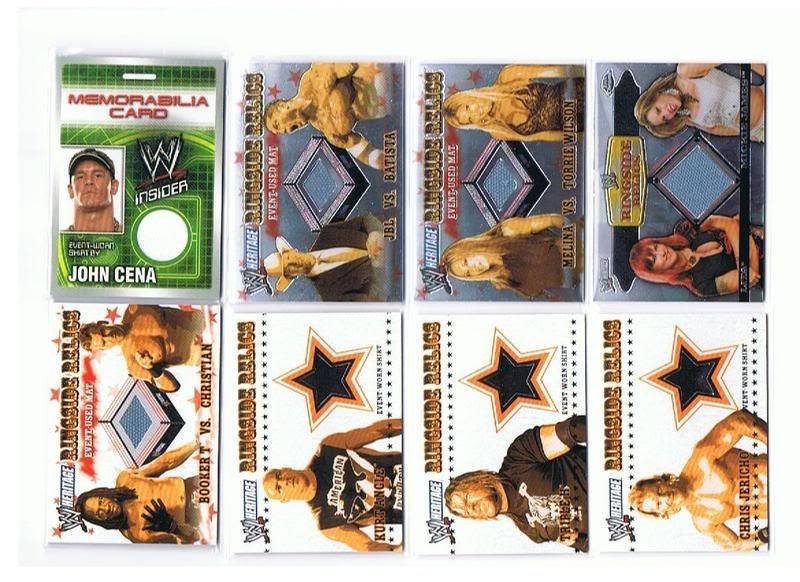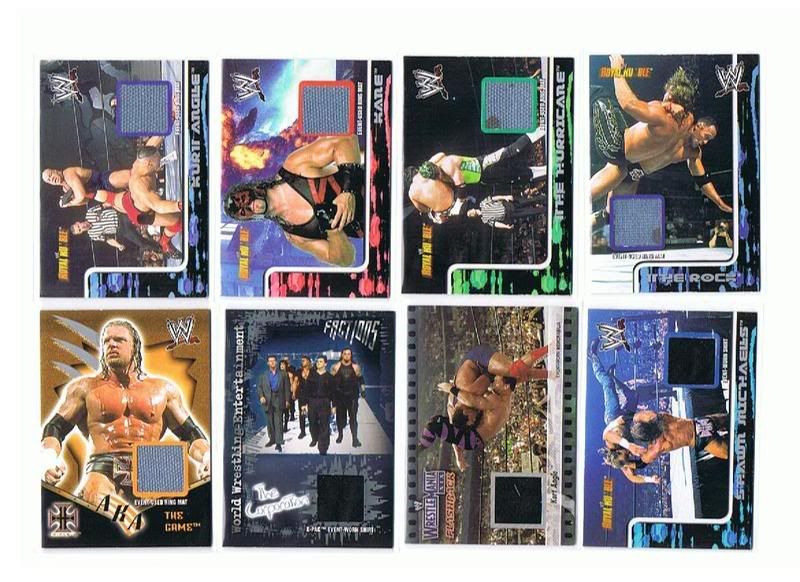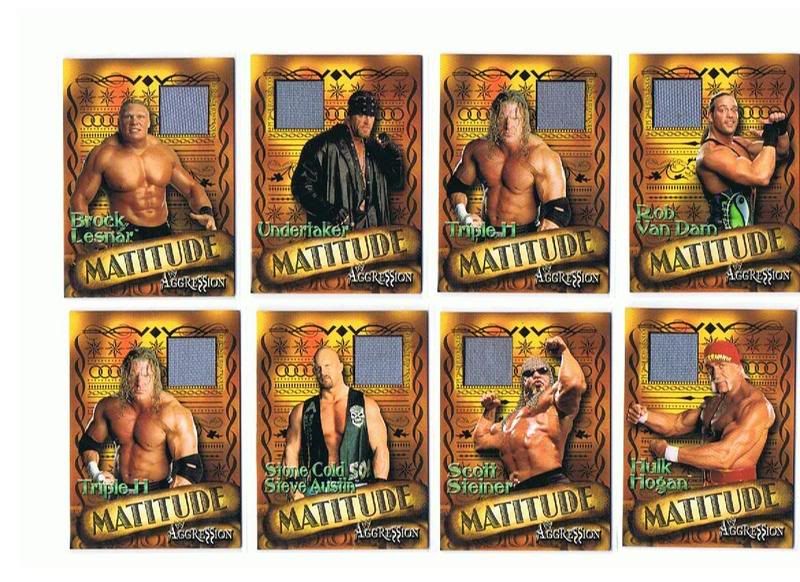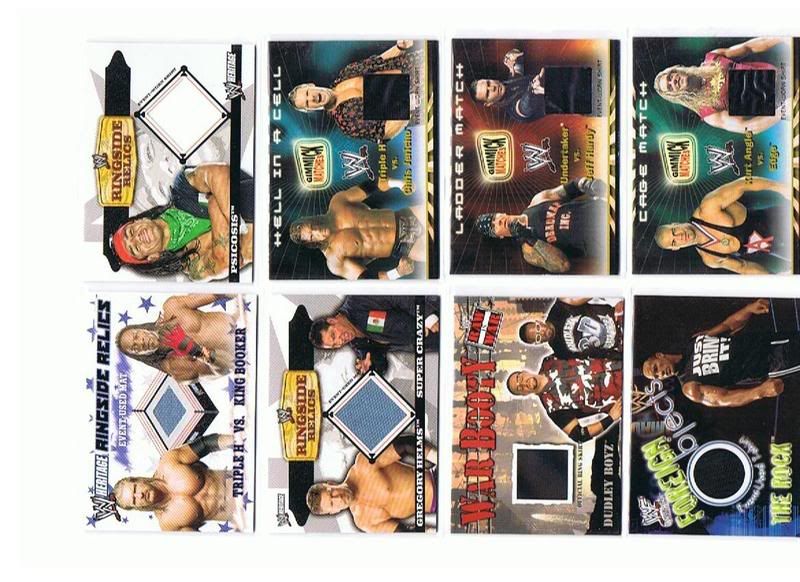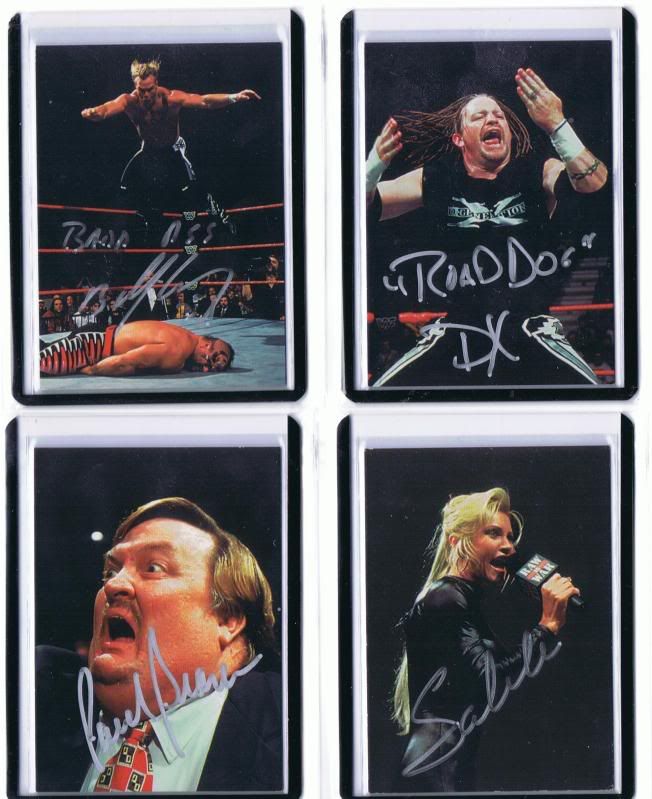 look at my collection i like the cena and orton
tbkthebigkahuna Wrote:Hi Chris,
I have been collecting for around 6 to 8 years. I used to have a much larger collection but I have downsized through the years. I still have a strong collection and some very RARE one of a kind pieces. I collect pro wrestling ring worn/used memorabilia, '82-'83 Wrestling All Stars cards in PSA/BGS 9 MINT or better, vintage wrestling cards that are have been graded and pretty much any wrestling item that catches my eye. I haven't been able to put pictures on here but here is a list of some of the things I have in my collection:

A pair of "Mr. Perfect" Curt Hennig's WrestleMania IX ring worn boots autographed

"Beautiful" Bobby Eaton's complete ring worn outfit worn at SuperBrawl 1 when he won the WCW TV Title vs. Arn Anderson

I have 20+ '82-'83 Wrestling All Stars cards graded PSA/BGS of which all of them but 2 have received the PSA 10 Gem Mint grade (one of my '82 Wrestling All Stars is the Ric Flair card #27 which was autograph by Flair and I had it authenticated by JSA and got the card graded which was a BGS 9 MINT and 10 for the auto)

Vintage WWF black and white block logo ring used turnbuckle pad autographed by Jerry "The King" Lawler

Metal folding chair used at WWF Unforgiven 2000 in the main event match fatal four-way and it is signed by all 4 wrestling (Undertaker, The Rock, Kane and Chris Benoit) with WWF.com COA

Brian Pillman Memorial Show 2000 belt made by Joe Marshall (aka J-Mar the maker of all WWE's belts today) which was given away as a raffel for charity and has been autographed by 40+ wrestlers including Chris Benoit and Eddie Guerrero

I have many vintage original vhs tapes

Many figures MOC or MIB

Vintage programs

and much more I am sure that I am not thinking about



I haven't been able to put pictures on here so if you would like to see any of these pieces Chris I would be more than pleased to get some pics together and email them to you.


Also to anyone, I am looking for any 1982 or 1983 Wrestling All Stars cards graded BGS/PSA 9 Mint or better. I would really like to find BGS or PSA Gem Mint copies. So if anyone out there may have any please let me know. THANKS!!!
Just wanted to add that I recently added the "HOLY GRAIL" to my collection! I was able to obtain one of the ORIGINAL RING USED/WORN NWA SIX MAN TAG TEAM CHAMPIONSHIP BELTS that was personally owned by Road Warrior Animal! Take a look at my avatar to see picture of the main center plate of the belt. I can't believe that I am able to own such a PRICELESS and amazing piece of pro wrestling history!!!
RJrme
01-21-2011, 08:47 AM
Here are some of my collections :
and those 3 ones (i'm still looking for the 4th one)
This isn't all of them (i have a bunch of TNA cards also). The sketch card is by Natalya in the WWE 2009 (pack pulled, probably the first person to pull one and actually keep it) I'd say this is probably 3 years in the making. The Ms Elizabeth is also pack pulled. Oh and i got the Stacy Keibler auto for $5! (also i have the RAW vs Smackdown Chuck Palumbo headband but i got it today so haven't scanned it yet, won it for $1)